About 13 months ago our group did our first analysis (link) of Yum! Brands (NYSE:YUM), finding it to be a buy because of its international growth prospects. At the time the market was dealing with the flash crash, the BP oil spill, and unrest in the Middle East. Now, the market is turbulent because of natural disasters, poor employment numbers, and continued unrest in the Middle East. Interestingly, Yum was the major sponsor in the Kentucky Derby in each case.
Over the last year Yum has fulfilled these international growth goals and is now earning more from China than in the United States. In 2010, Yum took in $755 million in China and only $700 million in the United States, even though Chinese sales are only less than 20% of American sales. (Non-China international sales are also strong, more on that later.) The reason for this is franchising, where Yum has decided to own and operate the majority of its restaurants in China. In the rest of the world franchising is the method of choice.
Yum only operates two types of units in China, KFC and Pizza Hut. Each has seen significant growth in terms of total numbers. Roughly 400 KFCs were opened in 2010, bringing the total to nearly 3,200. This is intriguing since the number of KFCs in America has decreased and accounts for less than 10% of US sales (which may offer empirical evidence that the Double Down sandwich was a bad idea). In fact, Taco Bell accounts for 60% of such sales, and Pizza Hut pulls in 30%. But there has been little to no growth in the number of these units as well.
Right now Yum is focusing strictly on international store openings. As stated, there are the two chains open in China, and these are the same restaurants accounting for almost all of international sales. Even in America, A&W and Long John Silver's are essentially non-factors. Pizza Hut has become the number one pizza restaurant in India and KFCs are still popular in Europe.
A key in Yum's growth potential is going to be the expansion of Taco Bells overseas. In America, sales were relatively stable over the last 3 years. In that time they have shown some adversity handling issues such as e.coli outbreaks and lawsuits claiming that their meat is not in fact meat. They have also introduced the $5 box and 12 taco meal box, along with a new line of healthier tacos, carrying a heavier price tag. Taco Bell's website does however disclaim that the "Drive-Thru diet is not a weight loss program." Regardless, there has been recent work on opening stores overseas and this could certainly open up major revenue streams.
(Click chart to expand)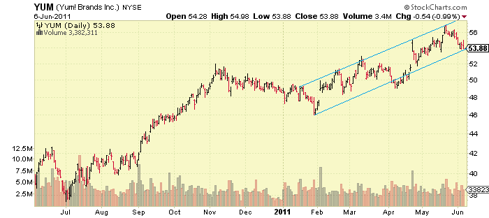 Click to enlarge
Financially, Yum was stockpiling cash in 2010, having four times more at the end of 2010 than 2009. This accounted to just over $1 billion. However, conversely, debt has risen by about $600 million. The company is currently priced at $54; 38% higher than when it was last rated a buy. The PE is at 22. This is still significantly less than Chipotle (NYSE:CMG) at 48 or Panera Bread (NASDAQ:PNRA) at 30 but higher than McDonalds (NYSE:MCD), at 17. This seems reasonable since Chipotle and Panera are not really fast food restaurants and are still in heavy growth phases, and McDonalds is more of a long term dividend play, which would lead to a lower figure.
Technically, Yum seems to have just bounced off the bottom of a trend and should trade in the $54 to $57 range until the earnings announcement next month. The next dividend payout is in August and is only yielding 1.8%, but it is due for an increase after this payment. If this jump is equivalent to the last few increases, it should bring the yield up to around 2.1%, which is formidable for a company with such strong international growth prospects. In conclusion, Yum has shown that it can succeed as a company, while limiting American development, and can continue to do so by focusing on Chinese growth.
Disclosure: I have no positions in any stocks mentioned, and no plans to initiate any positions within the next 72 hours.