I have been considering for some time now taking a position in Bank of America (NYSE:
BAC
). Not that I expect the stock to double in the coming two months, more as a long term investment, one to keep for the coming five years. I haven't made the trade yet. I'm waiting to see how the current stock market weakness will play out. The path of least resistance for financial stocks appears to be down. So I am not in a hurry to make my purchase.
Bank of America's website lists the following as corporate profile:
"Bank of America is one of the world's largest financial institutions, serving individual consumers, small- and middle-market businesses and large corporations with a full range of banking, investing, asset management and other financial and risk management products and services. The company provides unmatched convenience in the United States, serving approximately 57 million consumer and small business relationships with approximately 5,900 retail banking offices and approximately 18,000 ATMs and award-winning online banking with 29 million active users. Bank of America is among the world's leading wealth management companies and is a global leader in corporate and investment banking and trading across a broad range of asset classes, serving corporations, governments, institutions and individuals around the world. Bank of America offers industry-leading support to approximately 4 million small business owners through a suite of innovative, easy-to-use online products and services. The company serves clients through operations in more than 40 countries."
The company provides its services through six business segments: Deposits, Global Card Services, Consumer Real Estate Services, Global Commercial Banking, Global Banking and Markets (GBAM) and Global Wealth and Investment Management (GWIM). At March 31, 2011, the corporation had $2.3 trillion in assets. Graph 1 gives an overview of how each segment contributes to revenue (based on the latest quarterly filing).
Graph 1: Revenue % per Segment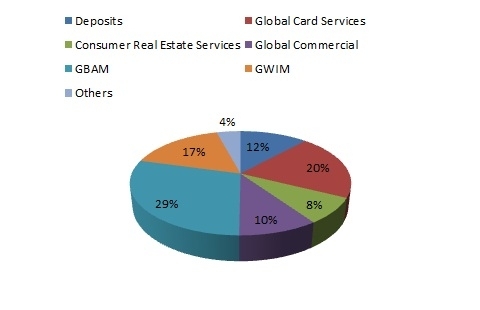 First quarter earnings were below my expectations with earnings per share of $0.17. This was mainly caused by the mortgage business, the only segment to post a loss ($2.4 billion) during the quarter. With the housing market not in recovery mode yet I do expect that this segment will remain a challenge in the coming quarters.
On the positive side, it benefited from a $2.2 billion in loan loss reserve releases. The tier 1 ratio of 11.2% is strong and provides a good foundation for the bank to work through its list of challenges.
The bank has a strong franchise and a leading market position. My consideration for building a position is based on the assumption that management will be able to work through the challenges of loan losses on its mortgages, credit cards, commercial loans and will manage the foreclosure settlements. If the bank in the coming five years is able to get back to producing decent results, then the upside in stock price will be significant. I am not expecting a return to a ROE of >17%. That will not happen. New legislation and its operational track record will not be able to put performance back to pre-crisis levels. If it will be able to get ROE in the 10-12% range, then that will still provide me with a very decent upside.
Let's try to make an estimate of earnings five years out and determine the CAGR% for this investment. Graph 2 gives an overview of the equity per share and the ROE over the last 10 years.
Graph 2: Equity per Share and ROE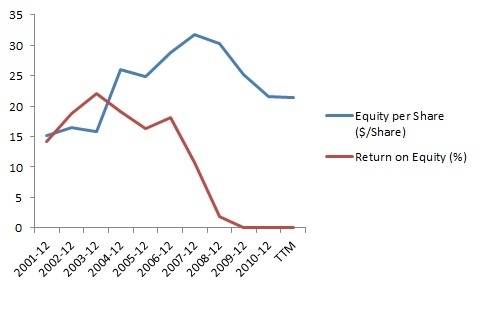 Equity per share has come down. This is mainly due to the fact that the outstanding shares have more than doubled in the last three years. Return on equity is negative due to the losses coming out of the financial crisis. Over the last 10 years equity per share has compounded (CAGR%) with 3.59% per year. We'll make the following assumptions in our five-year projection:
Equity will compound annually with the historical average of 3.59%
ROE will be a modest 10%
P/E will of 12
Share count will remain at current levels
The reason I keep the equity compounding with 3.59% a year is that I consider this a conservative estimate. During the crisis, Bank of America increased its share count with 120% while its asset base only increased with 75%. This is clearly not helping. Another way to look at it is to consider the increase in equity per share before the financial crisis (2001-2007). This is around 13% a year. Keeping the modest 3.59% a year will serve my purposes for this analysis.
Projecting five years out puts the equity per share at around $26. Taking a ROE of 10% gives earnings per share of $2.60. A P/E value of 12 puts the stock price at $31. The stock is currently trading slightly above $11. This gives a compound annual growth rate of 23% over a five year period. In other words, that would turn a $10,000 investment in $28,000. Not bad for sitting still and waiting patiently.
There are clearly risks to this investment. Bank of America is not out of the woods yet, looking at the challenges described above. Make sure you do your own analysis and weigh the risks before considering a position.
Disclosure: I have no positions in any stocks mentioned, but may initiate a long position in BAC over the next 72 hours.