We think using a combination of price behavior and fundamental criteria is a good way to go about selecting stocks for a portfolio. We also think achieving a significant part of total return from cash dividends is a good thing too, at least for investors who need to draw on their portfolios to support lifestyle over the long haul.

For a first pass at fundamentals, a long-term pattern of persistent, consistent dividends is a reasonable start.

Along those lines of thinking, there are 15 members of the S&P 500 that could make some sense for equity income investors.

The price behavior filter was:
200-day linear regression slope > 0
100-day linear regression slope > 0
price > 200-day average
100-day average > 200-day average
price > midpoint of 63-day price channel
3-month average per minute dollar trading volume > $25,000
price > 0.95 times highest price in past 252 days
The persistent consistent dividends filter was:
price >= $5
yield >= 3% (the 10-year Treasury rate)
paid dividends for at least 7 years
no decrease in dividends for 7 years
most recent dividend no less than dividend for same period last year
The symbols for the stocks that passed the screen are: CenterPoint Energy (NYSE:CNP), Dominion Resources (NYSE:D), Consolidated Edison (NYSE:ED), Edison International (NYSE:EIX), H.J. Heinz (NYSE:HNZ), Kraft Foods (KFT), Kimberly Clark (NYSE:KMB), McDonald's (NYSE:MCD), Northrop Grumman (NYSE:NOC), ONEOK (NYSE:OKE), PepsiCo (NYSE:PEP), Public Storage (NYSE:PSA), Reynolds American (NYSE:RAI), Southern Company (NYSE:SO), Wisconsin Energy (NYSE:WEC).

The stock names, symbols and yields are shown in this table image: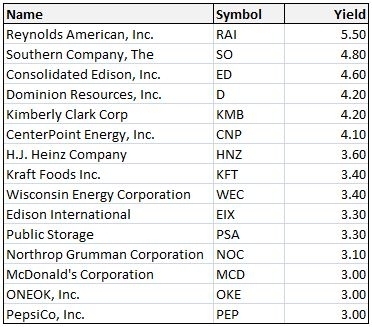 While the dividend ETFs SDY and VYM (and DVY missing out by pennies) make the price behavior filter, and make the yield test, they do not make the persistency test.

Interestingly, even though the individual stocks in SDY must have paid and increased dividends each year for 25 years, the mix changes each year, such that the fund itself has not paid increasing amounts of dividends each year.

SPY (the proxy for the S&P 500) fails the price behavior test, the yield test and the dividend persistent growth test.

The charts for those four ETFs follow. All charts are as of end-of-day 2011-06-07.

Along with the prices, the charts plot the 200-day moving average in gold, and the trailing offset lines at 5%, 10%, 15% and 20% from the highest price attained during the past 252 days. The dotted red line is for the 5% trailing offset. The dashed red line is for the 10% trailing offset. The solid red line is for the 15% offset, and the bold solid red line is for 20%.

Click to enlarge charts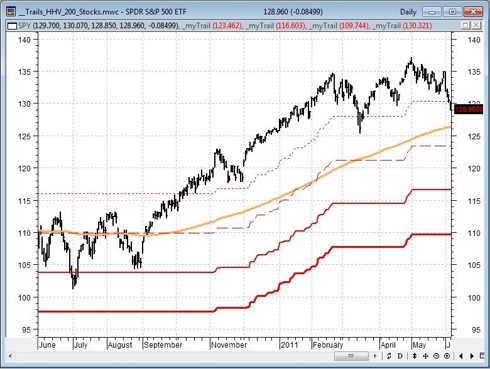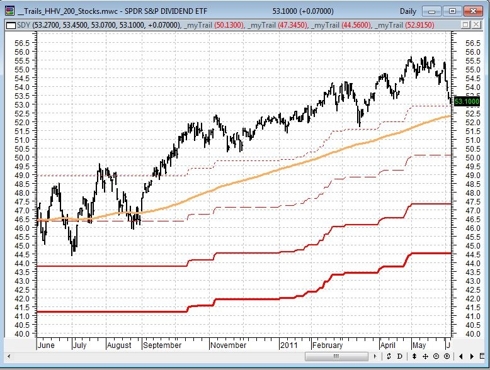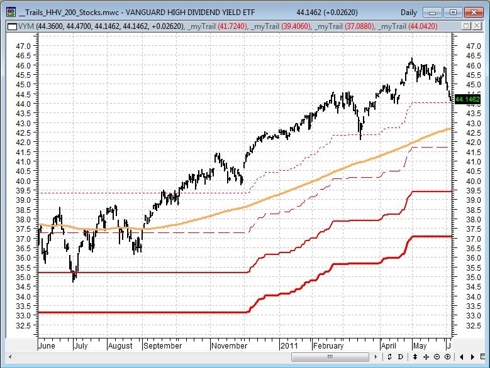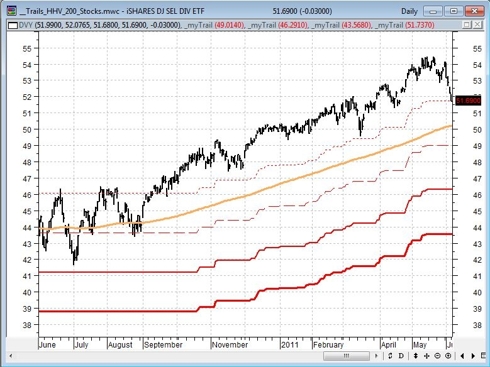 The charts for each if the 15 S&P 500 stocks that passed the test follow.

These are liquid companies that are resisting the current market downdraft better than others, while at the same time paying better dividends than Treasuries and providing dividend growth.

See our prior article showing 15 year outperformance of high dividend stocks vs. broad market stocks.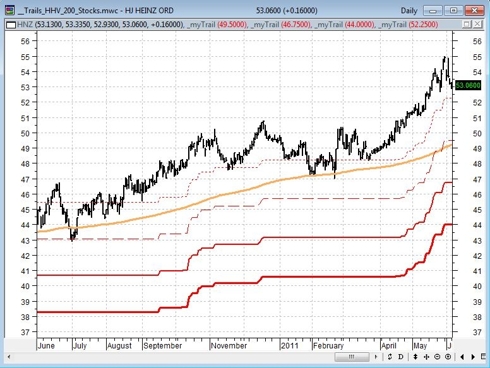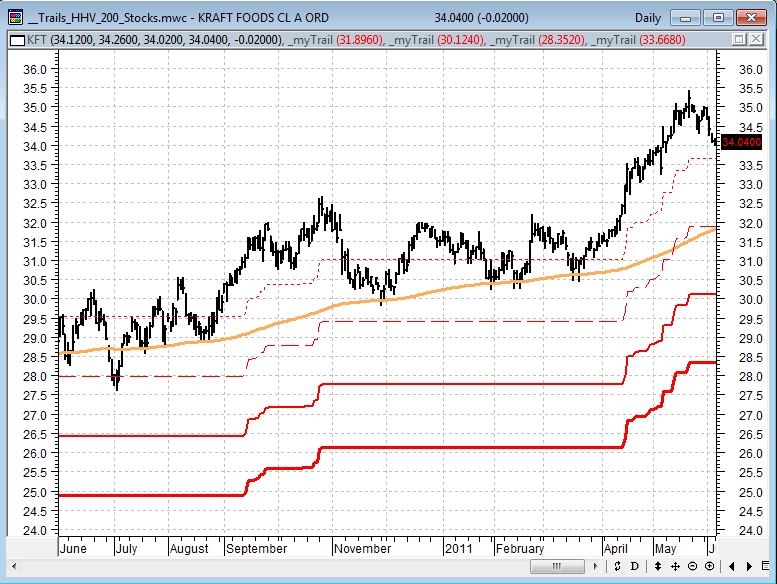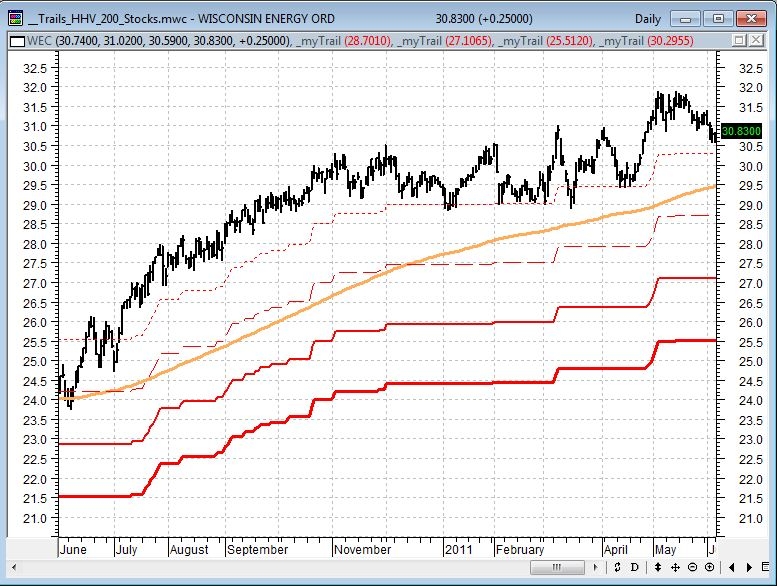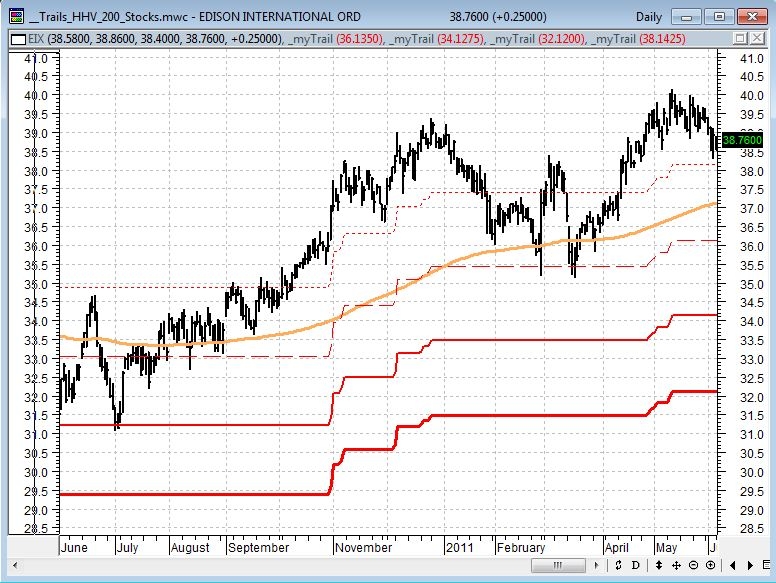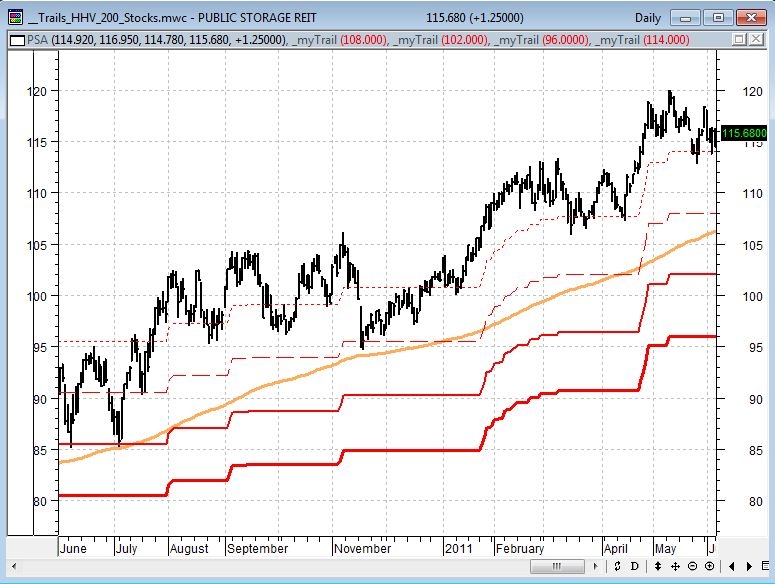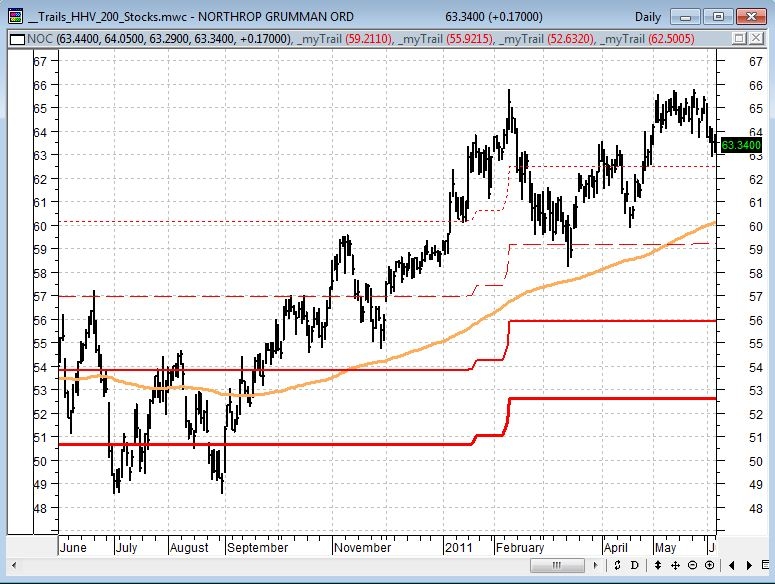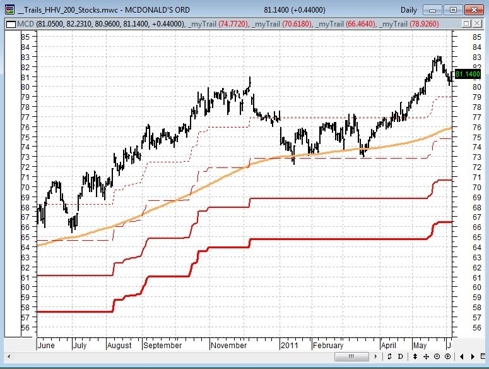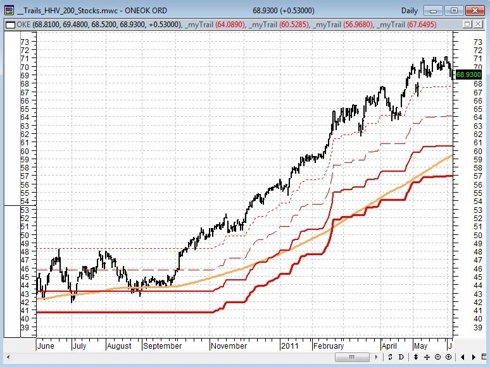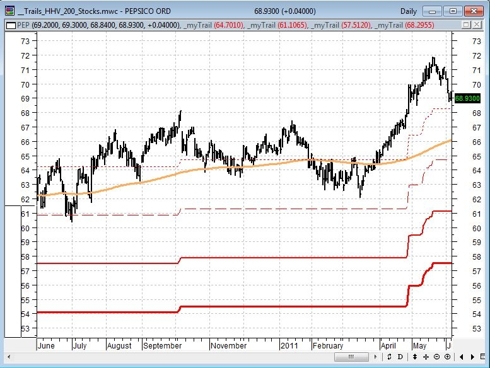 Disclosure: We hold SO, ED, KMB, HNZ, KFT, PEP, SDY, VYM and DVY in some but not all managed accounts as of the publication date of this article.
Disclaimer: This article provides opinions and information, but does not contain recommendations or personal investment advice to any specific person for any particular purpose. Do your own research or obtain suitable personal advice. You are responsible for your own investment decisions. This article is presented subject to our full disclaimer found on our site available here.