U.S. equity markets once again finished the day lower, marking the sixth straight session in the red for U.S. benchmarks. The Dow slumped by 22 points while the S&P and Nasdaq posted heavier losses of, respectively, 0.4% and 1.0% on the session. The biggest losers came in the tech and financial sectors as banks slumped on a government ruling on fees and tech fell pretty much across the board. Meanwhile, in commodity markets, gold finished the day flat while crude oil gained close to 2% after an OPEC meeting in Vienna saw no increases to production from the cartel. Other resources also finished the day broadly higher as the soft commodities put up multi-percentage point gains including a 3.7% surge in the corn market. T-Bills continued to rise though as the 10- and two-year notes both saw yields tumble to near record levels; a two-year treasury bill now yields investors under 40 basis points. This is within striking distance of the all-time low set in November, potentially signaling that the market doesn't have further to go in terms of slumping yields.
One of the biggest ETF winners on the day was the PowerShares DB Agriculture Fund (NYSEARCA:DBA) which gained 1.1% in Wednesday trading. Today's gains were thanks to broad strength in the agricultural commodity sector as a number of international and domestic factors helped to boost prices across the board for a number of crops. The failure by OPEC to raise output quotas of oil helped to boost prices of corn, while concern over the wheat crop in Western Europe helped to boost prices of that staple crop as well on the day. Additionally, traders also adjusted their positions ahead of tomorrow's key report from the USDA on world crop supply and demand. The organization is expected to cut its domestic corn inventories by close to 24,000 bushels during this release, further adding to the bullish sentiment on corn this year. "The bottom line is that we are higher because of oil and because there are few that want to be short going into tomorrow's U.S. Department of Agriculture numbers," Darrell Holaday at Country Futures said. As a result, DBA, which has a variety of contracts on agricultural commodities, was one of the big winners on the day and could surge again tomorrow if the crop report further confirms the recent trend in the marketplace.
Click to enlarge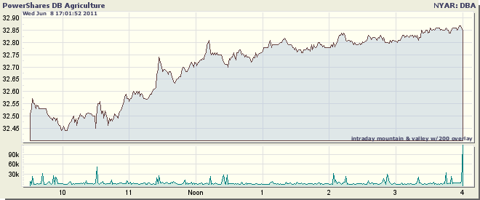 One of the biggest losers in the ETFdb 60 was the PowerShares WilderHill Clean Energy Portfolio (NYSEARCA:PBW) which tumbled by 2.6% on the day. Today's losses came thanks to bearish news from some of the fund's top components. First, Molycorp (MCP), which is the second biggest holding in PBW, detailed plans to sell 10 million shares of common stock and offer $200 million in convertible senior notes. Thanks to the dilutive effect of this move, shares of MCP were down sharply in Wednesday trading, declining by as much as 9.4% on the day. Additionally, weakness was also seen in the solar corner of the market as companies in this corner of the sector were dragged down by LDK Solar's (NYSE:LDK) earnings report last night. Although earnings easily beat estimates - by about nine cents a share - revenues were down close to 17% when compared to the previous quarter and the firm expects revenues to come in below expectations for the current period. As a result, most solar stocks finished the day down between 7%-11%, so this weakness along with the plunge at MCP helped to make Wednesday a pretty poor day for PBW.
Click to enlarge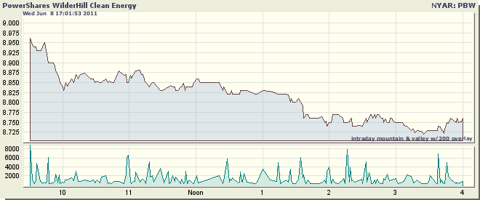 Disclosure: Long PBW.
Disclaimer: ETF Database is not an investment advisor, and any content published by ETF Database does not constitute individual investment advice. The opinions offered herein are not personalized recommendations to buy, sell or hold securities. From time to time, issuers of exchange-traded products mentioned herein may place paid advertisements with ETF Database. All content on ETF Database is produced independently of any advertising relationships.