Tuesday I featured a commentary on NYSE Margin Debt and the S&P 500 that illustrated the growth of margin debt since 1995 and the correlation with market peaks. After it appeared, Lance Roberts, General Partner & CEO of Streettalk Advisors, sent me his analysis of the situation based on the larger context of the NYSE data that includes free cash accounts and credit balances in margin accounts. Essentially, the Credit Balance is calculated as the sum of Free Credit Cash Accounts and Credit Balances in Margin Accounts minus Margin Debt. The chart below illustrates the mathematics of Credit Balance with an overlay of the S&P 500.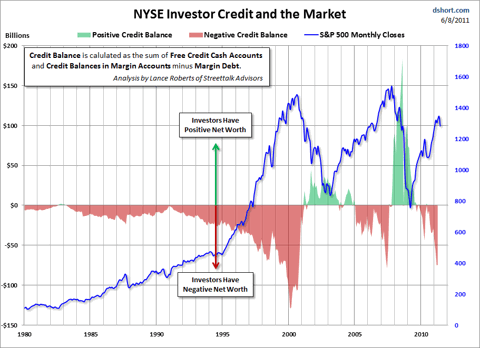 Click to enlarge
Click for a larger image
Lance comments:
One of the reasons that we believe that we are in a reflexive cyclical bull market bounce in a longer term secular bear market is the extremely rapid return of investor speculation after the complete lambasting they received during the 2008 credit crisis driven collapse in the equity markets. At normal long term secular bear market bottoms as in 1974 investors shun equity investing in its entirety. With investor speculation fully engaged in the current market environment, we are set up for another fairly sharp decline which may in fact find us at a lasting long term secular bear market bottom.
As I pointed out in the earlier commentary, the NYSE margin debt data is a few weeks old when it is published. Thus, even though it may in theory be a leading indicator, a major shift in margin debt won't be immediately evident. Nevertheless, the magnitude of the latest negative credit level is comparable to the maximum debt reached four months before the 2007 market peak. I see this as yet another caution light for investor expectations.
I'll update these data series when the next NYSE numbers are released.