Wednesday Ben Bernanke spoke on the state of the economy and likely Federal Reserve policy. The result was essentially more of the same, with indications that rates can stay low for a very long time due to the rather horrible job market.

It was also said that the latest quantitative easing will be ending and without significant effects on the financial markets. The implied message is that quantitative easing is just easing liquidity issues that have now cleared up slightly. Therefore, reducing the easing will not affect markets. Whether this will be true or not remains to be seen, but it does seem that the market is rather bearish facing the prospect of quantitative easing no longer supporting markets.

On the other side of the coin, you have true inflation hawks and commodity bulls who are very pessimistic on the entire U.S. economy and how it is being managed. They believe that rates are too low, resulting in nothing more than useless inflation on U.S. citizens. In extreme cases, they firmly believe that keeping rates low will do absolutely nothing to benefit the U.S. economy and will only delay the inevitable massive drop in asset prices which is necessary for a recovery.

My speculation is that a significant (.50% or larger) increase to the federal funds and/or discount rates would immediately sap inflation. Oil prices would tank hard, along with most other commodities. Treasuries would likely take an immediate hit, as would long term notes and bonds.

On the international fronts, China would see an immediate loss on investment in U.S. debt purchased recently. The U.S. dollar would likely begin to stop falling on a worldwide basis, and it would probably slow its fall against the Yuan unless the Chinese accelerated their revaluation.

However, raising rates could result in a boost to the U.S. economy, in that it may encourage banks to stop hoarding money and to begin loaning it out because borrowing costs would no longer be zero. As far as I know, banks have been borrowing money through the discount window at zero cost, then reinvesting the money into extremely safe assets such as T-bills and one year notes. If they had to pay 0.50% to borrow short term, they would either stop borrowing and lending, or they would keep borrowing at the new rate but start lending at 1% return instead, and so on. This sounds like very little difference, but it could cause savings account rates across the country to rise significantly. It would increase the saving rate slightly because workers would see some reason to save, although very little.

The dollar index is shown below. The effect from the Bernanke speech was very slight, but it did strengthen the dollar slightly.
Click to enlarge: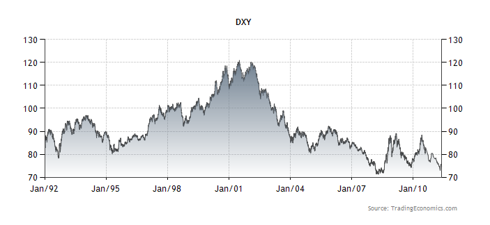 It may be too soon to say, but with nonfarm payrolls no longer showing spunk, one must assume that the dollar will have trouble finding strength, although the end of the Fed's quantitative easing may provide support.

The 10 year note is trading at increasingly lower yields, and the speech Wednesday resulted in the 10 year climbing noticeably.
Click to enlarge: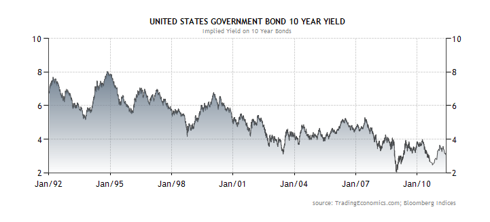 So, in the end, if the Fed jumps the gun, it seems markets would be jolted back into a state of near deflation, with commodity prices taking massive hits and the dollar rallying. It seems the U.S. economy is currently stuck in a near endless state of steady state. Job growth is moderate at best, inflation is subdued, and U.S. currency is fairly weak. There is a psychological element of growth that is missing for the U.S. economy, and it is doubtful the Fed will increase rates much until that has changed.

On the positive side, if the dollar strengthened, some aspects of normal savings and banking could return, causing a return of confidence, and at the same time halting commodity prices. Innovation could possibly be boosted as rising exports would not provide as much of a boost as otherwise would be the case.

In my eyes, the Fed's eyes are on two things, the value of the Yuan and the U.S. nonfarm payroll numbers. Until both are up, the Fed will sit tight, or more appropriately, sit with a loose money policy. The Fed is facing increasing speculation of a double dip, and I think ending quantitative easing will already be akin to raising rates in normal times.

On an asset basis, TLT would be hit hardest (TBT would rocket), LQD would be hit hard, SPY would likely take a large hit, but higher yielding funds like JNK would likely hold up well.

Disclosure: I am long SPY.