It is said that when opening up Pandora's Box what you find may seem very valuable, but it also may turn out to inflict a lot of pain and suffering in the long run. Today's IPO market has gone from hot to sizzling with the recent debut of LinkedIn (NYSE:LNKD). With an initial market cap around $3.5B, it quickly jumped to over $10B to now settle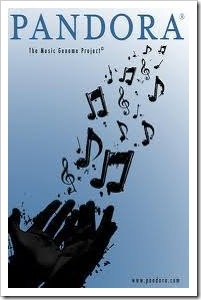 around $7.5B. That's not half-bad for a company that earned all of $15M this past year.
Also soon to jump on the red hot IPO bandwagon is Zynga, Groupon (NASDAQ:GRPN) and Pandora Media (NYSE:P). Zynga's IPO is expected to raise $500M, which puts the company's valuation well over $10B.
Groupon, who just a short time ago rejected a $6B offer from Google (NASDAQ:GOOG), is now hurrying its IPO that could give it a potential valuation of over $30B! At last check, the company lost $450M last year and is well on its way to topping that this year.
Pandora Media is also trying to launch its IPO and just filed an amended S-1 at the end of May. It is planning to raise over $100M with a valuation of around $1.3B. Not so quick Pandora, as those closely reviewing its amended S-1 may see some reasons for caution. This article will take a deeper look at potential problems lurking beneath the surface.
First of all it is always interesting to see what the company's use of proceeds will be. Most investors would naturally assume the funds will be used to further expand their business and expand their market share, but in Pandora's case, investors should note that roughly 25% of the IPO proceeds will be used to pay unpaid dividends.
We intend to use a portion of the net proceeds of this offering to pay accrued and unpaid dividends on our redeemable convertible preferred stock in connection with the automatic conversion of such redeemable convertible preferred stock into common stock upon the closing of this offering. The amount of such accrued dividends will be equal to (1) approximately $29.7 million.
As was also noted in the amended S-1 filing, the remaining will be used for general corporate purposes and the company expects to continue losing money through at least 2012.
As a result of these factors, we expect to continue to incur operating losses on an annual basis through at least the end of fiscal 2012.
More importantly, a deeper review of the amended filing yielded what some might consider a red flag with new disclosures about recently filed lawsuits. One in particular seemed to get the most attention being specifically identified as a recent patent infringement suit brought by Augme Technologies (AUGT.OB).
Some may recall Augme's on-going battles with both American Online (NYSE:AOL) and Yahoo (NASDAQ:YHOO), where they have been going toe to toe, seeking to enforce their intellectual property rights. Notably over just the last six months, the company's legal team has been bolstered by the addition of acclaimed patent attorney Don Stout to the company's board. He is founder of NTP Holdings who in a hallmark case received a $612 million settlement with Research in Motion (RIMM) .
Additionally, the respected law firm of Goodwin Procter has joined the company's efforts, now handling all aspects of defending, licensing and monetizing their Intellectual Property. It was Goodwin Procter leading the charge on behalf of Augme recently filing four additional suits against Pandora Media, Gannett, AOL and LucidMedia Networks. The last three were all filed in the Eastern District of Virgina, aka the "Rocket Docket." The case against Pandora Media was filed in Delaware.
Let's look at what Pandora Media's recent filing states about its Intellectual Property.
Our success depends upon our ability to protect our technologies and intellectual property. To accomplish this, we rely on a combination of intellectual property rights, including trade secrets, patents, copyrights and trademarks, as well as contractual restrictions.

We have one issued patent and two patent applications pending in the United States. We do not intend to pursue patent coverage in additional countries at this time, but may in the future to the extent we believe such coverage is appropriate and cost effective.

In April 2011, Augme filed a complaint in the United States District Court for the District of Delaware against us alleging patent infringement. The complaint alleges that Pandora infringes an Augme patent and seeks injunctive relief and monetary damages. We have obtained an extension of time to respond to the complaint and are currently investigating Augme's allegations. We currently believe that we have substantial and meritorious defenses to these claims and intend to vigorously defend our position.
What does this tell us about Pandora Media and its own intellectual property portfolio? Short of one patent, it appears all but non-existent. It's hard to imagine this one patent providing much in the way of barrier to entry, let alone protecting them, if they are in fact infringing on other companies patented IP. This of course will be decided by the courts. Even in light of it already requesting an extension, it appears it only has until the 22nd of June to file a response.
Meanwhile and seemingly hurriedly, its IPO seems to be getting moved up fast. One has to wonder what the possible motivation for this could be; well maybe not considering the underwriters themselves just extended the company a $30M credit facility, $9M of which was drawn immediately.
"Underwriters for Pandora Media Inc.'s planned initial public offering have extended the online music service a $30 million credit facility" ~ according to the company's new prospectus filed with regulators Thursday.
Affiliates of J.P. Morgan Securities and Morgan Stanley & Co. are lenders under the facility. Those firms are leading Pandora's IPO alongside Citigroup Global Markets Inc.
As the summer heats up, so has the IPO market. It remains hard to say whether these valuations are excessive or just the launching point. Many want to compare this to the internet bubble from years ago, but keep in mind it took years for that bubble to form and actually burst.
It is still very early in the game for a lot of these companies. One thought I always have when looking at these companies is what if Google had not paid $1.6B for YouTube and it went public right now? I have to think its valuation would rival those like we're seeing with Groupon or even the much heralded Facebook.
[Click to enlarge]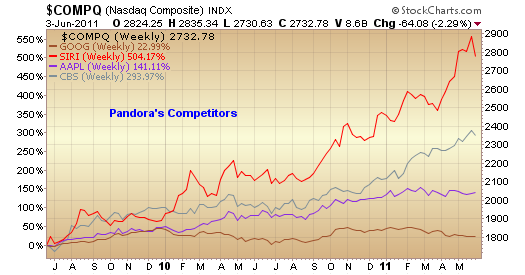 While I have little doubt many of these companies will be hugely successful in their field of expertise, I always believe it important to keep an eye on Intellectual Property, competitors and potential barriers to entry.
Pandora's competitors are also well known with the likes of Apple's (NASDAQ:AAPL) iTunes, Google, CBS Radio and Sirius (NASDAQ:SIRI). Of course, Augme was one of the original internet radio companies and owned BoomBox Radio which was where the Augme Intellectual Property was first used.
Any way you slice it, IP is going to play a huge role in the future evolution of these companies and others. Those that have it will have a significant leg up and staying power far beyond those who don't. When I look at a company like Pandora Media, I see that by its own admission not only does it have little of it, but it is already disclosing what appears to be a major material liability regarding the challenging of foundational technology at the very core of its business.
One must ask themselves, what if it loses its ability to use it? just how much of that projected $1.4 Billion valuation hinges on its ability to continue to use it? Whatever happens, read those filings closely. At least in the case of Pandora Media, you can't say I didn't warn you.
In closing, Marshall Phelps who is a world renowned IP expert formerly with IBM and Microsoft (NYSE:MS), had the following to say:
'You can't license patents if you don't own any,' he says. 'In a networked world where everyone's technology must work together, patents have become the reigning currency.'
Disclosure: Author is long AUGT.OB.