With the acquisition of Occam Networks by Calix, it is my belief that Clearfield Inc. (NASDAQ:CLFD) is now the best Broadband Stimulus pure-play for investors. Even though Clearfield continues to fly under the radar of the investing community, its small size in relation to the material impact the stimulus will have on its revenues make for an extremely attractive investment opportunity.
The Company
Clearfield is a company that manufactures and sells fiber management products to a range of telecom service providers primarily in North America. The company has approximately 136 employees and is headquartered in Plymouth, Minnesota.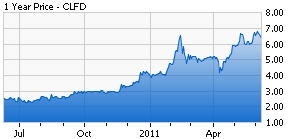 Clearfield's customer base includes 400 of the 800 North American IOC's (Independent Operating Companies). While the bulk of these are smaller Tier-3 telcos, they also supply products to many of the Tier-2 telcos such as Frontier, CenturyLink and Fairpoint as well as some of the large cable providers such as Comcast (NASDAQ:CMCSA), Cablevision (NYSE:CVC) and Time Warner Cable (TWC).
Clearfield sells a wide range of products designed to terminate, manage, protect and connect fiber optic lines throughout the network. Their main product line is their FieldSmart Fiber Management System in which the Clearfield Cassette is the main component. The Clearfield Cassette is a patented device used to terminate fiber in both inside plant and outside plant environments as well as in MDU (multi dwelling unit) applications and data centers. The Clearfield Cassette, and a smaller version called the Clearview xPAK, are fast becoming the defacto product used for fiber termination in the IOC space. The company also offers other products such as patch panels, racks , patch cords, outdoor pedestals and cabinets, PON splitters as well as an array of other products used in the typical fiber optic network. Clearfield has recently signed a licensing agreement with Miniflex, a U.K. company, to sell its unique fiber distribution products in the U.S. markets.
Financials And Performance
While growing their annual revenues nearly 20% per year between 2004 and 2008, Clearfield saw a slowdown in revenues in 2009 and the first half of 2010 due to the rapidly decelerating economy and indecision among their customer base relating to the Broadband Stimulus proposal put forth in early 2009 by Congress. Now with the economy on firmer footing and the stimulus selection process completed, Clearfield's customers are once again spending on their networks.
Clearfield grew revenues by almost 20% on a year over year basis in Q4 2010, increased that to 47% year-over-year in Q1, and in their most recently reported quarter, Q2 2011, Clearfield increased revenues 51% year over year. Both Q1 and Q2 revenues were the highest recorded for those respective quarters in company history. They also increased their gross profit 67% year over year in Q2. Their backlog at the end of the quarter was $3.68M, up 54% quarter-over-quarter and 109% year-over-year, which is important for investors as it portends a very strong Q3 revenue number which could see 30% to 40% quarter-over-quarter growth. Clearfield reported gross margins in Q2 of 40.6%, up from 36.7% from a year ago. As of Q2 Clearfield had $9.95M in cash and short term investments and no debt.
Why Is Clearfield Different?
Although smaller than their main competitors Tyco (NYSE:TYC), Corning Cable Systems and AFL, Clearfield has been able to grow their business steadily through innovation as well as offering highly customized solutions for their customers while providing very rapid turnaround times. The large players in the space are not able or willing to do this as their businesses are set up to deliver large volumes of like products to larger carriers. This is the main reason why, along with the cost saving features of their product line and their intelligent, needs based innovation, Clearfield is not only surviving against the billion dollar players in their market, but thriving.
The Broadband Stimulus
Due to its large U.S. rural telco customer base, Clearfield will benefit like no other from the Government's $7.2 billion Broadband Stimulus program. As mentioned previously, Clearfield counts 400 of the 800 North American IOC's among its customers. These are the service providers that serve the vast majority of rural communities in this country and are primarily who applied for, and received, Broadband Stimulus funding. Verizon (NYSE:VZ) and AT&T (NYSE:T), the two largest service providers in the United States, did not apply for or receive any Broadband Stimulus funding. This will be all about the little guys, and the little guys are Clearfield's bread and butter.
There will be two different government departments distributing funds in the broadband stimulus. One is the Department of Commerce ((NTIA), whose grants will primarily fund middle mile projects and the other is the Department of Agriculture (RUS), whose grants and loans will fund primarily last-mile projects connecting homes and businesses. Although Clearfield will play a part in the middle mile networks funded by the NTIA, the bulk of their Broadband Stimulus revenues will come from RUS funded last mile projects which will use fiber optics as their delivery medium.
How big is the stimulus opportunity for Clearfield? According to the FTTH Council, there were 297 broadband infrastructure projects awarded by the RUS. Approximately 50% those projects, or 156, involve fiber to the premise architectures. On a dollar basis, however, fiber was even more prominent. Of the $3.5 billion distributed by RUS, appx. $2.33 billion or 66% went to FTTP based projects. When you add in all matching funds contributed by the awardees, that number climbs to nearly $2.7 billion in projects with a fiber component.
If we take into consideration that Clearfield already counts 50% of the IOC's in North America as their customers, the obvious assumption is that Clearfield's customers will be involved in 50% of the fiber based last mile Broadband Stimulus projects. That would be approximately $1.3 billion worth of projects. I believe it could be more. I have compiled a list of Clearfield's customers over the last year and have come up with 210 or just under 53% of their stated customer base. From these 210 I count $1.45 billion in actual Broadband Stimulus awards to 65 customers for 69 different projects. When you consider that I only know of half of Clearfield's customer base, it seems very likely that their involvement in the stimulus could be significantly more.
Clearfield's revenues from these stimulus projects will vary but generally falls between $20 and $200 for every home passed, according to management. If we assume Clearfield customers will be involved in 50% of the RUS last-mile fiber projects ($1.35B) and it costs an average of $2500 to pass a home in one of these rural deployments, we get approximately 540K homes passed. At an average of $60 per line in revenue that's $32.4M in revenue to Clearfield. Divided over 10 quarters, the time from now until all stimulus projects must be completed in 2013, that is an average of $3.24M per quarter in revenue just from the stimulus. A significant increase in revenues for a company that averaged $6M per quarter in revenues in 2010. This figure does not include any access revenue Clearfield may obtain from sales of products used to connect the actual homes to the fiber network, just revenue from passing the homes with fiber. Sales of these access products can raise the average overall revenue per line substantially in any given project. Also, according to my count, Clearfield's customers will be involved in at least a dozen NTIA funded middle mile projects that will add to their Broadband Stimulus revenue pot as well.
Finally, Render Vanderslice, an industry market research firm, stated recently that slightly more than 1/3rd of the stimulus award winners are in the beginning stages of their build process and another third are about to commence. It won't be long before the equipment ordering process starts in earnest for these billions worth of projects.
Beyond The Stimulus
In Clearfield's Q1 earnings press release on January 27th, 2011 CEO Cheri Beranek stated the following:
Of the nearly 4,000 applications for government grants, only slightly more than 500 were funded as the grant process was concluded. Our research indicates that nearly 60% of those sites who were denied funding will move forward with their projects without government assistance, albeit in a scaled down fashion.
If one crunches the numbers on that statement, spend from projects commencing from the denied stimulus applicants could approach the number of those actually approved even assuming a drastic cutback in project size and budget from the original stimulus applications.
USF Reform
The FCC is proposing to transition the Universal Service Fund (USF), over time, to subsidize broadband in rural areas instead of just phone service which is subsidized under the current system. The USF is a $8 billion per-year fund, which if targeted at high speed broadband subsidies vs. telephone lines, could have a very positive effect on Clearfield's revenues over a long period of time.
Expanding Markets
Another factor that could add significant revenues in the near term is Clearfield's increased business with the Tier-2 providers. In their 10Q filed in April, Clearfield mentions an uptick in business with these larger carriers:
The Company experienced gains from within Tier 3 Carriers, as well as from an emerging presence associated with Tier 2 Carriers who have a national footprint.
While Centurylink and Frontier primarily deploy copper based ADSL2+ and VDSL in their networks, they do use FTTP for various greenfield builds and fiber-to-the-business deployments. Just the sheer size of these carriers can create a significant opportunity for a small company such as Clearfield going forward even without them committing to wide scale FTTP deployments.
The recent growth in Smart Grid projects, which often use fiber optic networks due to their reliability and customer revenue generating potential as well as a spate of new municipal fiber network projects both have potential to increase revenues for Clearfield. They have been involved in a number of municipal and smart grid projects in the last few years.
In the second quarter 10Q, Clearfield identified Calix Networks as making up 31% of their accounts receivable. Calix sells MSAP equipment into the North American Tier-3/Tier-2 space. Calix has a large market share in that sector due to their recent acquisition of Occam Networks and they sell a line of outdoor cabinets to their customers which are manufactured by Clearfield. Calix will be heavily involved in the broadband stimulus (as much as 90% of RUS last mile projects according to analyst Blair King at Avondale Partners). They have a strong presence in the Tier-2 space at CenturyLink and Frontier as well as cable providers such as Cox. This could provide a growing source of revenue for Clearfield due to their manufacturing partnership.
Finally, Clearfield's Chairman of the Board Ronald Roth has been purchasing significant amounts of stock on the open market for several years. He has purchased over 85K shares in the last year and added 10K shares recently in the $6.75 range. Both Roth and Johnny Hill, Clearfield's COO, exercised their options recently and held onto the shares.
Summary
Clearfield is a growing company that saw a temporary downtick in their business in 2009 and the early part of 2010 due to factors mentioned above. Now that the stimulus freeze is thawing and the economy has found firmer footing, Clearfield's customers are starting to spend again on their networks. More spending means higher revenues, margin expansion and the ability to upsell customers other products that complement the Clearview Cassette. With the Broadband Stimulus about to kick their revenues into a higher gear coupled with a significant expansion in their base business, Clearfield is about to take their revenue growth to another level.
Disclosure: I am long CLFD.