Emerging markets growth over the last decade has been tremendous. In the future, as these countries gradually catch up with advanced economies, one can assume that their stock markets will continue to reward investors with strong returns over the long run. Nevertheless, the road ahead is likely to be a bumpy one, as it has been over the past years. Since its inception in April 2003, the ETF EEM (Emerging Market Index) has returned a hefty 22.6% annual return (CAGR), but at the expense of extremely high volatility (36%) and stomach-churning maximum monthly drawdown (-60.4%). VWO roughly recorded the same performance.
This article highlights how savvy investors can achieve EEM-like returns, with SPY-like volatility and bond-like drawdowns. Seems too good to be true? Then read carefully this article and you will never again consider buying and holding as a sound strategy, whatever bright you assume the future may be. Any investors willing to take some exposure to emerging markets should thoroughly consider the approach detailed here.
The figures presented in the reminder of the article are based on a 5-year period backtest (2006-2010) whose purpose is to illustrate the broad principles of the strategy.
1. Choosing a fair benchmark. In order for the competition to stand a chance, buying and holding EEM will not be our benchmark strategy. We will rather use a simple timing strategy whose rules are: (i) be long EEM when it trades above its 6-month moving average; (ii) be in cash (NYSEARCA:SHY) otherwise.
| | | | |
| --- | --- | --- | --- |
| | CAGR | Volatility | Max Drawdown |
| Benchmark | +19.1% | 23.9% | -22.1% |
| EEM | +12.0% | 42.5% | -60.4% |
We have improved the returns by 60% while decreasing volatility by almost 50% and cutting drawdown by almost 3. Looks like a fair benchmark.
2. The unhedged strategy. The mechanics of the strategy follow the same principles as the ones we have detailed here and here.
Basically, the idea is to buy every first of the month the two emerging market ETFs of our universe that are ranked highest in terms of risk-adjusted returns, only if their performance has been better than that of plain cash. Otherwise, we stay in cash. Here again, the definition of the ETF universe is key. Our universe has around 20 ETFs, mostly country ETFs of current and future large emerging markets (FXI, INP, RSX, EWZ...).
Such strategy delivered a very strong annual return of around 37% over the last 5 years, with roughly the same volatility as the one of our "upgraded" benchmark and half the drawdowns:
| | | | |
| --- | --- | --- | --- |
| | CAGR | Volatility | Max Drawdown |
| Strategy Unhedged | +37.4% | 24.2% | -12.2% |
| Benchmark | +19.1% | 23.9% | -22.1% |
This aggressive strategy may fit well in a diversified portfolio with broad exposure to many asset classes.
3. The hedged strategies. But more conservative investors can apply simple hedge fund-like techniques to further dramatically reduce both volatility and drawdowns. Of course, there is no such thing as a free lunch in financial markets, so this can only be done by foregoing some upside.
The idea here is to implement a long-short strategy with a long bias, by adding a short position in EEM to hedge part of the long position in the top two ETFs.
The "strategy hedged 10%" is the one where the emerging market exposure is composed of 3 long positions: 45% in each of the top two ETFs and 10% in EUM, which delivers the inverse daily returns of EEM. Note that given the relatively short history of EUM, the data for EUM has been replaced by the inverse of EEM performance, which are not perfect substitutes.
Similarly the "strategy hedged 25%" is long each of the top two ETFs (37.5% each) and long EUM (for 25%).
The results are summarized in the table below:
| | | | |
| --- | --- | --- | --- |
| | CAGR | Volatility | Max Drawdown |
| Strategy Hedged 10% | +31.8% | 19.4% | -9.8% |
| Strategy Hedged 25% | +23.3% | 16.5% | -6.3% |
| Benchmark | +19.1% | 23.9% | -22.1% |
The more conservative of the two above strategies perfectly highlight that by consistently investing in the top countries or regions with the best relative strength (on a risk-adjusted basis) and adequately hedging these positions with an inverse position in the reference index, it is possible to achieve emerging market-like returns, with advanced markets-like volatility and bond-like drawdowns. This is exactly what absolute return strategies are all about.
The graph below shows the equity curve of the different strategies we talked about in this article. The green line (strategy hedged 25%) is strikingly smooth (click to enlarge image):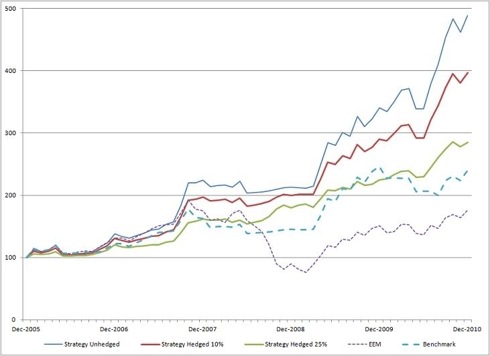 A share of our aggressive portfolio is allocated using the same techniques. In our premium portfolio, we do it in a more elaborate way, by varying the size of the hedge (short) position depending on market conditions. This allows to further improve the risk-adjusted returns of the strategy. For the month of June, we are long IDX (Indonesian Equities) and CHIQ (China Consumer Index).
As you add more building blocks along these lines for different asset classes and market segments, and dynamically hedge you global portfolio with put options (when volatility is low) or short positions, you can start seeing how ETFs now do allow virtually any investor to manage its portfolio like a do-it-yourself global hedge fund.
Disclosure: I am long IDX, CHIQ. I am short SPY via August Put options