In two previous articles, we highlighted the cheap valuations of tech bellwethers Microsoft (NASDAQ:MSFT) and Cisco (NASDAQ:CSCO), both of which trade at free cash flow yields in excess of 10%. Hewlett-Packard (NYSE:HPQ) is another technology giant that is being ignored by investors but offers compelling value.

HP shares have drifted down to $35 per share, hitting a new 52-week low. The company might deserve closer consideration if it could be reasonably expected to earn $3-4 per share in 2011, with earnings unlikely to fall off a cliff in subsequent years. The reality looks quite a bit better than this hypothetical "hurdle" as analysts expect the company to earn $5.02 per share in the 12 months ending in October 2011 and another $5.36 per share in the 12 months ending in October 2012. In other words, Mr. Market is willing to sell HP shares for barely 7x forward earnings.

HP -- Selected Operating Data
[Click all to enlarge]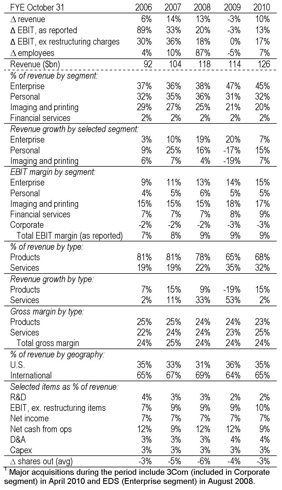 While the computer hardware industry is intensely competitive, HP's products target markets experiencing at least modest long-term growth. HP is not a company fighting an uphill battle in a declining market segment. Only a few years ago, analysts were quick to point out the company's high-margin, quasi-recurring revenue in printer supplies to justify an optimistic outlook while the stock traded at $45-50 per share. The sales and profits are still there, but investor focus has apparently shifted, leaving HP with an earnings multiple that might be more appropriate for a low-margin business in secular decline. Meanwhile, HP remains the world's largest IT company by revenue, shipping one of every three servers worldwide in addition to 52 million printers and 48 million PCs annually.

HP -- Our Estimate of the Equity Fair Value Range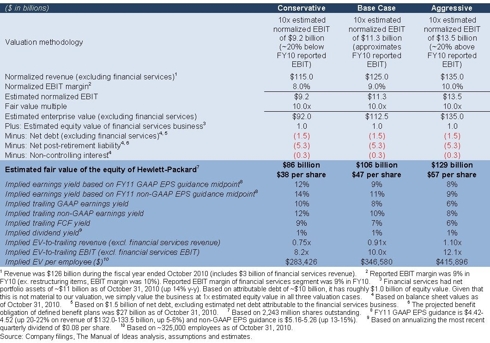 The previous table shows the estimated fair value of HP shares based on three different valuation scenarios. The analysis suggests an equity value range of $38-57 per share, implying material upside to the recent stock price. Readers may judge for themselves which of the assumptions or estimates in the above valuation table may be overly optimistic, though some may conclude that some of our inputs may even prove overly conservative.

Among the risks to our positive thesis on HP, we point to the following:
Five-year high EBIT margins across segments: With gross margin stable at ~24% since FY06, further EBIT margin improvement may be challenging.
Will the CEO change affect strategy? Much of HP's transition to a services model is due to ex-CEO Hurd, who joined in 2005. Hurd resigned in late 2010 over a sexual harassment claim and was replaced by Leo Apotheker (57), ex-CEO of software giant SAP.
Technological change and competition: HP's products businesses have short life cycles, while HP's drive into technology outsourcing and consulting services brings with it new rivals such as Accenture (NYSE:ACN).
$11 billion of net debt and $27 billion of pension liabilities ($5 billion unfunded) at 10/31/10. Net debt includes ~$10 billion within financial services.

HP -- Share Repurchase Activity, FY06-FY10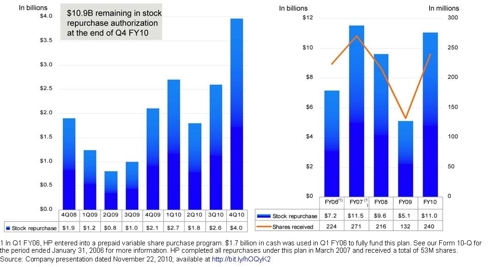 Remarkably, following the misguided acquisition of Compaq, HP has not been hoarding undue amounts of cash or destroying value in empire-building acquisitions (though the 3PAR acquisition was not exactly a bargain purchase). Here is an interesting fact: Over the last five years, HP has returned nearly 50% of recent market value to investors via buybacks and dividends. What other tech company can claim this kind of capital allocation record?

Under ex-CEO Hurd, HP enjoyed a successful transformation from a product-based company to an IT services provider. With Hurd's recent departure and replacement by ex-SAP CEO Apotheker, many investors have been left wondering about future strategy. This, of course, appears to be amply reflected in an undemanding valuation of just seven times forward EPS. While risks around technology change and competition are omnipresent, investors appear to underappreciate the sustainability of HP's business model. This presents an opportunity for those willing to think objectively about the intrinsic value of the company.

Disclosure: I have no positions in any stocks mentioned, and no plans to initiate any positions within the next 72 hours.