Leftist President-elect Ollanta Humala was a surprise winner over the more conservative Keiko Fujimori in the recent elections. The miners with large operations in Peru dropped dramatically on the news. Humala is known to be a former disciple of Venezuela's President Hugo Chavez. Some are worried about the enactment of a windfall profits tax that Humala talked about in the election campaign. Some are worried about possible nationalization of the mines or more direct control by the government.
Neither of the above scenarios seem to be immediately likely. Humala recently praised the more moderate leftist former Brazilian President, da Silva. Humala has also backed down on a proposed 50% increase to the corporate tax rate on miners (currently 30%). Instead, Humala has indicated a willingness to negotiate with mining companies over any new tax. To me this sounds like it will likely be less than the threatened 50% rise (the current 30% Peruvian corporate tax rate * 1.50 would be a 45% tax rate). However, Humala is likely to raise the tax in order to keep campaign promises to share more of the natural resources wealth with the poor. Approximately 30% of Peruvians live in poverty.
Where does this leave the mining stocks? It is hard to say exactly. Humala will not want to stem the flow of foreign investment into Peru, especially in the currently tenuously growing world economic situation. Southern Copper (NYSE:SCCO) has already stated it may put a hold on $2B in investments until it gets more clarity on any likely new government actions. Of course, $1B of this may have already been on hold due to environmental concerns. Most other miners are continuing as planned. Freeport-McMoran (NYSE:FCX) and Newmont Mining (NYSE:NEM) have stated they have no plans to curb development.
On Monday June 6, 2011, both Southern Copper and Compania de Minas Buenaventura SA (NYSE:BVN) fell dramatically. BVN shares fell from $42.52 to $35.75. Recent highs had been $44.38. SCCO shares fell from $34.47 to $30.59. Recent highs were $37.21. BVN closed at $36.17 and SCCO at $31.29 on Tuesday June 7, 2001. Both traded at nearly double their normal daily volume. With the up move of each, the high volume is a sign of strength. Still both are still down substantially. The high volume on a positive move upward indicates that both will try to fill the gap if they can. BVN is down the most on both a dollar and a percentage basis. BVN may provide the biggest near term rebound. Barring a continued hard fall in the overall market, this rebound may occur quickly.
Regardless of the rebound, a good strategy for making money on the BVN fall is to buy the stock now. Tuesday's volume indicates strength.Then you can sell covered call options on your BVN stock. These should probably be the July or September calls. I like the July $37 option that last sold at $2.00. This will allow you to profit by almost $3 if your stock is called away. The premium you will be paid for it will provide $2 of downside protection. Wednesday's high volume on an up move indicates that much further downside is not likely near term.
The situation in Peru will not likely have completely clarified itself by July expiration. Hence the stock is more likely to have risen than to have fallen in that time frame. Plus the EU credit crisis seems unlikely to have significantly worsened by then. Meanwhile you are likely to be able to show a profit of $2.83 on a $36.17 investment. You will get this much if the stock merely goes up to $37 at option expiration. You cannot be hurt to the high side because your stock will cover any large movement upward. This means you can likely show a profit of 7.8% in about 37 days. If you could make that profit every 37 days, it would annualize to 77%. I would take that in a choppy market any day, especially when there is a very small chance of a loss.
Other possible plays are possible. Most are likely more risky. The above is just a low risk opportunity that capitalizes on the extra premium on the BVN options due to the large recent movement to the downside. A similar trade could be made on SCCO, but it had a smaller movement down. The profits on SCCO are likely to be smaller.
The 1 year charts of both BVN and SCCO are below. They show the reasonableness of the trade on a technical basis.
1 year chart of BVN: (Click on charts to enlarge)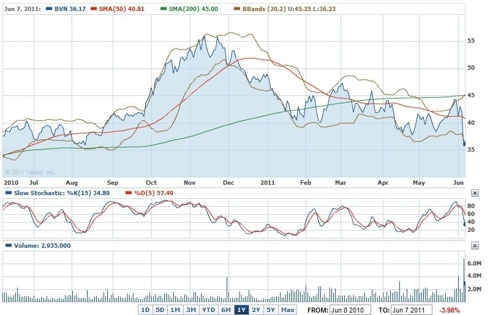 The 1 year chart of SCCO: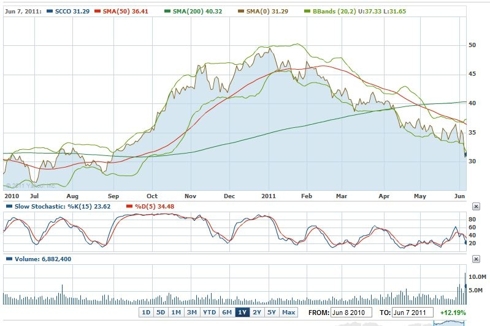 The above charts show that both BVN and SCCO are near or at a very strong technical support level. It would take a lot for either to move through this support. This provides reassurance to the investor that the likely near term direction is upward.
A few of the financial fundamentals of each stock are in the following table. The data is from Yahoo Finance.
| | | |
| --- | --- | --- |
| Stock | BVN | SCCO |
| Price | $36.17 | $31.29 |
| 1 yr. Avg. Analysts' Price Target | $49.90 | $45.62 |
| PE | 12.66 | 16.13 |
| FPE | 9.44 | 8.41 |
| Avg. Analysts' Opinion | 2.8 | 2.8 |
| Market Cap | $9.18B | $26.60B |
| Enterprise Value | $8.54B | $26.72 |
| Beta | 0.73 | 1.56 |
| Price/Book | 3.38 | 6.75 |
| Total Cash per Share | $2.81 | $2.58 |
| 5 yr. EPS Growth Estimate per annum | 13.10% | 19.23% |
| Short Interest as a % of Float | 1.1% | 2.41% |
Both of these stocks look fundamentally strong. There is no reason to believe they will not recover. There is a little risk that Humala will do anything to upset this trade by the July 15, 2011 options expiration date. Humala will not be inaugurated until July 28, 2011. The trade should work.
I should say that I believe Southern Copper and Compania de Minas Buenaventura are both good mining companies with good growth prospects. I would like to invest in both longer term. Other option plays could yield much bigger profits but they have more risk. The investor must decide for himself/herself how much risk he/she is willing to tolerate.
If you are worried about the current overall market down trend, you could hold off on this trade. However, I am unsure how long it will be available. To me it seems a better bet to get in now. However, I will likely be watching BVN and the SPY Thursday, as most others considering this trade will be. Waiting for the SPY to bottom is one strategy to consider. I expect we will see a near term bottom in the SPY within the next week or possibly two.
Good Luck Trading.
Disclosure: I have no positions in any stocks mentioned, but may initiate a long position in BVN over the next 72 hours.