Gold is many things: It's pretty, it's reluctantly used by central banks as a reserve, it's resistant to chemicals, and
it's overvalued
. It is, in the current situation, not a good short.
The question for a short is not "Is Gold overvalued?" but rather "How much will gold fall, what will make gold fall, and when will it happen?"
To figure out how much gold will fall, we need to estimate what its fair value is today. You could write the value equation as price plus performance equals value. The three usages of gold are jewelry, investment and technology. Usage of gold in jewelry has plunged 33% since 2001, so the "value" as jewelry has been decreasing due to price. Technology usage has remained approximately flat, but use as investment has increased. To keep it simple and just cut to the chase, I'll state that the price of gold since 2001 appears to be linked to efforts to lower the value of the dollar.
The chart below of the broad dollar currency index (not adjusted for inflation) from the Federal Reserve compared to the price of gold shows more or less symmetrical movements from 2001 until September 2009. After this point, gold continued to increase in dollar value but the dollar varied within a range versus other currencies. Based on the May 2011 dollar index of 95.5, gold should be valued between $968 and $1127 per ounce, a drop of $400 to $500 (25 to 30%) from current levels.
[Click all to enlarge]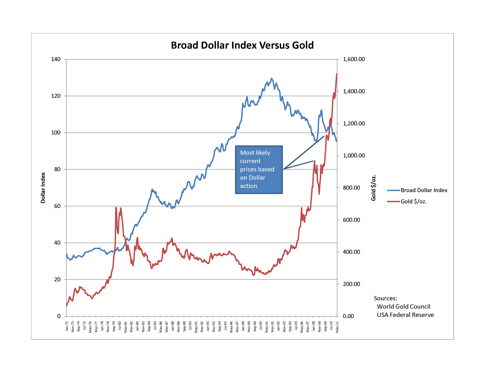 Note for people who read my other articles on gold as
currency
: Gold is similar to one type of currency --
Yap stone money
. From Wikipedia: "Although today the United States dollar is the currency used for everyday transactions in Yap, the stone disks are still used for more traditional or ceremonial exchange."
Because the manipulation of the dollar is technically outlawed by treaty, manipulation of gold seems to have been used as a surrogate. The breakdown after September 2009 between the price of gold and the dollar index was probably linked to "flight to safety" where the United States dollar, no matter how bad it is, is safer than alternative currencies. Gold seems to have joined the rest of commodities in a bubble where speculation has reduced or removed any price discovery. For more details on this, refer to the United Nations Conference on Trade and Development report entitled "
Price Formation in Financialized Commodity Markets
."
If gold is acting like a bubble, the question is: What will pop it? Once the drop starts, gold could fall precipitously. If you look at the decline from the previous peak in September 1980, it took only 18 months to drop 52% to the bottom in March 1982 -- and it didn't reestablish what looks to be a fair market relationship with the dollar until January 1983.
As I have
stated before
, gold is most likely to drop when China revalues its currency significantly upward -- eliminating the need to further devalue the dollar -- or deflation raises its ugly head. The first is very unlikely to occur and the second may result in a counterintuitive increase in the price of gold as government efforts to drive the dollar lower may intensify. As long as efforts continue to drive the dollar lower versus other currencies, any declines in gold will be limited. A strong economic recovery would eliminate the immediate need to lower the value of the dollar, but this is so far out in the future it's not a current factor.
Almost every other conceivable event (such as a Greek debt default) will probably result in flights to safety that will minimize the impact on gold. The chart below, comparing the price of gold to the price of oil, shows how gold has maintained a steady upward path while oil has been battered by different economic events.
The orange line is when the Lehman default occurred. You can see that the decline in gold basically stopped at this point due to either investor flight to safety or actions by the government to offset the rise in the dollar. Based on past history, it's quite conceivable that gold will maintain most of its current value even if other commodities tank. If you're looking for targets to short, the wild price swings in oil show the opportunity is in other commodities.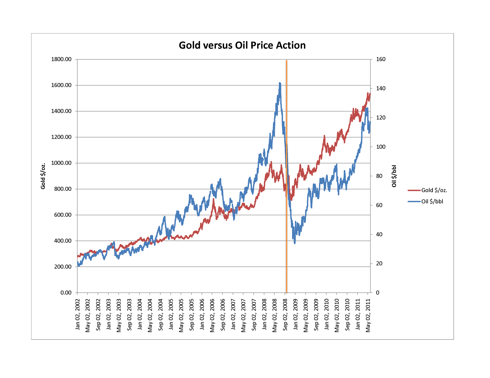 So to answer the questions for shorts: Gold is overvalued from 25% to 30% based on the dollar index. It's likely to drop when efforts to drive the dollar lower cease, and this is most likely to occur when we have a strong economic recovery in the United States. Today, if the economy slows as much as current indicators hint, other commodities will likely show much greater drops in value.
The fact that a strong economic recovery is nowhere in sight does not mean that gold will continue to new heights. Gold appears to have reached its current level based on efforts to devalue the dollar. The historical connection between the dollar and gold appears to have completely disappeared after May 2009, much like it did from 1979 to 1983. Gold is unlikely to drop due to the desire to maintain pressure on other currencies, but there appears to be little reason for government to aid it in reaching to new heights.
Disclosure: I have no positions in any stocks mentioned.