Back in April, I wrote an article detailing a proposal shareholder activist John Chevedden managed to get on the ballot for Netflix's (NASDAQ:NFLX) June 3rd shareholder meeting. In that article, you can view the contents of the proposal as well as Netflix's recommendation that shareholders vote it down. In short, the proposal calls for a simple majority vote on all corporate concerns that shareholders vote on, as opposed to the present supermajority requirement.
As Netflix noted in speaking out against the proposal, the supermajority vote applies to "certain fundamental changes to the corporate governance posture of the company, including the procedures for calling stockholder meetings, altering the size of the Board and removing directors."
A June 7th Netflix SEC filing reveals that stockholders overwhelmingly approved the proposal:

Click to enlarge
(Click to enlarge)
What does it all mean? I spoke to Chevedden last night to find out and to get an account of what happened at the meeting. There's a tiny bit of theatre involved.
Chevedden told me that he did not attend the meeting to present the proposal; he sent a "representative." According to Chevedden, Netflix employees asked his representative to leave the meeting immediately after he presented the item.
As Chevedden explained, the proposal is "non-binding." Netflix must choose to adopt it and put it up to another vote that would make it part of the company's Certificate of Incorporation. Clearly, the Netflix board of directors could choose not to adopt the proposal and avoid another vote, but this would go against the will of the shareholders.
When I asked Chevedden what material impact the change might have, if enacted, he stated that it would generally make things more transparent at Netflix and improve corporate governance. For example, as it stands, Netflix requires a supermajority to make changes to key charter and bylaw amendments as well as 67 percent of the vote to remove a board member with cause. The Corporate Library's report (You'll need a free Google account to view this source document) on Netflix's corporate governance summarizes Chevedden's key concerns: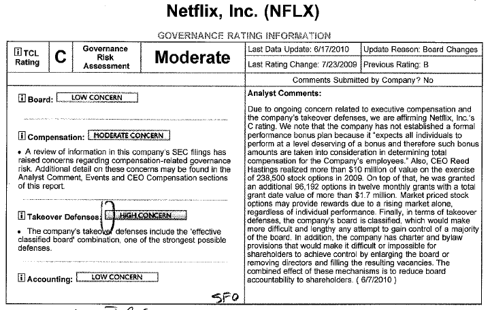 Click to enlarge
(Click to enlarge)
Interestingly, Netflix received high scores ("low concern") on the issue of accounting. The report, however, appears due for an update. Nevertheless, as I noted when I first reported this story in April, this is the kind of thing Chevedden and people like him force countless companies to deal with. Most wish the proposals and the pot stirrers would just go away. By and large, companies do get a pass on these types of matters. You're unlikely to find other outlets discussing this; I guess it's just not sexy enough?
I will keep tabs on how this turns out. I have an email in to Netflix IR for a comment. Like with their earnings conference call format, IR at Netflix appears to cherrypick the emails it answers. At times, I get prompt and informative replies. On certain issues, they issue the formal response of silence.
For instance, I have been trying for weeks to get a response to the following concern I raised in a May 3rd Seeking Alpha article: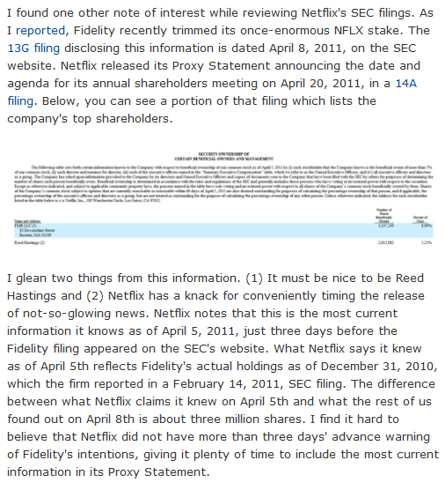 Click to enlarge
(Click to enlarge)
Simply put, Netflix appears to have timed things so that its proxy statement ahead of the June 3rd shareholder's pow-wow did not include a reflection of the not-so-good news that Fidelity trimmed its stake in the company. Because of the non-response, we have no explanation. We don't know the deal. Was this something innocent? Does Kinko's need lots of time to prepare copies of the report? Do they refuse to accept edits once the 8-by-11's hit the copy machine? It's all a mystery without a response from IR.
All of this to say, I will try, but I don't expect Netflix to respond to the overwhelming consensus that shareholders would like stronger corporate governance from the Los Gatos mothership.
Disclosure: I may initiate a short position in NFLX at any time, most likely via a long position in NFLX puts.