Exxon Mobil (NYSE:XOM) announced a 700M barrel oil find in the Gulf of Mexico. When conservative XOM says it, you can believe it. In fact you can believe the number announced is an underestimate. This portion of the Gulf of Mexico is thought to hold as much as 15M barrels of oil.
The Gulf of Mexico oil drilling was already starting up again. The Bureau of Ocean Energy Management, Regulation and Enforcement has already approved 15 deep water drilling permits. This is only 40% of the permit approval rate prior to the BP (NYSE:BP) oil spill, but it is progress. The XOM announcement is only likely to speed things up in the oil starved U.S. One has to think that nearly 1B barrels of recoverable oil would mean more than a few new wells. This should be a boon to deep sea drillers.
The cutbacks in the Gulf of Mexico were mostly replaced by more deep water drilling in Brazil, which has major new fields such as the Tupi field. They are also drilling in the China Sea, off of New Zealand, off the coast of Africa, etc. There are even many areas that have not been explored yet (or not much). The Bering Sea is logically a great prospect.
If the Gulf of Mexico deep water drilling is now heating up again, the deep water drilling companies should benefit. Transocean (NYSE:RIG) is the biggest, but its price performance may be hampered for some time after a U.S. government report found RIG to be partially at fault for the Macondo oil spill. RIG is likely to have extensive bills and lawsuits for this in the near future. These will have a negative impact on profits.
The deep sea drillers with the newest equipment should do the best. Among these are Atwood Oceanics (NYSE:ATW), DryShips (NASDAQ:DRYS) via its drilling subsidiary -- Ocean Rig, and SeaDrill Limited (NYSE:SDRL). Big drillers Diamond Offshore (NYSE:DO), and Noble Energy (NYSE:NE) should do well also. All of these are trading at low multiples. PE's range from 6.14 (DRYS) to 22.16 (NE). FPE's range from 4.27 (DRYS) to 12.59 (DO). I think the deep water drillers with the newest equipment will be the best performers over the next several years. The U.S. requirements are more stringent now. Most pundits think the U.S. regulations will be at least partially adopted by other countries. The new deep water rigs are the ones that will be able to meet the new regulations with little or no changes (few upgrade expenses). They will also be the most desirable to the hirers.
The resurgence of the land drillers should help the overall oil drilling sector surge. Major new fields such as the Bakken and the Eagle Ford Shale fields are seeing a surge in drilling. The Tuscaloosa Marine Shale may prove to be yet another of these. It just hasn't seen much development yet. The advent of the horizontal drilling techniques combined with hydraulic fracking have made earlier non-recoverable oil now profitably recoverable. The higher oil prices are adding to this effect. The industry is hiring in huge numbers. This is not a one year phenomenon.
DRYS is a special case. It took delivery of the first of its four newbuild ultra deep water drillships in January. All four should be delivered by the end of 2011. By that time DRYS should have an operational fleet of four state of the art ultra deep water drillships and two ultra deep semi submersible drilling rigs. Further DRYS has options to build another four. DRYS should be much more profitable as the ultra deep water drillships start to pay for themselves, instead of just being a drag on earnings. These state of the art ships should have no trouble finding business.
The table below contains fundamental financial information about these stocks. It is from Yahoo Finance and TDameritrade.
Stock

ATW

DRYS

SDRL

NE

DO

Price

$40.71

$3.76

$34.07

$39.58

$68.47

1 yr. Analysts Target Price

$46.65

$6.45

$38.47

$48.04

$75.97

PE

10.77

6.14

8.26

22.16

10.41

FPE

9.83

4.27

10.39

9.94

12.59

Avg. Analysts' Opinion

2.6

2.7

2.3

2.4

3.2

Price/Book

1.79

0.45

2.56

1.44

2.4

Price/Cash Flow

9.53

3.49

6.65

9.57

7.3

5 yr. EPS Growth Estimate per annum

10.67%

10.00%

6.30%

11.35%

12.23%

Market Cap

$2.64B

$1.46B

$15.80B

$9.98B

$9.52B

Enterprise Value

$2.98B

$4.23B

$24.77B

$12.61B

$10.08B

Beta

1.43

3.28

2.09

0.98

0.75

Short Interest as a % of Float

6.16%

5.16%

1.14%

3.53%

7.18%

Cash per Share (mrq)

$2.50

$0.33

$3.41

$2.03

$7.16

Avg. EPS Estimate for FY2011

$3.96

$0.84

$3.01

$2.06

$6.54

Avg. EPS Estimate for FY2012

$4.14

$0.88

$3.28

$3.98

$5.44

Total Debt/Total Capital (mrq)

23.27%

40.12%

60.74%

29.21%

27.25%

Quick Ratio (mrq)

2.35

--

--

--

4.2

Interest Coverage (mrq)

262.52

2.9

8.27

5.24

13.76

Return on Equity (ttm)

17.99%

5.95%

34.40%

6.36%

23.97%

EPS Growth (mrq)

5.28%

46.71%

252.45%

-85.04%

-13.80%

EPS Growth (ttm)

-1.68%

-15.50%

38.48%

-71.42%

-30.56%

Revenue Growth (mrq)

0.01%

6.83%

30.14%

-31.15%

-6.20%

Revenue Growth (ttm)

4.80%

6.80%

26.02%

-29.01%

-9.31%

Annual Dividend Rate

--

--

$2.80

$0.5415

$0.50

Gross Profit Margin (ttm)

62.48%

73.41%

$58.13%

48.43%

52.85%

Operating Profit Margin (ttm)

50.14%

39.94%

36.74%

22.76%

40.31%

Net Profit Margin (ttm)

39.00%

23.96%

41.36%

17.96%

27.99%

Net Insider shares Purchased (last 6 mo.'s)

(87,212)

(1%)

N/A

N/A

(110,000)

(6.8%)

(215)

(1.5%)

Net Institutional Shares Purchased (last 6 mo.'s)

(2,263,180)

(4.07%)

N/A

N/A

(9,733,450)

(4.90%)

(15,217,000)

(13.45%)
Looking at the above table's data, it is obvious that insiders do not own an appreciable amount of NE or DO. If they have no faith in the stock, I would have trouble recommending it. Institutions have been selling both heavily. They do not have the most up to date equipment. They have had bad profit and revenue growth in the last year. Analysts are predicting good future data, especially for NE, but I would tend to wait until I had seen more definitive evidence of that.
ATW has some of the same problems as NE and DO, but it has newer equipment. There is reason to believe it will perform better than either in the near future.
SDRL has new equipment. It has a Return on Equity of 34.40%. It has the highest dividend. However, it has the highest Total Debt/Total Capital ratio. It has the lowest 5 year EPS Growth Estimate per annum. If you have time to wait for this one, you might buy it for the dividend. Otherwise it might not stack up to the likely better performance of ATW and DRYS.
DRYS is known as a bulk shipping company, but it has been expanding into the ultra deep sea drilling business. 2011 is the year in which it finally receives its new build ultra deep sea drilling ships. This is the time to begin really expecting DRYS to grow. It will not have a continual drain from these new drill ships. Instead they will be more than paying for themselves as they go into use. Does anyone believe that state of the art ultra deep sea drill ships will have trouble finding work when oil demand and prices are increasing continually without a commensurate build in supply? The latest survey of oil analysts estimated that oil use was going to expand by 300K more barrels per day than the Dec. 2010 survey. Now it is due to expand by 1.5M bpd to 89M bpd by the end of 2011.
The growth projections for DRYS are good. The Price/Book ratio is a fantastic 0.45. You may be getting twice the value that you are paying for the stock. Plus the current price of $3.76 is $2.69 below the 1 year average analysts price target. That's a 71.5% gain on your investment if it comes to fruition. If the gain is less, you are still likely to make good money.
The charts may provide some technical information.
1 year chart of ATW: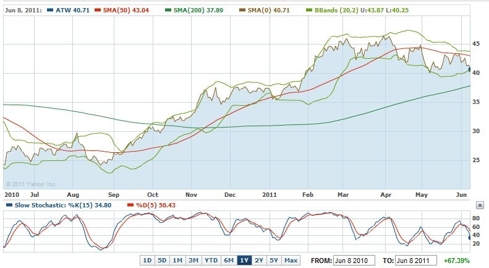 Click to enlarge
(Click to enlarge)
1 year chart of DRYS: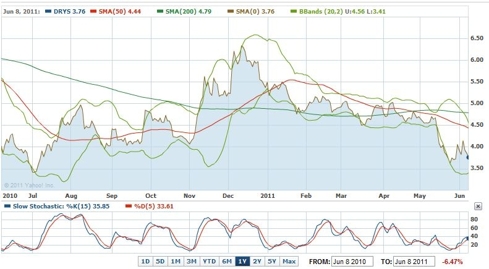 Click to enlarge
(Click to enlarge)
1 year chart of SDRL: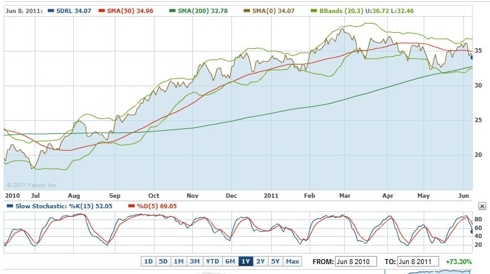 Click to enlarge
(Click to enlarge)
1 year chart of NE: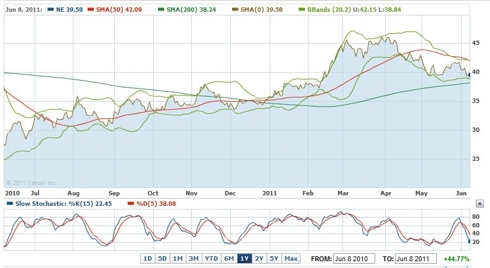 Click to enlarge
(Click to enlarge)
1 year chart of DO: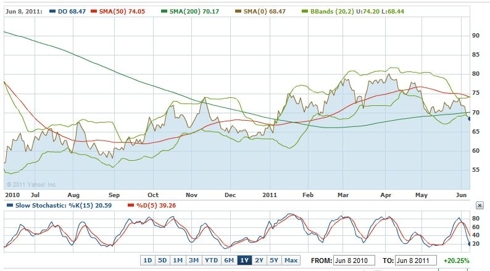 Click to enlarge
(Click to enlarge)
DRYS has the worse looking chart of all, but its recent history may explain that. With this one you really have to have faith in the fundamentals.
ATW, SDRL. NE, and DO all have similar charts. All of their charts indicate that they are generally trending upward. Some consolidation has occurred, but most technical analysts would likely expect them to continue upwards, especially given the global oil supply and demand situation.
My picks for the next 1-2 year period are DRYS and ATW, although I realize DRYS may not be popular with purists. When buying any of the above, you will probably want to average in. The overall market has been trending downward. It is easy to believe that any or all of these stocks could follow it. I might begin legging into DRYS, but I want to get some indication of an overall market upswing before buying any of the others. The next good support level for the SPY is at approximately $125.
Good Luck Trading.
Disclosure: I have no positions in any stocks mentioned, but may initiate a long position in DRYS over the next 72 hours.