The Barchart for stocks hitting the most frequent new highs showed Hickory Tech (OTCPK:HTCO) near the top of the list, with 16 new highs and is up over 17.61% in just the last month. This stock has been up and down like a yo-yo, but deserves a place on your watch lists on momentum alone, although income investors might look at the 6.10% dividend rate.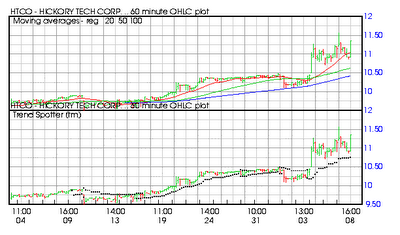 Hickory Tech (OTCPK:HTCO) is a diversified communications company engaged in operating four incumbent local exchange carriers[ILECs]. This business consists of connecting customers to the telephone network, providing switched service and dedicated private lines, connecting customers to long distance service providers and providing many other services commonly associated with ILECs. Additionally, they undertook business start up initiatives in long distance, internet access and competitive local exchange carrier businesses.
Factors to consider:
Barchart technical indicators:
100% Barchart technical buy signal
Trend Spotter buy signal
Above its 20, 50 and 100 day moving averages
16 new highs and up 17.61% in the last month
Relative Strength Index 81.71% and rising
Trades around 11.49 with a 50 day moving average of 9.71
At the present time, none of the Wall Street brokerage analysts have a recommendation on this stock
Sales are projected to increase by 16.60% this year and another 1.10% next year
Earnings are estimated to increase by 3.80% next year
For the past 5 years sales have grown by 10.50% annually and stockholders have seen a 75.60% total return.
General Investor Sentiment:
Not a widely followed stock on Motley Fool with less than 100 readers following this stock
CAPS members vote 56 to 4 that the stock will beat the market
The more experienced All Stars agree with a 13 to 0 vote.
Summary: Hickory Tech (OTCPK:HTCO) is not a growth stock, but income investors might consider the 6.10% dividend rate. The dividend payout rate of earnings is around 60% and should continue. I look for a dividend growth rate of 3-4% annually.
Disclosure: I have no positions in any stocks mentioned, and no plans to initiate any positions within the next 72 hours.