It looks in retrospect that RenRen (RENN) was the top of the "chinese internet/ social media" bubble, at least this time around. That broken IPO has been a disaster, as we warned. (IPO Priced at $14, first day mark at $24!) At this pace it may actually go low enough where I'd be interested!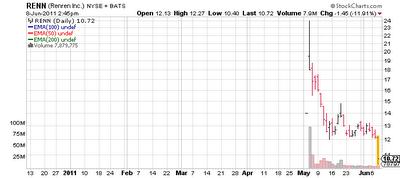 With lots of scandals - frauds (purported or real) in Chinese stocks of late the discount on any Chinese stock has grown. But today is an especially frightful day as in a relatively quiet day in markets, the Chinese stocks - many IPOs of the past 6-7 months - are being taken to the cleaners.

RENN - 13%
YOKU -10%
SINA -9%
QIHU -8.5%
HMIN -8% (not an internet stock)

amongst others...

I mentioned about 2 months ago I was no longer backing Sina (SINA) at that valuation and price, after banging the drum in late 2010. It also may soon be approaching a level that makes it interesting once more. But obviously on a technical level it is broken badly.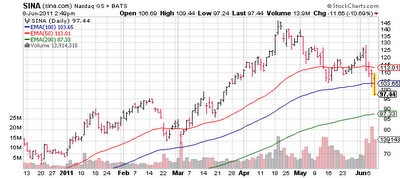 Much like the silver trade - once the momo lemmings leave a trade, you just have to get out of dodge! When a sub-sector is in a fervor there is no valuation people will pay. But when the momentum reverses, old school metrics sort of matter again.

Disclosure: No positions