While screening Barchart for high growth stocks hitting new highs, up popped Core Laboratories (NYSE:CLB), an Amsterdam-based oil services company with operations in over 50 countries. Nine new highs and an increase in price of 6.62% in the last month deserves a place on your watch list.
Click to enlarge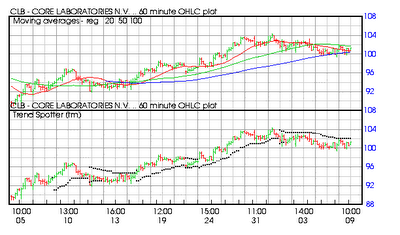 Core Laboratories provides geological and environmental analysis services and manufactures precise measurement equipment. The company provides basic and advanced reservoir rock and fluid analyses and other geological services to the oil industry. It provides information that helps oil companies make decisions regarding the presence and amount of hydrocarbon accumulations. The company's manufacturing operations include the design and production of laboratory equipment used in the petroleum industry. As oil prices stay high there should be increased interest in its extended reach horizontal well technology.
Factors to Consider
Barchart technical indicators
64% Barchart overall technical buy signal
Trend Spotter buy signal
Above its 20, 50 and 100 day moving averages
9 new highs and up 6.62% in the last month
Relative Strength Index 59.78%
Trades around 101.80 with a 50 day moving average of 97.65
Fundamental Factors
Popular with Wall Street brokerage analysts with three strong buy, five buy and four hold recommendations published.
Sales are projected to increase by 13.80% this year and another 16.60% next year.
Earnings are forecast to increase by 20.70% this year, another 25.90% next year and continue by 16.00% annually for the next five years.
General Investor Sentiment
752 Motley Fool readers have opinions on this issue and they are 98% positive that the stock will beat the market.
CAPS members vote 539 to 12 that the stock will beat the market.
The more experienced All Stars gave a 199 to 2 vote for the same result.
Summary: If oil prices stay above $90 a barrel there should be a lot of interest in Core Lab's extended reach horizontal well technology. With operations in place in over 50 countries it is already operating where it needs to be. Although the shares have had a recent run up I still look for a five-year annual total return in the 9% to 10% range if you get in at this price.
Disclosure: I have no positions in any stocks mentioned, and no plans to initiate any positions within the next 72 hours.