With a few bad weeks in the market, there's now a lot of talk about stock price volatility and risk. In fact, for many people, the words "risk" and "volatility" are synonymous. Although this idea that price volatility is risk is not a new one, this belief has been exasperated by the great recession of 2008. Of course upward volatility is okay, and investor psyches are calm and/or excited when it is occurring. On the other hand, investors are often so petrified by downside volatility that they are incapable of making distinctions regarding whether a price drop is justified or not.
Consequently, a drop in the price of one of their stocks, or even the perception of one, can stimulate irrational fear-based behavior. Once we allow emotion to take charge of intellect, the propensity to make mistakes greatly increases. The real truth is that not all stock price volatility is rational or justified. Sometimes, when emotions rule (fear or greed), common stocks can become mispriced by the markets to the extreme. Peter Lynch in his best-selling book One Up On Wall Street, summarized this point eloquently and succinctly as follows:
"Just because you buy a stock and it goes up does not mean you are right. Just because you buy a stock and it goes down does not mean you are wrong."
But perhaps the most important truth is that not all price drops or price increases are the same. There are times when a price drop represents an opportunity to buy, and other times when a price drop represents a clear sell signal. In the same vein, there are times when a large price increase is justified, and times when a large price increase creates high risk through dangerous overvaluation. So the real point we are attempting to make is that volatility in of and itself, is not necessarily risk. However, the investor's reaction to volatility can be the real risk.
Every Publicly Traded Stock (Business) Actually Has Two Performance Measurements
The vast majority of investors measure the performance of their stock portfolios based solely on price movement, and understandably so. For example, if an investor invests $100,000 just before the market swoons and the value of the stocks they bought temporarily falls to $90,000, they feel they have lost 10% of their assets. Of course, if they immediately sell their portfolio of stocks into that loss, then they are correct. On the other hand, if they believe they own a portfolio of high-quality companies that are worth more than the market is currently pricing them at and hold on, they could conceivably recover those losses and eventually move into a profit position. Nevertheless, the first performance measurement, and the one almost all investors focus on, is price performance.
The second performance measurement, and the one that we believe is the most important to the long-term investor, is operating performance or business results. The real long-term value that a stock offers to its shareholders comes from the success its underlying business achieves. One of the big problems with this most important performance measurement is that the majority of any real information is only available four times a year when the business reports its quarterly results. However, in between each quarterly report, and on a daily basis, the investor will be inundated with noise. The media subjects us to an endless barrage of mostly meaningless conjecture, opinion and exaggerated headlines all designed to agitate or disturb.
Leading Investors Understand the Importance of Business Results
The following represents a sampling of numerous quotes by legendary investors that speak to the principal of the importance of business results in contrast to stock price volatility. If these legendary investors consider business results so important, maybe we should take heed.
"What makes stocks valuable in the long run isn't the market. It's the profitability of the shares in the companies you own. As corporate profits increase, corporations become more valuable and sooner or later their shares will sell a higher price." Peter Lynch, worth Magazine September 1995
"I remain impressed with how much easier it is for us, and everybody else who has a modicum of training to determine what a business is worth, and what the dynamics of the business might be, compared with estimating the prices at which a non-arbitrage security will sell in near-term markets." Martin J. Whitman, Third Avenue Value Fund
"Unrealized Market Depreciation occurs when the market price of a publicly traded security declines. Permanent impairment or capital occurs when the fundamental values of the business are dissipated with the consequent long-term adverse consequences." Martin J. Whitman, Third Avenue Value Fund
"If a permanent impairment of capital seems likely-sell. If there is to be unrealized market depreciation average down." Martin J. Whitman, Third Avenue Value Fund
"Ben Graham said you should look at stocks as small pieces of the business. Look at (market) fluctuations as your friend rather than your enemy-profit from folly rather than participate in it. " Warren Buffett
"The market is there only as a reference point to see if anybody is offering to do anything foolish. When we invest in stocks, we invest in businesses." Warren Buffett
Two Important Performance Measurements: Price Volatility vs Business Results
I once read a statement by Dr. Wayne Dyer, a recognized dean of the self-help movement, where he said:
"When you change the way you look at things, the things you look at change."
I am a firm believer that the attitude that you take into any aspect of your life will be a main determinant of how that aspect of your life unfolds. Therefore, I would further argue that it also follows, that how you look at something will determine your attitude towards it. I find that this is especially true regarding how people react and behave towards the stock market. If people feel the stock market is a big casino, then their buy and sell strategies will reflect that attitude. Conversely, if people see the stock market as the store where they can make long-term capital allocations into strong and attractive businesses, their buy and sell strategies will reflect that.
It's been my experience that people who only measure their stock portfolio's performance solely by price, tend to develop the casino attitude towards the market. On the other hand, investors with a business perspective tend to gravitate towards the long-term ownership of good businesses purchased at attractive valuations. The legendary investors referenced above all fall into the latter camp of long-term business owners. In contrast, traders tend to only see price movement, and therefore, trade more often.
Measuring Performance by Price Alone
The following F.A.S.T. Graphs™ on our eight example companies look at each from the perspective of price only for the historical time period 2001 through 2008. What you are actually looking at here are four sets of two companies in similar businesses. The first set looks at two healthcare distributors, the second set looks at two companies operating in packaged foods and meats, the third set looks at two restaurant operators, and the final set looks at two tobacco companies. This further illustrates that companies operating in the same business or industry can produce quite different results.
Note that the price performance for most of these eight companies behaved in a very similar fashion during the recessionary period, calendar years 2007 and 2008. In other words, with only price to measure by, the respective performance of these companies during the recession was horribly bad. Consequently, any investor that was measuring the performance of these companies based solely on the important performance measurement price could only see high risk and feel great pain from the losses. Therefore, from this perspective, each of these companies could justifiably be labeled dogs.
Health Care Distributors
Cardinal Health Inc. (NYSE:CAH)
AmerisourceBergen Corp. (NYSE:ABC)
Packaged Foods & Meats
Conagra Foods Inc. (NYSE:CAG)
McCormick & Co Inc. (NYSE:MKC)
Restaurants
O'Charleys Inc. (NASDAQ:CHUX)
Darden Restaurants Inc. (NYSE:DRI)
Tobacco
Star Scientific Inc. (CIGX)
Reynolds American Inc. (NYSE:RAI)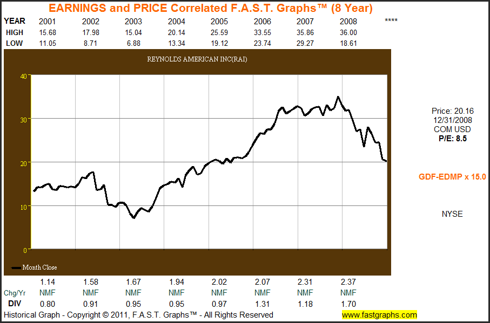 (Click to enlarge)
Measuring Performance by Earnings Growth (business results)
The following two graphs look at our first set of health care distributors from the perspective of earnings growth only. Note that we have added one year, calendar year 2009, in order to more clearly illustrate our point. When you look at the graph on Cardinal Health you will see that the orange earnings justified valuation lines for fiscal years 2008 and 2009 were down sharply. In other words, Cardinal Health's earnings fell for these two years running.
In contrast, when you review the graph on AmerisourceBergen, you discover that earnings grew by double-digit rates. In other words, the recession had very little impact on the business results of AmerisourceBergen. From a business perspective, this company showed that it was extremely recession resistant. Nevertheless, as we saw from the price perspective only graphs, exemplary earnings growth did not help the stock price much during that time.
Cardinal Health Inc. (CAH)
AmerisourceBergen Corp (ABC)
The Two Important Performance Measurements Viewed Together
The following graphs reveal both of the two important performance measurements simultaneously. With Cardinal Health it is clear that the stock price drop was justified by the collapse in earnings (orange line). Consequently, there is no price recovery in 2009 because earnings were weak. In contrast, we discover that AmerisourceBergen shareholders enjoyed a strong price recovery in 2009 thanks to their excellent operating results.
Conclusions (Part 1)
The long-term price-earnings relationship
In this part 1 of a two-part series we introduced the idea that there really are two important performance measurements that prudent investors need to consider. If you judge your portfolio based solely on price, as most investors do, you take the risk of missing extraordinary opportunities. When great companies with strong operating performance are prejudicially punished by a market gripped with fear, an attractive buying opportunity manifests. Most importantly, when great companies go on sale, the risk associated with owning them is lower while the reward for owning them is greatly increased.
On the other hand, if operating results are deteriorating and price along with it, a strong sell situation becomes manifest. When both price and earnings are falling, risk is increased along with the potential for permanent or long lasting loss. In the long run, as will become more clearly evident in part 2, stock price performance and earnings are highly correlated over the longer run. In other words, shareholder performance will ultimately be a function of the business results of the company adjusted by valuation.
In Part 2 we will review each of our eight examples (four sets of two) from the perspective of both important performance measurements (price volatility and business results) since calendar year 2001. Additionally, we will add performance results to illustrate how important it is to consider both measurements (price volatility and business results) simultaneously. We believe that measuring one without considering the other can lead to disastrous long-term investor mistakes. However, there is one more secret performance measurement we will call measurement 2.5, which we will reveal in Part 2. This is a consideration that will especially appeal to the many dividend growth stock investors out there.
Disclaimer: The opinions in this document are for informational and educational purposes only and should not be construed as a recommendation to buy or sell the stocks mentioned or to solicit transactions or clients. Past performance of the companies discussed may not continue and the companies may not achieve the earnings growth as predicted. The information in this document is believed to be accurate, but under no circumstances should a person act upon the information contained within. We do not recommend that anyone act upon any investment information without first consulting an investment advisor as to the suitability of such investments for his specific situation.
Disclosure: I am long ABC, MKC.