In late March I received an email from one of my smartphone app users asking my opinion of a company named ZAGG (NASDAQ:ZAGG). I took a look at the stock's trend lines, technical indicators, fundamentals, and so forth and began replying with a slightly skeptical, due to high volatility and questionable fundamentals, but otherwise positive endorsement of the stock. Before sending the email I thought to myself, "ZAGG, where have I heard that name before?"
I checked out ZAGG's website. They are the maker of mobile phones accessories; most significantly, the patented invisiSHIELD screen protector. That was it. I had recognized the company name because I had purchased one of their invisiSHIELD screen protectors almost two years prior.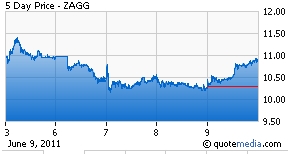 If only I had invested in the company as faithfully as I had invested in its product. The stock was trading around $3.00 at the time of my invisiSHIELD purchase and is now trading around $11.00; that's a return on investment (ROI) of 366%.
This is the first time ZAGG has reached this $11.00 price level in the history of the company. The stock had flirted with a $10.50 resistance multiple times over the past six months, but had yet to break through.
But will this breakthrough turn into a full on break out, or will the short sellers regain control and bring the stock back to its previous, humble price range?
I'm betting on the breakout. Here's why:
ZAGG is a good company that makes great products and it shows in their financials. The company has been building from within and has increased its net assets from $5.7 million in 2008 to $13.7 million in 2009 to $20.9 million in 2010. In the present year, ZAGG has continued to increase this asset figure, which now stands at $25.7 million as of their March 31, 2011 earnings report.
When we take a look at ZAGG's net income, we see the same steady increase. The company's income has grown from $2.1 million in 2008 to $3.4 million in 2009 to $10 million in 2010.
The mean analyst rating for ZAGG is currently $13.60 and as long as this stocks holds above its prior $10.50 resistance, I would expect to see this mean rating increase.
ZAGG is a micro-cap company in an industry held up by bigger, veteran mid-caps. But the company is beginning to make strong moves and has been consistently increasing profits. As many of the old dogs, like OfficeMax (OMX), Staples (SPLS) and Office Depot (ODP), in the specialty retail industry continue to fall, ZAGG has continued to grow.
But, to be fair, let's look at the downside. ZAGG is still a micro cap. And though the other, larger cap companies of its industry are struggling, they can still thump ZAGG with minimal effort. Best Buy (BBY), for example, is one of ZAGG's biggest clients. Best Buy's mobile departments' shelves are lined with ZAGG products. And yes, ZAGG's invisiSHIELD is a military grade, "patented film that is customized and proprietary to ZAGG" but it sits on the shelves with other, less expensive accessories from Belkin, Griffin, and Best Buy's own Rocketfish brand. Let's face it, competing against one of your biggest clients is a tough game.
But let's not forget, ZAGG also has a few of its own stores. After its first store opened in the University Mall in Orem, Utah in late 2009, ZAGG has since flourished and now stands at 101 stores throughout the United States. With products that prove very easy to ship, ZAGG has also stayed ahead of the online sales curve, consistently increasing website sales and traffic, something Best Buy has failed to do as of late.
Another strong move that ZAGG has made recently is its release of the ZAGGMate, a case with a built in keyboard for the Apple (AAPL) iPad. This product was released in late 2010, received solid reviews out of the gate, and eventually pushed the company's stock from its previous $7.50 range to over $10.00 by mid January, 2011. Sadly, however, the unveiling of Apple's own line of iPad covers in early March caused ZAGG's stock to plummet back down to its previous $7.50 range.
But ZAGG didn't just roll over and die. The company quickly signed a deal with Logitech (LOGI) for the distribution rights to the ZAGGMate, widening the avenues to their target, techy demographic. This deal, along with a consistent flow of good reviews of the ZAGGMate iPad 2 case, excited investors and drove the stock back up near $10.00.
In the most notable recent news, another distribution deal for ZAGG has, once again, sparked investor interest and caused a significant jump in stock price. The distribution agreement was made with Hudson Group, the largest travel retailer in North America. This agreement has made nine ZAGG products, including the invisiSHIELD, available in Hudson News locations nationwide. With ZAGG's mobile accessories and Hudson's "Tech on the Go" concept, the deal seems to be a perfect fit. And with this deal, like the Logitech deal, ZAGG has, again, widening its target demographic even further.
In summary, there are two sides to every coin and the ZAGG coin is no exception. It's a micro cap company competing in an industry filled with weathered, mid cap veterans. And though ZAGG recently broke through recent price resistance, it is still a volatile stock whose intra-day movements have been known to reach over 10% and whose risk/reward ratio is still a bit scary. But the other side of this coin looks promising. Good, well-received products, solid yearly and quarterly growth, two big distribution deals in the past three months, and a competitive 13% profit margin are a few things that keep me wondering,
"What's next for ZAGG?"
"Is there another distribution deal in the works?"
"Will ZAGG's patent-pending idea of wrapping hand-held electronic devices with a clear protective film solidify into an entirely new line of products?"
And most importantly, "Will this stock continue to rise?"
I may be overly optimistic here, but I think this company is on to something and has quite a few more tricks up its sleeve.
Disclosure: I am long ZAGG.