CVR Partners' (NYSE:UAN) business plan continues to shine. The stock has attracted the interest of numerous prominent value managers. UAN's primary products, ammonia and urea ammonium nitrate, continue to increase in selling price. For those investors who can appreciate imagery, here is an animated view of the nitrogen fertilizer production process.
click on all charts to enlarge


Click to enlarge
UAN Yield
UAN's first dividend will be paid on approximately August 15th. UAN is trading at approximately $20-per share. The expected dividend is $1.92-per share. Presently, the dividend offers a 9.6% annual dividend yield. This yield has the potential to expand with higher recognized fertilizer sale prices.

Positive Catalysts
Prominent value managers are attracted to the UAN partial spinout from CVR Energy (NYSE:CVI). David Tepper's Appaloosa Fund has an 8.6% position in CVI.
Other well known hedge fund shops with a CVI stake include Eric Mindich's Eton Park, Ken Griffin's Citadel, and Douglas Hirsch's Seneca Capital.
CVR Management Management has been actively involved to include third parties, such as Mr. Tepper, in CVI share placement.
UAN Outlook
UAN's relationship to CVI reminds me of Terra Nitrogen Company's (NYSE:TNH) amazing stock performance. CF Industries Holdings (NYSE:CF) and Terra Nitrogen Company, L.P., and the agriculture space, continue to shine in a difficult equities market.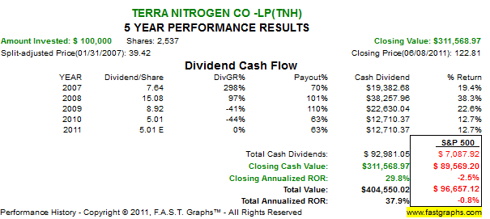 Click to enlarge

UAN has an experienced CEO, at the helm. Byron Kelley's last position was as the CEO of Regency Energy Partners LP (RGNC). RGNC is a $3.3-billion market cap MLP.

Fertilizer pricing has been firm and increasing. As UAN focuses upon premium fertilizer products, the sales price is central in sensitivity analysis for quarterly dividend estimates. Here are a few issues of note: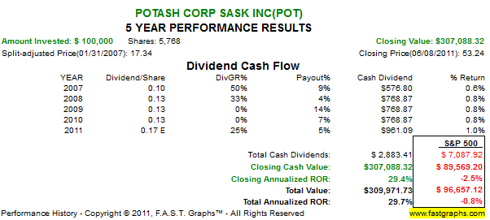 Click to enlarge
June 1st Presentation
The Scotia Capital Global Fertilizer Conference presentation is enlightening on CVR Partner's nitrogen fertilizer production opportunities. Here are a few key points to note:
The industry has experienced significant consolidation.
UAN's non-natural gas production facility can be a significant factor if, as expected by some analysts, natural gas rises in the future.
UAN's expansion plans should be finished in first quarter of 2013.
UAN provides the premium fertilizer products as the low cost provider.
Expansion plans will provide a 50% increase in production. The expansion will increase CVR Partner's output from 675,000 tons of UAN, to 1,025,000 tons of UAN tons per year.
I have extracted, from page 16 of the presentation, the "Next Twelve Months Projections" for UAN and ammonia output. In addition, the assumed price per ton is listed. Assuming the recognized sales price is higher, then the projected $1.92-per unit dividend could be higher.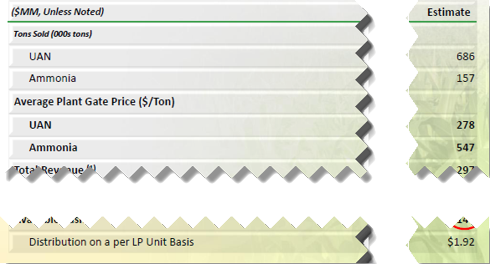 Click to enlarge
Summary
CVR Partners' business model provides ample reasons to be long UAN. Worldwide farming output needs are continuing to increase year-after-year. UAN produces core fertilizer products for farming needs. Only UAN and TNH offer the opportunity to realize a high level of income stream due to their limited partnership structure. The second quarter is approaching its close. An initial dividend will provide the catalyst for income investors to further explore UAN as a stock to own.

Although fertilizer prices will go through swings upward and downward, the current trend is upward. UAN's plant growth, to expand output by 50%, will provide production output growth to offset fertilizer price declines.

I remain long UAN and respect the prominent hedge fund players who believe value can be found in CVI and UAN.

Disclosure: I am long UAN.