Note: TRE has published a press release disputing this article.
::::::::::::
The rising tide of gold prices has lifted the market value of Tanzanian Royalty Exploration (NYSEMKT:TRX) to ridiculous levels. The stock has gained over 350% from a 2008 low of under $2 to a current price of around $6.90 There are 94 million shares outstanding, giving the company a market cap of $650 million. That is a tremendous market cap for a company that has less than $50 million of assets.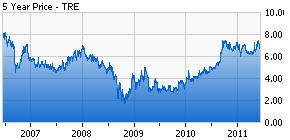 Tanzanian Royalty Exploration is a Canadian company listed on the NYSE Alternet under the symbol TRE (changing to TRX on June 15th), and on the Toronto Stock Exchange symbol TNX. The company explores for gold in Tanzania Africa.
While I don't really have an opinion about the ultimate level of the price of gold, I think that the speculative bubble in exploration stocks will burst, and this stock will be headed to $0. The company is a serial issuer of stock and has no revenue. By virtue of accounting treatments for exploration companies that allow exploration costs to be capitalized rather than expensed, Tanzanian Royalty Exploration has an artificially inflated book value of about C$0.35 per share. That gives the company a price-to-book ratio of around 20. After adjusting for capitalized exploration costs, I estimate the real book value to be zero.
The business model is quite simple: Sell stock, use the cash for corporate overhead, capitalize exploration costs, repeat. Typically, the company sells stock at a discount in privately negotiated transactions to senior executives or third parties. Those purchasers then unload the stock over time at market prices. For the fiscal year 2010, the company raised C$5.5 million from equity and convertible debt issuance. The conversion price on the debt was an average of C$4.40, while the stock price on the respective issuance dates was C$4.80 and C$5.50. The issue price for the stock was C$2.71 per share, significantly below the market price. On February 1 the company announced that it had sold $4 million worth of stock priced at a 15% discount to market and paid a finder's fee in stock of 8.5%. In and of itself, this is a very expensive method of raising capital.
The company uses the cash it receives to fund overhead and exploration. Digging deeper (after all this is a mining company), the overhead is exorbitant with respect to the size of the company. However, access to the public markets is necessary to keep the bubble inflated. Without funds for additional exploration, the company would have to abandon the exploration projects and incur a significant asset writedown. On a cash basis the company spent C$2.5 million on salaries and corporate overhead and C$3.3 million on exploration, with the exploration costs capitalized. The company has no revenue and lost C$3.4 million in 2010. The cumulative book loss is C$43.9 million. The company is great at issuing stock and compensating officers and directors, but not so good at finding gold. From the company's web site:
Tanzanian Royalty Exploration has been a major player in Tanzania's minerals sector since 1989. In April of 2002, Tan Range, its predecessor company, acquired the assets of Tanzania American International Development Corporation 2000 Limited (Tanzam) for shares, significantly expanding the Company's land position in the Lake Victoria greenstone belt and revitalizing its management team.
So many years of exploring, but still no gold production.
Even if Tanzanian Royalty Exploration managed to find gold, the company is not in the position to extract it without additional cash or a JV partner. As of August 31, 2010, the latest report date, the company had $1.3 million in cash, clearly not enough money to develop any mining operation. Looking at the valuation, and for simplicity's sake ignoring present value, the current market cap would imply that the company will find 900,000 ounces of gold. (The rough math is market cap of $650 million divided by a gold price of $700 ($1,500 market price less estimated extraction cost of $800). To put that number in context, in the quarter ended Dec 31 ,2010, AngloGold Ashanti (NYSE:AU) produced about 90,000 oz. at a cost of $749/oz. from their Geita mine in Tanzania with average annual capital expenditures of about $20 million per year.
A deeper look at the company's balance sheet reveals that the true value of the company is zero. The company capitalizes exploration costs. As of Aug. 31, 2010, Tanzanian Royalty had $29.96 million of mineral properties and exploration expenses on the balance sheet. Total assets of company were a mere $32.8 million. These assets would have to be worth over 17 times carrying value to justify the current market cap of C$590 million. Book value is about C$0.35, but substantially all the assets are an accounting fiction. The real value to the assets is closer to zero.
Canadian GAAP allows a company to capitalize exploration costs and use them as the basis for the asset when a discovery is made. See note 3 of their most recent financial statements:
Acquisition costs and exploration costs, including option payments, relating to mineral properties are deferred until the properties are brought into production, at which time they will be amortized on a unit of production basis, or until the properties are abandoned, sold or to be sold or management determines that the mineral property is not economically viable, at which time the unrecoverable costs are written off.
Bascially, Tanzanian does not test for impairment as long as a project is not abandoned, relying on an exemption for exploration stage companies.
More from note 3:
Furthermore, pursuant to EIC-17, deferred exploration costs are not automatically subject to regular assessment of recoverability, unless conditions, such as those discussed in AcG11, exist... Mineral properties and deferred exploration cost are tested for impairment whenever events or changes in circumstances indicate that their carrying amount may not be recoverable.
The language in AcG11 is probable, meaning more likely than not. So as long as money keeps coming in through share sales and 'exploration' continues, the company can claim that no event or change in circumstances has occurred and a recovery is still probable. Therefore so as long as the project is alive the company does not test for impairment and does not have to write the capitalized asset down to recoverable value. A table of deferred exploration costs is on page 30 of the financial statements. The vast majority of the average of $3 million per year of capitalized expenses are exploration and field overhead. If this were a production company those outflows would be expensed. My estimate of the recoverable value of those assets is C$0.00. Of the C$32 million of assets, I estimate the tangible assets to be C$2.5 million, C$1.1million of actual property, plant and equipment, and C$1.4 million of cash and short-term investments. After subtracting C$1.8 of convertible debt and C$0.6 million of accounts payable, I arrive at a net asset value of C$0.1 million. Repeat C$100,00.00. Yet the market ascribes a value of about C$590,000,000.00 - a whooping 5,900x the actual value of the assets.
This situation can continue in perpetuity, and likely will as long as gold prices continue their ascent. However a dead give away that something is amiss is the chairman's recent posting on the company web site urging shareholders not to lend their shares to short sellers. This is typically an act of a desperate company. If the share price collapses, the chairman knows that the bubble will burst. While not an outright fraud because everything is disclosed, investors should be aware that this company is more like fool's gold than real gold.
Disclosure: I have no positions in any stocks mentioned, and no plans to initiate any positions within the next 72 hours.