Thoughtful and direct feedback from motivated readers, followers and fellow contributors on Seeking Alpha is as valuable as the articles themselves. This I learned when Seeking Alpha readers came forward to dispute first published results for "Testing Forward vs. Actual Dividend Yields From March 2010 to March 2011." and "Annual Net Returns for S&P500, Russell 2000, and Aristocrat Dogs" articles published last week.
Because of that feedback, my additional review of information used to select and measure 10 top Aristocrat dividend stocks in 2010 for the above articles revealed three discrepancies.
Yahoo's historical dividend data did not credit Veolia Environnement (VE) for paying a dividend in 2010. Other financial sites and the VE company site list the 2010 dividend as €1.21. Dividend Investor credited VE for a $1.45 dividend paid June 28, 2010.
The status of VE as a dividend Aristocrat paying steady dividend increases for 25 years was not confirmed by any source. Therefore, including the stock on a top 10 list of Aristocrats for 2010 was a fundamental error.
Cintas Corporation (CTAS) is a dividend Aristocrat company. However, its forward looking dividends of 1.84% in 2010 could not have qualified the stock for the top 10 list.
These discrepancies were corrected by replacing Veolia Environnement with Procter & Gamble (PG) and replacing Cintas with Clorox (CLX) on the list of top 10 Aristocrat stocks for 2010. These substitutions did little to improve the overall posted results, comparing Aristocrats to other indexes. Nevertheless, dividend Aristocrats should only be represented by real Aristocrats.
Because of Seeking Alpha reader feedback and my additional review and research, I am submitting this sixth article to correct those two previous posts in the series testing the "Dogs of the Dow" strategy applied to other stock indices published on Seeking Alpha last week. This I trust will do justice to the well-respected dividend Aristocrat stocks which are distinguished by companies reliably increasing dividend payouts for a minimum of 25 consecutive years.
First are corrected graphs with changes highlighted in yellow and commentary regarding 2010 Dividend Aristocrat stock yields compared to other indices submitted for the article "Testing Forward vs. Actual Dividend Yields From March 2010 to March 2011."
Below is a back test comparing annual projected dividend yields from $1,000 invested in the top 10 dividend stocks in seven selected indices as of March 22, 2010. The indices below are ranked from lowest to highest projected average yields: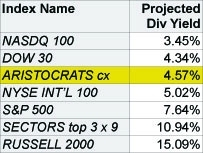 The following chart lists the 10 stocks selected by yield to be components the Aristocrat index.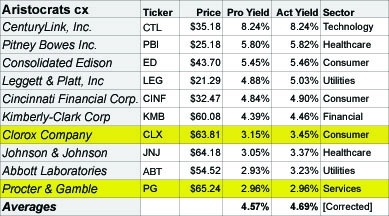 Comparing projections with actual dividend yields for the year reveals the margin of error of forward looking yield assumptions for each of seven indices: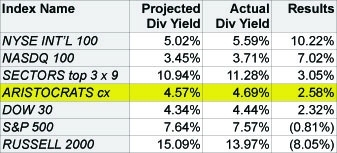 Five indices showed dividend yield increases by 2011 over those projected in March 2010. Two decreasing indices included Russell 2000 which disappointed when four financial firms cut dividends: Hatteras (HTS), Invesco (IVZ), Anworth (ANH), and MFA (MFA). S&P 500 results were lower when bellwether Frontier Communications (FTR) slashed its quarterly dividend from $0.25 to $0.188 in September. The Nasdaq index however managed an increase in yields despite Millicom International (MICC) failing to declare a dividend for the test period. NYSE International 100 leading results were secured by a 2:1 stock split in Compania Siderugica (SID) plus a 3:1 split in Telefonica, S.A. (TEF) shares.
In conclusion, corrected data for the dogs of the Aristocrats put their actual dividend yield into positive territory compared to their 2010 projected dividend yield 2.58% vs (9.11%), raising their rank among the seven indices from the bottom #7 position to the mid point #4.
Can Dividend Yields Predict Net Returns?
Second are corrected graphs with changes highlighted in yellow and commentary regarding 2010 Dividend Aristocrat stock net gains compared to other indices submitted for the article "Annual Net Returns for S&P500, Russell 2000, and Aristocrat Dogs".
To answer that question of whether yields can predict net returns, a Dogs of the Index investment strategy was backtested on seven indices. Tracking for a year (March to March) revealed what net profit (or loss) was generated by making a $1,000 investment in the top 10 high yielders in each index, then selling them all. Subtracting the initial investment and broker fees from dividends paid -- plus the gross profit from sale of shares -- revealed which indices generated the best net returns.
Aristocrat dog prospects of taking top gainer honors were doomed by three companies fetching negative gains. Average net returns for these 10 stocks were a mere 5.89%.
[Click to enlarge]

Abbott Laboratories (ABT) was one of three lame dogs in this kennel yielding 3.23% dividends and a negative net return ($97.40) for the test period. Johnson & Johnson (JNJ) and Procter & Gamble also brought the group down with negative net returns. On the bright side, five stocks threw in net gains of more than 10%, led by CenturyLink (CLK) with 22.51%. The four other plus 10% gainers were Consolidated Edison (ED), Leggett & Platt, Inc. (LEG), Clorox, and Kimberly-Clark Corp. (KMB). Additional positive net gain Aristocrat contributors were Cincinnati Financial (CINF) and Pitney Bowes (PBI). Ten stocks comprising Aristocrat dogs combined price gains and dividends resulted in a $592.89 net from $10k invested on March 22, 2010 and sold on March 21, 2011.
Final results for this round show the 10 Dogs of the S&P 500 fetched top gains compared to those of Russell 2000 and Aristocrats.


The answer to the question, "Can dividend yields predict net returns?" is again a resounding "no," based on the numbers put up by the 10 dogs of the S&P 500, which showed only modest dividend yields and whose actual dividends were less than projected. Still, S&P 500 dogs managed to blow away the field with annual net returns of 24.87%. In a previous article, the NYSE International100 index showed the greatest improvement in actual yields beyond those projected, but managed singularly negative net returns compared to all six other indices.
For this one year backtest the answer to the question, "Which index dogs grabbed the most gains?" is the 10 Dogs of the S&P 500 index.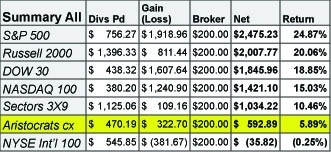 In conclusion, net returns for dogs of the Aristocrats also improved using corrected data to 5.89% vs 4.77%. Nevertheless the overall ranking of the index for net returns remained next to the last at #6 compared to the other indices.
Disclosure: I am long JNJ.