If you haven't noticed the debate on Cisco (NASDAQ:CSCO) lately, it's getting heated. There have been four Seeking Alpha articles in the last 10 days that could all have had "Cisco: Unloved Value Play" as their title. And with each article, the lack of love shows up strongly in the comment section, with people crying, "value trap," "the CEO is running it into the ground," "falling knife," "too much competition, they have no competitive advantage," etc. I can see the value case. That's why I started to look into Cisco back in March. Numbers like these always get me excited:
Market Cap: $84.2 billion
Cash/Sh. term investments: $43.4 billion
Current assets: $55.2 billion
Total liabilities: $38.4 billion
Annual free cash flow: ~$8 billion
Dividend yield: 1.57%
But, as the naysayers will point out, competition is getting fierce in this area, and it's not clear CSCO has any huge advantage outside of incumbency effects (name recognition, customer inertia). And the CEO clearly still thinks he's running a growth company when he needs to start managing for value. At some point, and I suspect we are near that point, Cisco becomes a good buy regardless of the apparent negatives, but that case has been made multiple times here and elsewhere.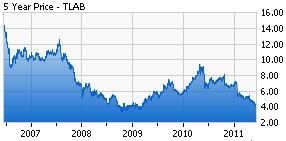 I want to make the argument that Tellabs Inc. (NASDAQ:TLAB) has a very similar story to Cisco, but with even less downside risk due to an outrageously strong balance sheet. Here are the comparable numbers for TLAB:
Market Cap: $1.47 billion
Cash/Sh. term investments: $1.24 billion
Current assets: $1.82 billion
Total liabilities: $0.64 billion
Annual free cash flow: $166 Million ($74-$251M/yr over past 5 years, $233M in 2010)
Dividend yield: 1.98%
I will go into the business a bit more below, but my main argument revolves around the numbers. TLAB is trading at $4.04/share. Just looking at cash and short term investments, backing out total liabilities, it could easily pay a $1.65/share special dividend. If it takes on modest leverage, just to cover the working capital, let's say it could pay out current assets - total liabilities: $1.18 billion, or $3.25/share. (It has had a more U.S.-centric business than Cisco, so I believe much more of its cash should be in the U.S. available for payout.) Let's say that after the special dividend the stock price drops $3.25/share to $0.79/share (assume the company does a reverse split to satisfy listing requirements).
How would they do going forward from that point? I'm going to use conservative assumptions with an eye toward my assertion that the downside is limited. Let's ignore the average annual cash flows of $166 million/year and take the worst year of the last five (a period including the "great recession") as a baseline case. The $74 million of cash flow it produced in its worst year of the last five works out to $0.20/share. That's a 26% cash flow yield based on the $0.79/share stock price. And if profits drop by fully 50% from that worst year, you've still got a 13% cash flow yield.
I apologize in advance for the very simple way I've broken this down. I'm not arguing that the above scenario will play out, but I think breaking it down that way helps highlight the downside safety of TLAB. I would certainly recommend that everyone do their own due diligence. The description of the business that I highlight below comes straight from the company's literature. This business is outside my "circle of competence," and I certainly welcome any insights from more competent investors in the comments.
I have only one additional topic I want to cover, and that is: why is TLAB so cheap? I believe that the business of telecommunications networks has become quite competitive and there are worries that profit levels will drop. More concretely, the company reported a modest loss in the first quarter due to reduced revenues and increased R&D expense. It plans on optimizing products for the "smart mobile internet" and is spending to become a major player in that area. I recommend readers check the first quarter earnings call transcript to get more insight on this. Finally, the company has historically depended heavily on US mobile telecom companies [AT&T (NYSE:T) and Verizon (NYSE:VZ) make up a large share of revenues] and the AT&T/T-Mobile merger might be a headwind, if it happens.
If TLAB still seems promising, here's its description of the business:
"Tellabs designs, develops and supports telecommunications networking products. We generate revenue principally through the sale of these products to communications service providers worldwide as both stand-alone network elements and as elements of integrated solutions. We also generate revenue by providing services to our customers. We operate in three business segments: Broadband, Transport and Services. The Broadband segment includes data, access and managed access product portfolios that facilitate mobile communications, wireline business services and bundled consumer services.

The Transport segment includes optical networking systems, digital cross-connect systems and voice-quality enhancement products. Revenue for these products is driven by the needs of wireline and wireless carriers to deliver mobile services, business-oriented services and residential services.

The Services segment includes deployment, support, training and professional services. Revenue from deployment, support and training services arises primarily from the sales of products and continues to represent the majority of Services revenue, while the balance comes from professional services offerings.
Gross profits by segment (excluding R&D expenses) in 2010 were $229 million for broadband, $191 million for transport and $81 million for services.
Its thoughts on the "smart mobile internet:"
"How will service providers deliver the smart mobile Internet? Simply extrapolating the traditional Internet will prove insufficient. That's because the traditional Internet is delivered through "dumb pipes" that cannot:
• Scale up to handle many more devices than people. We expect more than 22 billion wireless devices to connect through worldwide mobile networks by 2020, partly due to the rise of machine-to-machine communications. Not only smartphones and tablets, but book readers, carsand other devices will connect to wireless networks.
Control millions of user sessions and be aware of what users are doing with multiple applications - such as video, gaming, peer-to-peer applications and more.
Adapt to the dynamism of radio networks. In light of spectrum scarcity, networks must be agile enough to adapt to changing conditions, as users traverse multiple cell sites and networks.
Assure a high-quality user experience by making networks user-aware, session-aware and application-aware. It's challenging to deliver mobile video with high quality. To deliver a rich user experience, networks need to manage network policies and integrate user sessions intelligently.
Enable intelligent personalization, so you get what you want, as you want it, anytime, anywhere."
And a look at international growth prospects:
We're investing in growth markets. For years, about half our revenue has come from 2 large

North American customers. As we work to diversify our customers and revenue, we continue to expand Tellabs' international presence strategically. These investments are starting to pay off, with our 2010 bookings (representing future revenue) in Brazil, Russia, India, China and South Africa up 53%.

We now do business with:

5 of the top 5 service providers in Brazil
2 of the top 3 mobile carriers in Russia
7 of the top 12 service providers in India
2 of the top 3 service providers in China
3 of the top 4 service providers in South Africa.

Intelligent personalization delights users, and it can transform mobile operators' business models by generating new revenue from application providers and advertisers.
Disclosure: I am long TLAB.