Yongye Int'l (NASDAQ:YONG) looks poised for another breakout as investors digest the latest news out of Beijing. The company reported Thursday that it had closed a previously announced $50 million equity investment by Morgan Stanley Private Equity Asia and appointed one of Morgan Stanley's Managing Directors, Homer Sun, to its Board of Directors. After the news release, Yongye's share price soared 8.5% on low volume after hours.
The closing is a step further in legitimizing Yongye in the eyes of American investors. The company's share price has been battered by short speculation, devaluing shares -18.27% since Richard Roe's Discrepancies and Inconsistencies was published on May 5, 2011.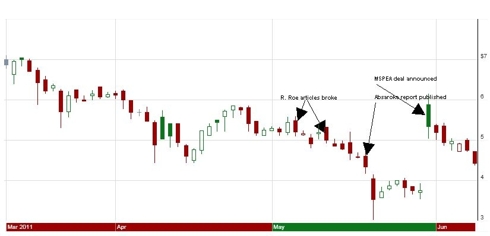 (Click chart to enlarge)
Short interest has declined by 20.9% to 4.9 million shares as of May 31, 2011, indicating investor sentiment may be slowly turning. The company also wrapped up an Analyst/Investor Event in Beijing and Hohhot, Inner Mongolia, held June 8-9, 2011, which included tours of two production facilities and a tour of the ongoing lignite coal project.
Previously I had written that the potential of a sustained upside swing in Yongye's share price would be a function of how much credibility MSPEA and Managing Director Homer Sun had with investors. It is likely that investors will perceive the closing of the MS deal as a confirmation of Yongye's legitimacy in large part because Morgan Stanley has the resources to complete an in depth due diligence campaign. At MS's disposal is an Asian office staffed with Ivy League MBA's, a global financial network, a history of a strategic alliance between Morgan Stanley and KPMG Corporate Finance and unfettered access to Yongye's facilities, plants, employees, accountants, auditors, contractors and subcontractors. The price action on Thursday indicates that investors are finding confidence in MS's due diligence.
Over the last several months this company's share price has reacted in lock step with negative news. As positive events begin to accumulate, e.g. Mr. Sun joining the board, the conclusion of a two day analyst/investor event and the closing of a $50 million vote of confidence from Morgan Stanley, Yongye could be one press release away from an impressive rally.
Disclosure:
I am long
YONG
.