Die-hard bulls in Nvidia (NASDAQ:NVDA) pose a 20% risk to the stock price. This statement may seem shocking, but bear with me.
I have made several calls on Nvidia, every single one of which has proven correct as can be easily verified from my articles on Seeking Alpha and my writings on my blog.
The chart shows my well-documented original call and my entry and exit points for that trade.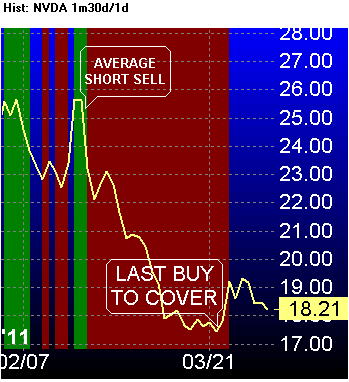 When the stock was at $25.00, I stated that the quantitative screen of the ZYX Change Method showed a fair value to be $18.00. This fair value estimate has proven spot on. After I covered my short from about $25.00, the stock has hovered around $18.00. My calls to short the stock on bounces and buy to cover around $18.00 for a trade have also proven correct.
Yesterday, in a strong up market day, Nvidia bulls got trampled again. The stock showed unusual activity on heavy volume. There were three pieces of information that were not widely distributed. There was a report that Texas Instruments (TXN) and Google (GOOG) are working together to launch "Ice Cream Sandwich," which is the code name for the next generation tablet version of Android. Nvidia's chip was a launch vehicle for the earlier version of Android dubbed "Honeycomb."
Bulls on Nvidia have been excited about the upcoming version of Windows from Microsoft (MSFT) that will support ARM Holdings (ARMH) architecture. There are reports that Microsoft is closely working with Texas Instruments in place of Nvidia.
I also predicted that Nvidia GPUs will rapidly lose market share to "Sandy Bridge" from Intel (INTC). Today there are reports that in China, inventories of Nvidia GPUs are piling up as customers prefer Intel in huge numbers. China represents one third of Nvidia's revenues. My prediction is that we will soon hear similar reports from the rest of the world.
I had correctly predicted back in February the three developments above and as such they were taken into account in the quantitative screen of the ZYX Change Method. The screen still shows the fair value of $18.00. This value is derived from the known fundamental data. However, Nvidia stock is risky because of the presence of die-hard bulls. Such bulls have taken huge losses but continue to be gluttons for punishment.
At The Arora Report, computers have been monitoring every tick of the price action in Nvidia. Proprietary algorithms dissect this data to reveal actionable information. These algorithms continue to show extremely aggressive bullishness. The anecdotal evidence gathered from comments on my writings back the conclusions reached by automated algorithms.The bulls continue to insist that Nvidia will rocket to $35.
In my 30 years in the markets, I have seen this situation repeatedly. Unfortunately it usually, but not always, ends badly. Ultimately the bulls cannot bear the pain, throw in the towel, and drive the stock much lower than its fair value.
Conservative investors may consider reducing their risk by selling Nvidia and switching into other semiconductor stocks that have great prospects in the mobile space and at the same time offer lower risks.
Disclosure: I have no positions in any stocks mentioned, and no plans to initiate any positions within the next 72 hours.