By Lara Crigger
Tin prices may look glum now, but today's bearish signals could hide more bullish times ahead.
It was a blink-and-you-could've-missed-it record scratch moment: In last Friday's Commodity ETF Flows Report, we noted that the iPath Dow Jones-UBS Tin Total Return ETN (NYSEARCA:JJT) traded 15 times its monthly average volume, just in one week. Over seven days, the base metal note traded well over 1,850,000 shares, a huge leap for an ETN that usually trades closer to 125,000 shares in a given month.
The jump went mostly unreported — not too surprising, given that tin isn't as closely followed as the much larger copper market. But add in the fact that JJT was also one of the week's bottom ETP performers, dropping 4.7 percent over the seven-day period, and a clearer picture emerges: Investors are dumping tin en masse.
And for good reason. Like the broader base metals market, tin's price has sagged in recent months, dragged lower by renewed nervousness over the anemic economic recovery and European sovereign debt. Are more bearish times ahead for tin, or is an end in sight?
It's All Downhill From There
Earlier this year, tin hit a series of record-high prices, pushed higher from decreased supply out of Indonesia, the world's leading tin producer (followed by China and Peru). But ever since the euro zone debt crisis reared its ugly head again in May, the base metal's levels have steadily declined: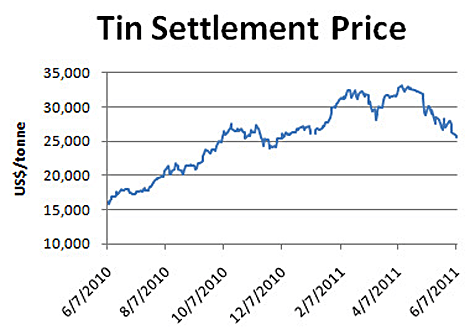 The fate of tin, used in solders and corrosion-resistant plated steel, hinges directly on the health of the manufacturing sector, which in turn depends on economic vitality both in the U.S. and abroad. But those markets have weathered a slew of disappointing news lately: Everything from disappointing U.S. jobs reports to anemic housing starts, and the news has quelled risk appetite and revived volatility jitters.
In addition, Fed chief Ben Bernanke's comments earlier this week calling the U.S. economic recovery "frustratingly slow" and "uneven across sectors," only frayed nerves further. Bernanke made no indication that the Fed would introduce new quantitative easing after the current round ends this month.
But there's more to tin's decline than just broad economic influences. After the Indonesian supply hitch earlier this year, supply has since stabilized, says VTB Capital analyst Andrey Kryuchenkov. Mining supply is "more or less adequate," he told Reuters. "It is a better-supplied market than earlier this year."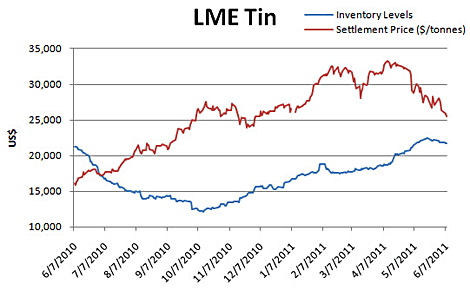 Like many metal inventories on the London Metals Exchange, tin stores have risen dramatically this year: As of June 8, they now stand at 21,775 metric tons. Curiously, however, much of this rise occurred in tandem with the rise in prices.
Usually, higher prices indicate a lack of supply. In tin's case, the elevated price in fact drove a temporary surplus, as manufacturers swapped out the metal where they could for something cheaper. While this built higher inventory levels, it also meant less support existed for a higher tin price long term; it was really only a matter of time before we'd see prices fall to stay in line with supply levels and lower demand.
And fall they did: On Tuesday, tin hit $25,695/tonne, its lowest level since last December's trough at $25,470/tonne. It was enough for widely-followed technicals expert Dennis Gartman, editor of The Gartman Letter, to tell his subscribers that he thought that although many base metals had drifted, range-bound and directionless, for weeks, many — especially tin — had now definitively broken to the downside.
"The same case can be made … perhaps even more definitively so ... for tin," he wrote. "The base metals are sending out manifestly bearish signals that all of us must pay attention to."
A Time to Buy?
Some analysts see tin's current bearishness as an opportunity to buy the metal while prices are near multimonth lows. "The metal has been ranging between $26,000 - $31,000, so this looks like a good immediate buying opportunity," one LME trader told FX Street.
Looking long term, at least one recent study suggests more bullish times lie in store for tin. According to a new report from Merchant Research & Consulting, a chemicals industry market research firm, tightness in the global tin supply chain over the next two years could result in prices as high as $40,000 per ton. Lack of investment in new mines combined with increasing consumption, they argue, will lead to a worldwide tin deficit.
"The tightness on the world tin market will start to ease only around 2013 as large scale mining starts up. But at the moment many mine projects are not yet at the feasibility stage," wrote the authors. "Up to this time high tin prices have stimulated a limited supply response, mainly from small-scale miners in Indonesia and recycling activity in China."
Indeed, tin ore mining is primarily the domain of emerging markets. Like many minor metals, tin hasn't been mined in the U.S. since the '90s; smelting operations ceased even earlier, back in 1989. Instead, the U.S. gets much of its tin from scrap recycling and imports from Indonesia, China, Peru and Bolivia, where tin ore is often produced as a byproduct of silver mining. But several of these emerging market countries are now considering harsh new mining taxes that could increase production costs.
Consider, for example, Peru; one of newly-elected President Ollanta Humala's campaign promises was a windfall tax on the country's mining sector, one of its main sources of industry. Some fear the left-leaning Humala could even attempt to nationalize the mining industry, as Hugo Chavez did in Venezuela, according to a note from Commerzbank. Similar measures are being considered in Indonesia, which is mulling raising royalties and taxes on mining firms.
While most of these taxes have been discussed in the context of copper — Peru alone provides almost 8 percent of world copper supply — new measures would also affect the much smaller tin market, which has less wiggle room to absorb higher production costs. Where tin goes next will owe a lot to how these mining tax debates in emerging markets shake out, so any interested investors would do well to pay attention to this space.
The Only Way to Play Tin
U.S. investors have a limited range of options with which to play tin. LME contracts for the metal are available, but as of yet, no tin or tin ore futures exist on the CME. Equities offer more options, but the bulk of tin miners are small-scale operations domiciled in emerging markets — a risky venture.
ETPs offer few alternatives. In fact, almost none of the futures broad-based or industrial metals ETFs or ETNs carries tin in their indexes; the only broad-based commodity ETP that does is the Elements Rogers International Commodity Index Total Return ETN (NYSEARCA:RJI), which does so in such a small amount (1 percent) as to be negligible.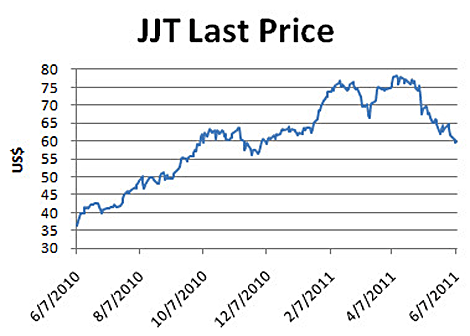 No, if you want to own tin, your only option is the aforementioned JJT, which is at least a pure-play on the space. It's done rather well over the past 12 months, rising 58 percent (although since the beginning of the year, it's dropped nearly 6 percent). At 75 basis points a year, JJT doesn't come cheap. If you believe that tin has more room to grow, however, it's pretty much the U.S. investor's only game in town.