For some reason Time Warner Cable (TWC) Chief Programming Officer Melinda Witmer will not return my email interview requests. Maybe she thinks I am a stalker. Of course I am not. I am short, weak, married, middle-aged, and mild-mannered. But I do have an innocent obsession of sorts with Witmer. She had me at anachronistic.
I don't know what a TV is anymore. It's kind of an anachronistic term.
-Melinda Witmer, Wall Street Journal, 3/25/2011

I should really lead off every media-related article I write with that quote. We will look back on Witmer's words as the ones that defined 2011, if not the decade. Even though Witmer helps run things at a cable company, she's a rock star. She does not create content; rather she oversees a content delivery system. Her move to allow Time Warner Cable subscribers to view the programming the company offers via the television through other devices is righteous, but, truth be told, it's little more than a bid for survival.

Time Warner Cable - and other content delivery companies - need a value-add to prevent a subscriber exodus. Eventually, these types of efforts will turn a profit as (a) advertising becomes better crafted and more prevalent and (b) the offerings get opened up to non-subscribers for a monthly fee. I think the cable companies will work out the kinks with the programmers by creating some type of advertising revenue share. And the cable companies' core service - cable - will not go away; it will just grow at a snail's pace, if much at all.

You must draw the distinction between content deliverer and content provider, also known as content creator, content producer, or programmer. In some cases, companies double as both. Consider these examples ...

Time Warner (NYSE:TWX) is a content creator, producer, programmer and provider. It also delivers content through initiatives such as HBO GO. TWX, of course, is HBO's parent company and is distinct from TWC.
Sirius/XM (NASDAQ:SIRI) is a provider of original and not-so-original content that also handles its own content delivery, primarily via satellite.
Clear Channel (CCMO.PK) is a content creator that also handles its own content delivery, primarily through the terrestrial radio stations it owns and operates.
Cable companies, like Time Warner and Cablevision (NYSE:CVC), by and large, deliver other companies' content to the masses via cable television, and, increasingly, other means.
Given the size of the media landscape, I could go on all day. Bottom line - lots of companies deliver content. Lots of companies produce it. Some specialize in just one area. Some do both. It's clear that pretty much every content creator in the world now acknowledges the need to throw away the old notion of delivering their wares through one dedicated system. They realize they must open the door to multiple platforms. Plenty are doing it, often, through their own in-house initiatives.

This reality spells doom for Netflix (NASDAQ:NFLX). Unless it has another profitable and meaningful reason for existence (its foray into original programming is too small and unproven to count), companies that merely deliver content will die. No reason remains for them to live, so they will eventually die. It's akin to nature.

Consider HBO GO. Have a look at what a beautiful application it is. Not only has HBO immediately perfected delivery of a slick interface, but it figured out social media with speed, not haste, and amazingly well - something Netflix has simply been unable to do. The following comment should embarrass the otherwise capable NFLX CEO Reed Hastings:


Click to enlarge

Is Home Box Office just smarter and sharper at Netflix's own game already? It has created an interface that's simply out of this world.

Click to enlarge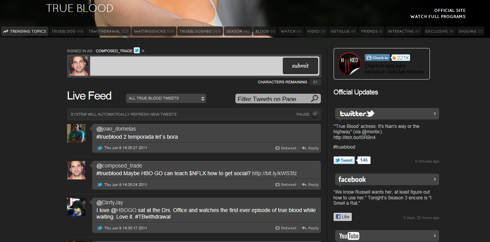 Click to enlarge

Almost every day another online video service pops up. The latest comes from the nation's seventh largest cable company, Suddenlink Communications. The service is amazingly comprehensive and represents just one of many examples of cable companies and content creators rendering Netflix irrelevant.

All a cable company and/or a content creator needs to do is phone up Amazon (NASDAQ:AMZN) to hook up with Amazon Web Services and call Akamai (NASDAQ:AKAM) or Level One (NASDAQ:LVLT) and they're set to go it on their own. This is effectively what Netflix does as a glorified bootlegger of everybody else's already-run content.

The hole that smolders in Netflix's pocket is all that keeps it alive. At some point, it will no longer be able to prop up programmers' bottom lines. If what amounts to Netflix's deferred credit card spending spree does not end first, programmers will just figure out how to best monetize their own platforms. At that point, they will start to refuse Netflix's checks. Then, they can keep control of their own content and stop the dilution of their programming that Netflix's low-cost subscription plan propagates.

To survive, Hastings must birth another pony. And it cannot be just a rehash of what Netflix does domestically in a non-pony country. The model will wear thin outside of the States just as fast as it will (or already has?) within them.

At day's end, few companies - other than the cable companies and some combination of DirecTV (DTV) and DISH Network (NASDAQ:DISH) - will survive if they do not either create compelling content, have other profitable core streams of revenue to go alongside content delivery efforts (see Amazon and Google (NASDAQ:GOOG), or find some proprietary innovation that greatly enhances the process and experience of content delivery.

Apple (NASDAQ:AAPL) does not create content. It delivers it, but Apple will survive. Apple produces the gadgets that people want to use to view content. Of course, other hardware and gadget companies cannot necessarily compete, but they can survive well enough alongside Apple.

From an investment perspective, you should not only consider synergy and multiple revenue streams when selecting stocks. You should approach these two important areas against the content provider/content deliverer distinction, where relevant. If a company does not do something of value other than stream somebody else's programming at a high cost, I would not consider touching the stock, particularly if you prefer to hold stocks for longer than a day or a swing trade.

Disclosure: I am long SIRI.

Additional disclosure: I may initiate a position, long or short, in AAPL, NFLX or AMZN at any time.