Remember, you read it here first. I warned in July 2007 that the banking system was bankrupt; in February 2009 I recommended banks (and especially preferreds); in July 2009, I took the trade off.
How do we know it's not yet time to buy bank stocks? Remember the old commercial, "This is your brain … this is your brain on drugs"? This is your bond on CDX:
[Click all to enlarge]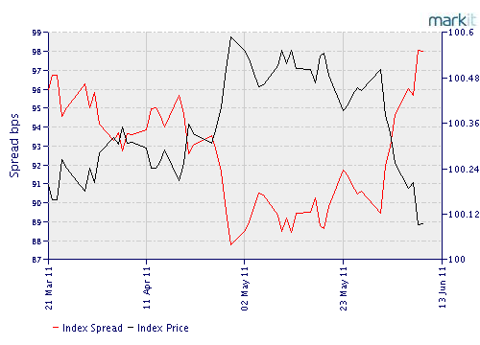 It's barely moved in recent weeks; the relevant number for non-mavens is the spread to LIBOR on the left-hand scale, shown in red, for default protection on an index of North American investment grade bonds.
And this is your bond on securitized home equity loans (the old AAA-rated tranche, shown in dollar price):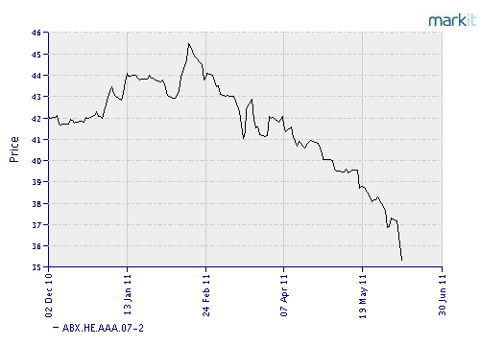 Investment-grade credit barely has budged, but the prices of securitized sub-prime are down by a third since February and have tanked most sharply in the past week. And Commercial Mortgage Backed Securities (the AAA tranches, that is), aren't doing that well, either: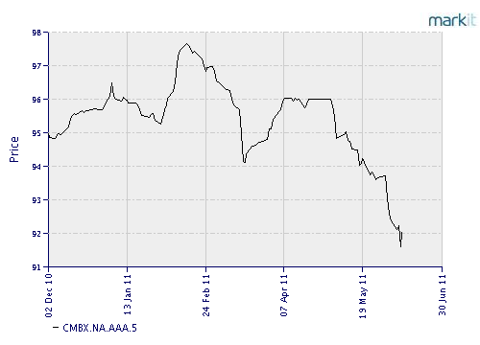 The AA-rated tranches, meanwhile, have been getting killed: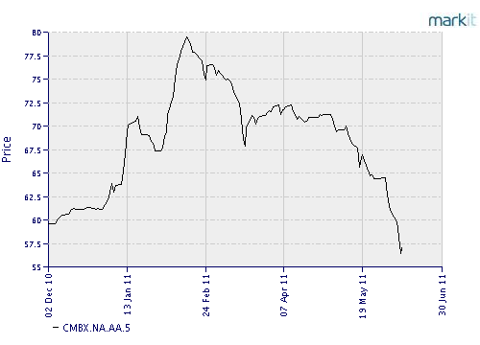 And here's the KBE (Philadelphia bank stock index) ETF:
It's all about asset prices, as I've been saying for two years. In July 2009, I warned that banks were getting frothy – and Bank of America (BAC) was trading around $12, as opposed to $10.59 this morning. As long as the housing market remains in free fall, bank balance sheets will remain under pressure.
Banks, to be sure, have been shedding exposure to the mortgage sector.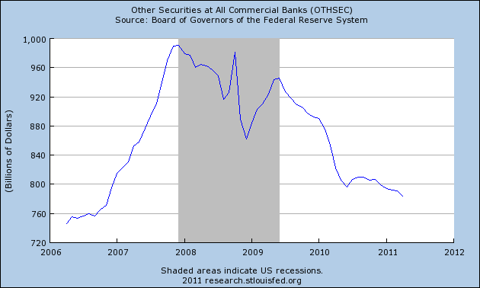 Banks have been gobbling up Treasuries and shedding other (mainly mortgage) risk. So the banks are less vulnerable to price declines than in the past. But it still has got to hurt. It's the wrong time to get greedy, at least where banks are concerned.