U.S. stock markets slumped again in Friday trading, marking the sixth straight week of losses for the Dow, the longest weekly streak in nine years. The 30 stock benchmark finished the day down 172 points while the broader indexes suffered similar losses as well, as the S&P 500 fell by 1.4% and the Nasdaq slid by 1.5% on the day. Unsurprisingly, oil was also down heavily on the day as WTI crude fell nearly three dollars a barrel to finish the day close to the $99 mark. Gold also declined on the day as the yellow metal fell by $10 an ounce, or roughly 0.6% in the session. Other commodities were more mixed as copper, lumber and energy commodities sank while the softs of cocoa, cotton and sugar stayed in the green despite broad market weakness on the day. Nevertheless, thanks to this broad move away from risk, traders piled into Treasury bonds across most maturity levels, sending yields down once again to close out the week as many brace for a possible summer slowdown. "It's about the global economy slowing down. It was highlighted by the (trade) news about China," said Peter Cardillo, chief market strategist at Avalon Partners. "We're seeing a direct response to the fact that China and Asia have been raising interest rates. Many central banks have been raising rates over the last year, and now we're seeing the effects of that."
One of the biggest winners on the day was the United States Natural Gas Fund (NYSEARCA:UNG) which gained 1.5% to close out the week. Today's gains, which came after yesterday's bearish supply data from the EIA, were largely the result of weather predictions for much of next week. Many are now predicting above-average temperatures across much of the Midwest and South, including temperatures that may be as much as five degrees higher than normal in Texas, one of the largest consuming regions of natural gas. "The heat that we've seen so far, starting as early as it has this summer, has been disconcerting," said Carl Neill, an energy consultant at Risk Management Inc. in Atlanta. "We're at the upper end of a trading range, but we could break through that range and continue higher." Natural gas is a key fuel for power plants which use the substance to meet heightened demand for electricity when customers are demanding more air conditioning. As a result, a warm weather forecast could help natural gas eat into its hefty supplies and send UNG sharply higher next week, assuming that the forecast holds.
Click to enlarge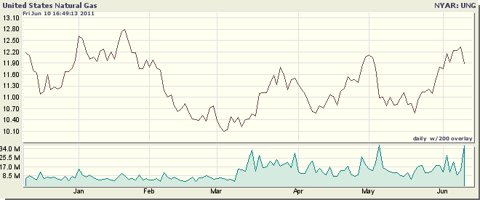 One of the biggest losers on the day was the iShares MSCI South Korea Index Fund (NYSEARCA:EWY) which tumbled by 3.0% to finish Friday trading. Today's losses largely stemmed from the moves made by the country's central bank, which sought to slice into the nation's inflation rate with a rate hike. This marks the third time that the country's central bank has hiked rates and now the benchmark stands at 3.25%. "It was a sensible move by the BOK, in recognition that the balance of risks are still clearly tilted towards inflation," said Wai Ho Leong, a senior regional economist at Barclays Capital in Singapore. "The bank remains on a consistent normalization path" and will raise rates again in September, he said. Since today's hike was somewhat of a surprise to many economists, South Korean securities sold off during the day thanks to the higher borrowing costs now in the market place. It also didn't help that data in neighboring China was weak and that Western investors were fleeing risky assets in droves. Thanks to all of these factors, investors sold off Korean securities and fled EWY to close out the week.
Click to enlarge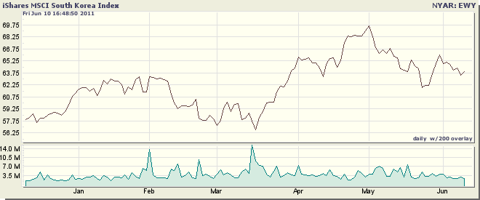 Disclosure: No positions at time of writing.
Disclaimer: ETF Database is not an investment advisor, and any content published by ETF Database does not constitute individual investment advice. The opinions offered herein are not personalized recommendations to buy, sell or hold securities. From time to time, issuers of exchange-traded products mentioned herein may place paid advertisements with ETF Database. All content on ETF Database is produced independently of any advertising relationships.