Sirius XM (NASDAQ:SIRI) shares look to have made a double top. To me, the key question is can the stock hold the $1.93 level?
Click to enlarge: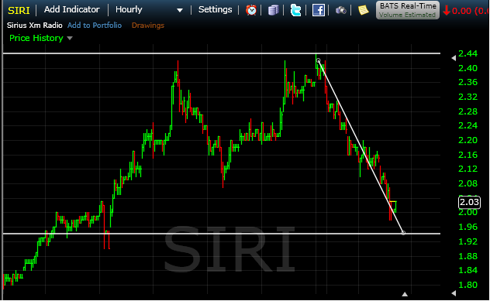 The stock is in a strong downtrend. I think if the stock closes below $1.93 by Wednesday June 15th, it could be headed to the $1.60 level on technical factors alone. Longer term, I think the stock is headed back to $1.00.

Over the last few years, revenues have been driven by increasing auto sales. The revenue trend will decouple from auto sales as the number of cars on the road with factory-installed Sirius XM radios reaches saturation levels. At the recent shareholder meeting on May 25th, Mel Karmazin estimated that there are 40 million cars with installed receivers (see slide 8 of the exhibit to the 8-K, filed May 25th). Karmazin projects that by 2015 over 70 million auto will have Sirius XM installed.
Revenue growth will begin to flatten before the number of cars on the road with Sirius XM installed peaks as new cars with satellite radio begin to replace older cars with existing subscriptions. Based on the data in that presentation and extrapolating current auto sales trends to pre-recession peaks, I estimate that subscriptions from new car sales will plateau by 2015.
| | | |
| --- | --- | --- |
| Year | Auto Sales | Number of satellite radio equiped vehicles |
| 2010 | 11.9 | |
| 2011 | 12.6 | |
| 2012E | 13.9 | 9.0 |
| 2013E | 15.3 | 9.9 |
| 2014E | 16.8 | 10.9 |
| 2015E | 16.8 | 10.9 |


At that time, 14 years will have elapsed from the time satellite radio became available. Accordng to RL Polk, the average age of vehicles on the road is just over 10 years. The average holding period for new vehicles is slightly over four years. That data implies that the the growth in incremental subscriptions from new car sales will start to decline in 2012 and will be flat after 2015. I base the conclusion on the penetration data presented in slide 6 of the May 25th presentation.
Looking at a 2008 penetration of 45% and mid 40% conversion rates, beginning in 2012 around 2 million subscribers will be shopping for new cars. At that point the correlation between new car sales and subscriber growth will begin to weaken. Since the average age of 10 years of autos is 10 years, 2011 represents the year when the first satellite radio equipped cars would be scrapped, further weakening the correlation. As subscriber growth slows, the stock will experience a forward multiple contraction, leading to my $1 target.

Disclosure: I have no positions in any stocks mentioned, and no plans to initiate any positions within the next 72 hours.