It's been a while since the term "Swine Flu" has been mentioned in the main stream media. In 2009 this type flu was plastered across newspapers and television and predicted to be a global epidemic. The disease did make its presence felt and the H1N1 virus made its way into more than 214 countries and caused over 18,000 deaths per the World Health Organization reports. As tragic as the deaths were, the world breathed a sigh of relief and the epidemic did not turn into a situation like the Spanish Influenza did back in the early 1900's. At least not until recently as Singapore and Australia have now reported a new form of the swine flu virus has come on the scene. Unlike its predecessor, this new virus is much more resistant to the two frontline drugs used to combat the disease. These drugs, Tamiflu made by Roche Holding AG (OTCQX:RHHBY) and Relenza made by GlaxoSmithKline Plc (NYSE:GSK), just do not have the same effect that they once did. In a related report, more than 10 percent of the infections in Singapore and 30 percent in northern Australia tested in early 2011 had mildly reduced sensitivity to the two drugs. This new variation once again spreads very easily among people, according to the report in the journal Eurosurveillance. Couple this with a 10%-30% mildly reduced sensitivity and you have cause for concern. The issue, like always, is if the virus were to widely circulates in the population it could mutate and become even more drug resistant.
On a positive note though, BioCryst Pharmaceuticals Inc. (
BCRX
)'s experimental flu drug Peramivir has shown to be a very effect treatment against the disease in the laboratory tests. Peramivir should be well known to investors as it was the drug that was approved for emergency use during the last influenza scare. As the last epidemic faded, BioCryst has continued to develop the drug. The company is close to finishing its pivotal Phase 3 trial for the hospitalized version. Outside the US the company has established several agreements for the drug as well.
Shionogi & Co. Ltd. entered into an exclusive license agreement to develop and commercialize Peramivir in Japan for the treatment of influenza. In October 2010, Shionogi announced that it had received Japanese approval for an expanded indication for i.v. Peramivir for the treatment of children and infants with influenza, where it is marketed under the commercial name RAPIACTA. Another company, Green Cross Corp. also entered into an agreement to develop and commercialize Peramivir in Korea. Under the terms of the agreement, Green Cross Corp. will conduct clinical trials with Peramivir in Korea and will share with BioCryst all data from these studies. In August 2010, Green Cross Corp. announced that it had received marketing and manufacturing authorization for i.v. Peramivir in Korea to treat patients with influenza A & B viruses, including pandemic H1N1 and avian influenza. BioCryst retains all of its development and commercialization rights to Peramivir worldwide except for Japan, Taiwan and South Korea where the strategic partnerships will take the lead.
In conclusion, BCRX was a high flying stock during the past influenza scare. After that scare passed, the stock price and shareholders suffered badly.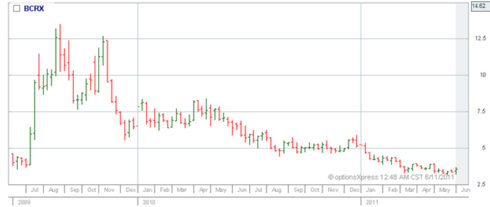 If the new viruses were to take hold, BCRX's Peramivir would once again be called into action and the stock price would appreciate rapidly like before. This would be a pure speculative play on a dooms day type scenario and one that makes an investor think twice. In the end though, it is comforting to know that Peramivir is around just in case.

Chart Disclaimers:
Data and information are provided "as-is" for informational purposes only, and are not intended as investment advice, tax advice or legal advice. All data and information are provided by optionsXpress Holdings, Inc., and optionsXpress, Holdings Inc. does not endorse or warrant the validity or accuracy of such data and information. Nor is optionsXpress Holdings, Inc. liable for any errors or delays in the data and information, or for any actions taken in reliance thereon.
optionsXpress makes no investment recommendations and does not provide financial, tax or legal advice. Information accessed through this website and any link contained therein does not constitute a recommendation to buy or sell a particular investment from optionsXpress. You are solely responsible for your investment decisions, and you should carefully evaluate the information to determine whether it is right for you and use of such information is suitable for your objectives.
Disclosure: I am long BCRX.