Bearish Activity

Central European Distribution Company (NASDAQ:CEDC) has dropped quite a bit from its high of near $80 in 2008. The stock's 52 week high is near $28. It is currently trading at $12.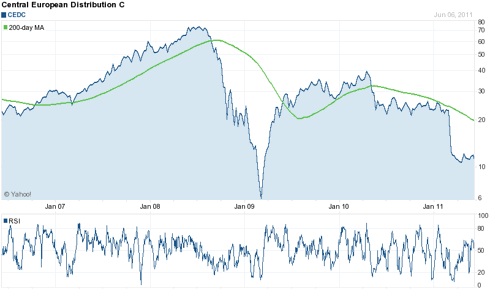 Click to enlarge

Admittedly, the company has had its fair share of problems. The company missed earnings badly. The profit margin was -11% in 2010.

Income Statement

The gross margin is down slightly from 2009. Looking at expenses, non-recurring expenses went from 20 million in 2009 to 131 million in 2010. This is a 655% increase that killed profitability ratios and valuations.

Conference Call

In the May 5th Q1 2011 conference call, CEDC CEO William Carey had some good insights:
"And I think we've started the quarter with some headwinds, certainly from the short-term bank debt which we have solved, I think, very effectively. A few weeks ago, there was some a lot of questions on our relicensing in Russia which I think we again solved very favorably. And I think on the amount of NPD we got coming out of Poland and Russia here in the next 3, 4 months, I think we're looking in pretty good shape. And I think we're getting quite substantial operating leverage already coming in Q2, but much greater in Q3, Q4. So for these reasons, we are quite confident of where we are in our business track and for these reasons that's why we are reiterating and reconfirming, our guidance expectation this year, $880 million to $1.08 billion in terms of the top line and $1.05 to $1.25 on EPS guidance."
This is obviously bullish news. While making the assumption that CEDC won't blow earnings like as it did in Q4 of 2010, I like what the CEO has shared. Keep in mind that the Q1 2011 projected earnings matched up quite well against actual earnings, even if they were negative. The point is that less uncertainty looms when models are showing accurate results.

A Value Investment

I believe CEDC is below its true value. Its forward P/E is 8.1, while its historical P/E has ranged from a minimum of 6.15 to a max of 3501. As I believe in modern portfolio theory and statistical methods very firmly, mean reversion looks as if it's offering positive expected value. The demand for fine spirits is not going anywhere, and the value investor favors the hated security. Graham would drink to that.

Disclosure: I have no positions in any stocks mentioned, and no plans to initiate any positions within the next 72 hours.