Although it sounds like a plumbing fixture, a "low-float" IPO is when companies offer only a very limited amount of their equity to the public in an initial offering.
According to Bloomberg, Zynga may make only 10 percent of its shares via its IPO
By selling little stock in the IPO, companies protect the value of existing investors' stakes. A jump in the stock price would let them raise cash at a higher value months later. LinkedIn is up 73 percent since its IPO, and Zynga Chief Executive Officer Mark Pincus is likely betting on a similar rise, yet there's no guarantee the stocks will stay high, said David Menlow, president of IPOfinancial.com, a research firm.
Okay, LinkedIn (NYSE:LNKD) may be up 73 percent since its IPO, but on Friday it closed at an all-time low.
I don't blame any of these companies for wanting to limit their float. And most companies don't sell all their shares at an initial IPO (though it's usually more than 10%). If it were me, I'd certainly want to sell as little equity as possible for as much money as possible.
The question for investors, however, is how to value these companies. What's a realistic valuation for a company like Facebook, Groupon, Pandora, or Twitter?
Well the Economist offered up one metric in its article entitled "Welcome to IPOville":
How should one value a money-losing firm in a new industry? PwC, a consultancy, ranks web firms according to their "value per user". This is calculated by dividing a start-up's estimated worth (derived from venture-funding rounds, equity transactions on secondary markets and so on) by the number of its users.
Here's the chart they came up with.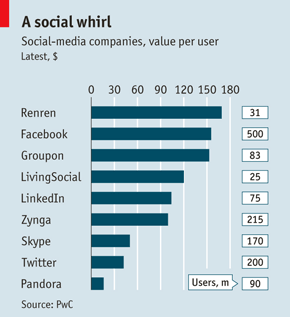 So you have to ask yourself: Is Facebook worth $150 per user? Is Pandora (NYSE:P) a bargain at around $20 per user? And do these low-float IPOs represent anything more than bubbly froth?
According to another Bloomberg article, Tom Taulli of IPOByte.com says all this activity could be bullish for the markets overall.
"It could be a catalyst to growth," Taulli said. "It's been dead in tech, at least in the public markets, for the past 10 years. Exciting IPOs are a way to get investors back in the market and taking some risk."
I disagree. It has not been "dead in tech." Maybe there haven't been many IPOs, but there have been plenty of opportunities to capitalize on growth in companies like Apple (NASDAQ:AAPL), IBM (NYSE:IBM), Oracle (NASDAQ:ORCL), and lots of others.
I have no problem with companies going public, but the markets don't need new companies to keep investors interested. So keep that in perspective as you decide whether Zynga is really worth $100 per user and whether you want in on a stock when only 10% of its shares trade in the open market.