These securities have been building a horizontal or a sideways trend in the last 90 trading days. Further, these securities have returned 7.99% to 18.81% in the last 90 trading days, outperforming the S&P 500 Index that returned a -1.17%. This shows that the stocks listed below have built a strong base and could form an uptrend. However if the S&P 500 index turns into an uptrend, these securities could experience a temporary downtrend.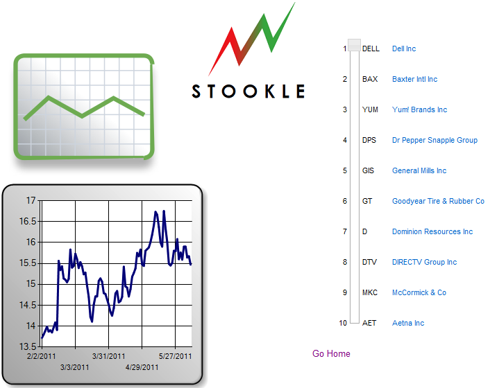 (Click to enlarge)
Dell Inc. (NASDAQ:DELL), the technology giant recently posted strong and growing financial results. The company is launching new devices in developing markets and adding new services for business that will fuel the company's growth. It is launching Google's (NASDAQ:GOOG) Android based tablet in China later this summer before introducing it the U.S. markets. The stock closed at $15.47 on Friday, up $2.3 or 17.51% in the last 90 trading days.
Yum! Brands Inc. (NYSE:YUM), the quick service restaurant company operates in over 110 countries worldwide under a diversified portfolio of restaurants. The company is looking at emerging market countries such as China, India and Russia to grow its operations. Using franchised based growth strategy the company will be able to quickly expand to the emerging economies. The stock closed at $52.8 on Friday, up $6.04 or 12.92% in the last 90 trading days.
Baxter International Inc. (NYSE:BAX), through its subsidiaries, creates and markets products that save lives of people from complex diseases. The company has a global presence while having a strong presence in United States and Europe. The stock closed at $57.61 on Friday, up $9.12 or 18.81% in the last 90 trading days.
General Mills Inc. (NYSE:GIS), the consumer foods manufacturer has a portfolio of household name brands such as Cheerios, Betty Crocker, Pillsbury and so forth. The Minneapolis based company generates nearly $15 billion in annual revenues from its diversified products offering. The stock closed at $37.56 on Friday, up $2.78 or 6.10% in the last 90 trading days.
Dr. Pepper Snapple Group (NYSE:DPS) owns, manufactures and distributes non-alcoholic beverages in United States, Canada and Mexico. The company recently boosted its quarterly dividend by 28% to 32 cents. The stock closed at $40.31 on Friday, up $4.88 or 13.77% in the last 90 trading days.
Disclosure: I have no positions in any stocks mentioned and no plans to initiate any positions within the next 72 hours.
Disclaimer: Website disclaimer Algorithm Cabinet LLC and/or STOOKLE, is not a registered investment advisor and does not provide investment advice.The information contained in this website/blog is for general information purposes only.