Before Apple (AAPL) reported earnings, I reviewed the tea leaves in the chart, guessing that the stock was getting ready to make its next sprint higher despite what looked like increasing distribution in the stock. I assumed the break upward would occur after after a post-earnings "disappointment" and swoon. Instead, traders did not wait for earnings to punch the stock through support levels and then bounce it right back up. The action prompted me to guess that the sprint higher was already underway ahead of earnings. By the time the post earnings reaction came, AAPL closed 2.4% higher (April 21) and has been selling off ever since. This trip downward has surprised me … even with the stock market looking increasingly bearish overall.
My biggest surprise came with the mostly negative reaction to what appeared to be another blockbuster technology splash by Apple last week (June 6) at its World Wide Developers Conference. This event was so momentous it prompted Bloomberg to proclaim: "Steve Jobs Uses iCloud to Pick Apart Industry He Helped Form":
Apple Inc. Chief Executive Officer Steve Jobs, by introducing a service that shares files across different Internet-linked devices, takes another step toward sidelining the personal-computer industry he pioneered …

… Jobs aims to make Apple the center of consumers' digital lives, further decreasing dependence on Microsoft Corp. (MSFT)'s once- dominant Windows software and Hewlett-Packard Co. (HPQ)'s market-leading PCs.
Yet that day, AAPL closed down 1.6% and sold off the next day 1.8%. After selling off 1.7% on Friday, AAPL is now retesting support at the lows for 2011 and making an extremely rare retest of its 200-day moving average since the bounce from the March 2009 lows; only the flash crash pushed AAPL back to this powerful upward trendline.
[Click to enlarge]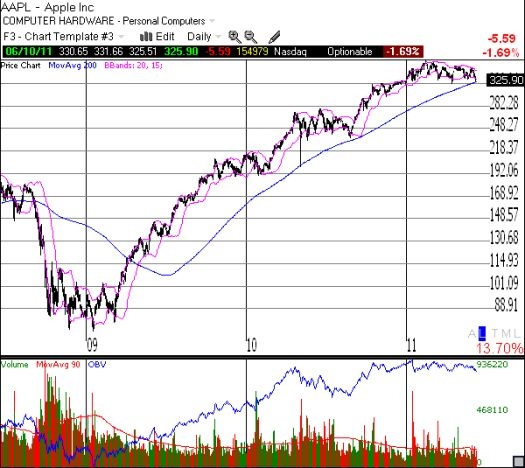 Chart created using TeleChart
A friend of mine who has constantly been in my ear about Apple's "cheap" valuation provided to me the following commentary to explain how some may have incorrectly come away with a negative impression from Apple's announcements (my paraphrasing):
The $30 price on the next OS upgrade, when $130 had been expected. However, Apple was able to drop its price partially because it is offered only online. This solves a piracy problem that has dogged Microsoft for a decade. Apple can pull this off because the "Mac App Store" used for upgrades has already been running for a year and performs well. Equally important, the upgrade-self software on the current version of Mac OS X is rock-solid.

The new iCloud services that are mostly free (at considerable, although not massive, cost to Apple). However, in the last few years Apple has strategically chosen to provide functionality at competitive prices. If those prices are "free," then the company makes money on the hardware. The closed ecosystem only allows usage of these "free" services on Apple's hardware.
Presumably, it would take a large amount of misinterpretation to account fully for AAPL's recent underperformance relative to the Nasdaq last week. The Nasdaq closed down 3.3% for the week while AAPL lost 5.1%. (Note that both the Nasdaq and AAPL are now essentially flat for the year). So I was next compelled to look more closely at relative valuations, wondering whether Apple has an extremely rich valuation that is reverting to levels shared by its technology peers and cousins. AAPL's current valuation includes a forward P/E of 11 and a five-year PEG (P/E to growth) ratio at an amazingly low 0.6.
I thought these values were abnormally cheap until I read esteemed Apple analyst Andy Zaky note that Apple has been "relatively underpriced" since 2007. AAPL's trailing P/E reached a post-recovery peak in the first quarter of 2010. Bewildered, I looked at the valuation of other big-cap tech stocks (hard to believe Apple is a big cap now):
Amazon (AMZN): Forward P/E 49, PEG 2.7
Applied Materials (AMAT): Forward P/E 9.0, PEG 0.9
Cisco (CSCO): Forward P/E 8.8, PEG 1.0
Hewlett Packard (HPQ): Forward P/E 6.5, PEG 0.8
IBM: Forward P/E 11.1, PEG 1.1
Intel (INTC): Forward P/E 8.5, PEG 0.81
Microsoft (MSFT): Forward P/E 8.6, PEG 0.9
Oracle (ORCL): Forward P/E 13.0, PEG 0.9
It turns out that AAPL actually has one of the higher forward P/Es in the group while the PEG is the lowest amongst this bunch. Note that this list includes two stocks, HPQ and CSCO, that have tumbled to two-year lows on the heels of poor earnings news; CSCO is even reaching for its March 2009 low. Overall, I was struck by the near uniformity in valuations (with Amazon sticking out like a proud peacock). It is as if investors and traders are signaling some deep skepticism in future earnings estimates. Indeed, Bloomberg recently reported that valuations in technology stocks last sunk to these levels in 1998 – Apple is in good company:
The five-week drop in U.S. stocks has driven technology company valuations to the lowest level in more than a decade … Technology companies trailed the market this year after posting the third-worst performance in 2010. The stocks have suffered in a rotation into companies whose earnings are least-tied to economic growth amid concern the U.S. recovery is slowing.
It would be tempting to conclude that history will repeat itself and send technology stocks soaring next year, but 1998′s low P/Es came at the tail-end of an extremely strong and robust economic period when analysts could barely keep up with the earnings growth of technology companies.
Today, the economy is barely two years into a recovery from another monstrous bursting bubble where the Nasdaq has already more than doubled in those years, even cracking 10-year highs just a month ago. Corporate profits are at record highs and money is cheaper than ever, but the average worker and the housing market have not participated much in the "reflation celebration." I do not think I am going out on a limb by assuming 2012 will not feature a 1999 redux of parabolic gains.
This sobering context suggests that instead of Apple suffering some company-specific malaise of under-appreciation, it is trapped in a larger, bearish mosaic. The imminent test of support and the 200-DMA could be this market correction's most-watched moment, with large implications for the (near-term) direction of technology stocks. For now, I am assuming AAPL will pass this potential test given the stock market (and AAPL) is dropping into oversold levels.