BP Prudhoe Bay Royalty Trust (NYSE:BPT)
BPT holds royalty interests in Alaska's Prudhoe Bay oil field. The area has approximately 150,000 productive acres. BPT continues to provide a steady stream of income via quarterly dividends. The fund is a U.S. Royalty Trust. U.S. Trusts are assumed to dissolve when assets are depleted. Investors should focus upon the oil production and the noted life span.
Per BPT's 10K, "... the Trust will terminate: (i) on or before December 31, 2010 if holders of at least 70% of the outstanding Units vote to terminate the Trust, or (ii) after December 31, 2010 if either (a) holders of at least 60% of the outstanding Units vote to terminate the Trust or (b) the net revenues from the Royalty Interest for two successive years commencing after 2010 are less than $1,000,000 per year (unless the net revenues during the two-year period have been materially and adversely affected by certain extraordinary events) ..."
The dividend yield, is based upon the WTI prices, which can be volatile. WTI should remain high as the U.S. dollar remains weak and oil consumption remains high. The total rate of return has been outstanding, at 17.6% per annum, for the past 15-years. The Prudhoe Bay oil field, as of December 31st, 2009, is owned by the following entities:

Stock Price: $108.64
Dividend: $9.50
Market Cap: $2.3-billion
Dividend Yield:8.80%
Capstead Mortgage Corporation Preferred (NYSE:CMO)
In recent years, agency-MREIT companies have been delivering 13-18% annual dividends. The historical low U.S. Treasury Bond market has provided an excellent MREIT economic backdrop. Capstead Mortgage Corporation has succeeded as well as its peers: American Capital Agency Corporation (NASDAQ:AGNC), Hatteras (NYSE:HTS), and Annaly (NYSE:NLY). Capstead Mortgage Preferred Class B shares provide a monthly dividend. The yield is currently an rich 8.6% annual dividend.
CMO has, for the holder, a fixed conversion rate of .6366 shares of CMO. My purpose for owning this preferred security are two-fold. First the dividend is a monthly dividend. My bills are monthly, and I like to have a steady stream of cash. Secondly, the preferred paper has a liquidation preference of $11.38 if CMO dissolves. Investors should be aware the preferred share can be called at $12.50. This would result in an immediate 14.5% capital loss on any preferred shares purchased at today's price.
CMO's business model is currently thriving due to low Treasury rates. Quantitative easing supports MREIT business models. The Treasury markets are selling at record lows. This is a sector I want to be in with a weak jobs market, and depressed residential market.
Stock Price: $14.62
Dividend: 10.5-cents per month. $1.26-per year.
Market Cap: CMO has a $1-Billion market cap.
Dividend Yield: 8.6%
Delaware Enhanced Global Dividend (NYSE:DEX)
DEX is an intriguing name which deserves portfolio consideration. The fund's total returns from a 2007 offering are not impressive, but the 2008-2009 time frame was a challenging time. The fund offers a 9.5% annual yield. The yield is gained by a wide-encompassing, diverse trading strategy. The fund can be invested in large cap stocks, bonds, dividend capture methods, currency trades, and option selling. Page 6 of the annual report shows the diverse asset classes owned.
DEX operates with a 26% leverage exposure. The 1.95% annual expense is fairly high but the operating team appears to be experienced and deep.
Stock Price: $13.00
Dividend: 10.30-cents per month. $1.236-per year.
Market Cap: $230-Million.
Dividend Yield: 9.50%
Eaton Vance Enhanced Equity Income Fund (NYSE:EOI)
EOI offers a sold 9.3% dividend monthly yield. Eaton Vance is one of the premiere CEF shops. The fund owns blue chip stocks and has an active covered call strategy in place. Apple (NASDAQ:AAPL) was the largest EOI fund holding as of March 31st. AAPL represented a 3.98% portfolio holding.
I do like this name. The fund sponsor is trustworthy. The yield is very attractive and the fund is selling at a 9.55% discount to NAV. The fund is not levered and the operating expenses are a very reasonable 1.12%.
The below example highlights the fund's covered call strategy. This page 7 "cover call" position was extracted from EOI's SEC semi-annual report. As of March 31st, 2011, EOI was short 315-AAPL covered call contracts, strike price $355, expiring on May 21st, 2011.
Apple closed below $355 on the contract's date. This means the March 31st liability of $390,600, reflecting the short 315-contracts, was recognized as a short-term option gain. This assumes EOI did nothing with the common stock or the options between March 31st and May 21st. The investor must be aware the value of Apple common traded at $348 on March 31st and was trading in the mid $330's on the date of contract expiration. The net gain on covered call selling could have been more than offset by the loss of common stock deterioration.
Stock Price: $11.74
Dividend: 9.2-cents per month. $1.10-per year.
Market Cap: $518-Million
Dividend Yield: 9.3%
PIMCO Global Stocksplus & Income Fund (NYSE:PGP)
If there is one reason to own a CEF selling at a 53.39% premium to NAV, the justification is due to Bill Gross' institutional involvement. Gross and a top notch team provide the brain trust to PIMCO's overall strategy. Gross' influence on the firm can not be dismissed. Investors have a competitive advantage with PIMCO's involvement. The yield is a solid 10% based upon a monthly dividend of 18.34-cents per share.
Clearly PIMCO has one of the sharpest institutional management teams in the market place. Although the fund is selling at a significant premium to NAV, the returns and risk tolerance are impressive.
PGP's N-CSR was issued June 3rd. The fund's investments possessed the following Moody's credit ratings, per page 8: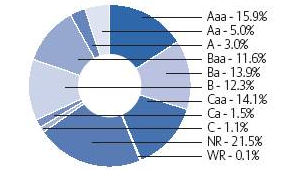 A few of the core takeaways from the N-CSR review include:
PGP was actively involved in non-agency and agency paper.
The fund benefited by both U.S. and MSCI EAFE exposure.
The fund uses swaps, derivatives, options to maximize income and limit losses. This defensive posture is implemented upon the net macro economic background.
PGP's current investment basics include this data:
Stock Price: $21.80
Dividend: 18.34-cents per month. $2.20-per year.
Market Cap: $256-Million
Dividend Yield: 10%
Prospect Capital Corporation (NASDAQ:PSEC)
PSEC is a diversified midstream investor. The company strategically enters into positions via mezzanine debt, acquisitions, growth, development financings, and recapitalizations. PSEC focuses upon energy, healthcare, speciality minerals, and manufacturing. PSEC owns positions in approximately 60-entities.
Business Model
The 10Q identifies PSEC's investments. PSEC is open and clear about their investments. Here is an example of a PSEC investment on page 7 of the SEC 10Q.
PSEC has focused upon expanding into a diverse industry base. In prior years, there was a focus more upon the energy sector.
Shareholders
Insiders purchased 8,000-net shares in May 2011. A blue chip list of financial institutions are invested in PSEC.
PSEC CEO John F. Barry, III is a significant shareholder. He has over 25-years experience in venture capital, mezzanine debt, and development financing. I want to own PSEC with a solid management team. The fund pays monthly dividends for an annual 11% yield. There is a lot to like about PSEC.
Stock Price: $10.91
Dividend: 10.1-cents per month. $1.21-per year.
Market Cap: $1.05-Billion
Dividend Yield:11.1%
Disclosure: I am long BPT, CMO, EOI, PSEC.