Red Robin Gourmet Burgers (NASDAQ:RRGB) is a burger chain in the US and Canada that focuses on the middle-end customer. It also has a bottomless steak fries option, salads, customized mixed drinks, and other entrees. Its last two quarters have been better than expected.
However, the fundamentals of Red Robin are mediocre at best, but overvalued. From anecdotal evidence, I have eaten at Red Robin a few times before and its burgers do not really stand out from the competition's. On a more objective basis, the company has a P/E of 48 and a PEG ratio at a very high 3.67. Future earnings growth estimates at 13% per year are very generous, especially with the company's previous earnings declines every year for the previous four years.
Competition is very high in the industry as there are no barriers to entry for a burger chain. National fast food rivals such as Burger King (BKC) and McDonald's (NYSE:MCD) on the low end provide cheaper alternatives. On the other hand, local favorite restaurants in major metropolitan areas and regional chains such as Islands, Ruby's Diner, and many others provide either similar or higher quality products with no significant price difference.
This, along with a weakening economy, will hurt a highly cyclical business such as Red Robin. Despite slight wage growth since the 2008-09 lows, higher inflation and the need to pay down debt prevents any gain in disposable income. If a double dip occurs, consumers will be even more strapped for cash and middle-end restaurants such as Red Robin will be hit the hardest as its customers switch to fast food or eating at home.
[Click to enlarge]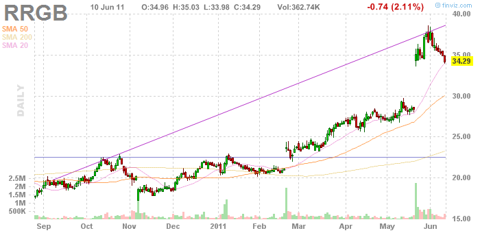 Technically, the chart is breaking down to ground the flight of Red Robin. The company has formed a large gap up from $28.52 to its current price in mid-May. The MACD is strongly bearish and this, along with the relative strength indicator, is trending negative. RRGB also appears to be near the top of an upward channel. Overall, due to mediocre fundamentals, an inflated stock price, and extremely bearish technicals, I recommend shorting Red Robin and then covering when the island fills at $28.60.
Disclosure: I have no positions in any stocks mentioned, and no plans to initiate any positions within the next 72 hours.