By David Krempa
Over the next three years, pharmaceutical firms face a looming patent cliff. For this reason, segments of big pharma firms outside the prescription drug group, such as consumer health, are becoming increasingly important. In contrast to the prescription market, consumer healthcare products don't face the volatility associated with patent losses. Many consumer healthcare products actually gain in intrinsic value over time, instead of losing value in the prescription setting, as drugs approach patent expiration. As a representation of total sales (of the big pharma firms that have consumer health units), we estimate that by 2015, the consumer health segments' share of the pie will increase to 15%, reflecting an increase of 2% from current levels. Based on both the strong moats in this industry and the low overall valuations ascribed to big pharma firms in aggregate, we believe the investment community is underestimating the value that these consumer segments bring to the table.
Brand Names Demand Premiums in the Over-the-Counter Market
The primary competitive structural advantage in the over-the-counter, or OTC, market, is branding. Given the high importance and complex nature of treating one's health, brand names become particularly important in conveying both trust and quality. Since most consumers lack a strong understanding of their own healthcare problems, they demonstrate a pronounced willingness to pay up for a product that carries a well-known brand. As a result, brand power is instrumental to creating moats in the OTC market, offsetting a relative lack of other structural competitive advantages.
Further, brand strength is perpetuated by ongoing, widespread advertising campaigns, which instill, reinforce and maintaining a sense of trust in the branded OTC products. Massive advertising budgets, along with the historical entrenchment of some of brands, create significant hurdles for new market entrants. Brand history is also important, as older brands tend to carry greater trust. Furthermore, it is substantially more expensive to create a new brand than it is to maintain an old one, so more established brands tend to require lower marketing investment costs. Brands such as Bayer (OTCPK:BAYZF) branded aspirin products have gained the trust of consumers over an extended time period, allowing them to command a premium price over private-label competition.
Locking Out Competitors via the Distribution Channel
Consolidation among retailers and the rise of Wal-Mart (NYSE:WMT) and other discounters (warehouse clubs, dollar stores) have shifted power away from consumer product firms over the past several years. The top 10 retailers in the U.S. now control 70% of the industry. In addition, retailers have become more adept marketers to consumers. To expand the distribution of their products, it is essential that consumer product companies adapt their offerings to retailer requests, or risk losing distribution through these key outlets, even if this might mean accepting a lower margin in the process.
Prestige Brands (NYSE:PBH) (a niche player in the OTC healthcare, household cleaning and personal care space) learned this lesson the hard way a few years ago, when major retailers wanted wart removal manufacturers to reduce their products' package sizes. Prestige refused, thinking the move would compromise profits for the entire product category. Unfortunately, its competitors agreed to the retailers' request. Prestige was forced to change its packaging anyway and retailers refused to stock Compound W and Wartner (two of Prestige's brands) until the company complied. Because wart removal tends to be a seasonal business that peaks during the summer, losing market share for even just a few months can be painful.
That said, retailers are still dependent on strong, market share-leading brands to drive store traffic. Brands capture consumer attention and build consumer loyalty while typically offering premium pricing and potentially higher gross margins. The symbiotic relationship gives OTC companies with scale better relationships with retailers when it comes to positioning products. These relationships raise the hurdles for smaller players, who seek access to both retailers and premium product positioning.
Can Break-ups Add Value?
Due to lagging stock performance and historically low valuations, big pharma companies are facing pressure to break apart their diverse businesses. Many firms will have the option of selling these divisions, or breaking them off as independent companies. With the big pharma universe trading at an average multiple of around 10 times 2011 earnings, we believe material value can be realized if firms divest consumer health assets at what would likely be significantly higher multiples. Based on past transactions in the consumer health industry, we believe big pharma's consumer health units could fetch a 14.1 price-to-operating income multiple if sold to a strategic buyer. If spun out as standalone companies, we think these segments would trade for around 13.0 times operating income, based on the current stock prices of publicly traded consumer health companies. Even if just a couple firms divest consumer health units, we think the added transparency would be beneficial to the entire industry.
The table below shows our estimated values for big pharma's consumer health units if they were divested as independent entities. It also lists the implied price to earnings ratio of each firm if you removed our estimated value of the consumer health segments from the firms' market caps and removed the portion of net income we estimated to be attributable to the consumer health segments.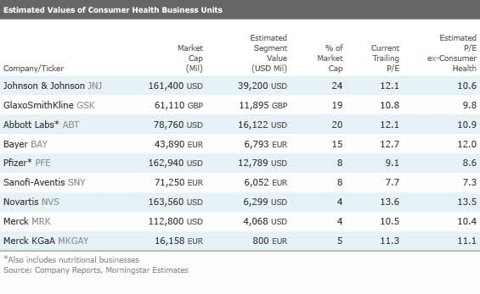 Click to enlarge
(Click to enlarge)
Three firms with strong consumer health segments that we believe are currently undervalued are Sanofi-Aventis (NYSE:SNY), Pfizer (NYSE:PFE) and GlaxoSmithKline (NYSE:GSK). All three stocks trade at a discount to our fair value estimates and we would award wide moats to all of their consumer health units if they were independent companies.
Sanofi has a strong international presence in consumer health and recently boosted its North American presence with the acquisition of Chattem (maker of Icy Hot, Gold Bond and ACT mouthwash). The recent launch of Allegra OTC should provide a near-term tailwind to the unit and its established position in the emerging markets should drive long-term revenue growth.
Pfizer management is expected to decide the fate of its consumer health business by the end of the year, when it finishes its strategic review. We think it could unlock significant value if the firm decides to divest its consumer health and nutritionals businesses. Pfizer's consumer health unit, which was brought into the firm through the Wyeth acquisition, is led by the Advil franchise of pain management products.
GlaxoSmithKline has the second largest consumer health unit after Johnson & Johnson (NYSE:JNJ). The firm's brands include Tums, Breathe Right and toothpaste brands Sensodyne and Aquafresh. Glaxo has announced plans to sell off some of its smaller products, which combine to contribute about £500 million in revenue, in order to focus on its leading brands. In addition to offering better margins, strong and recognizable brands make it easier and cheaper for the firm to new markets. It requires significantly less marketing and promotional expenses if consumers are already familiar with the brand. While Glaxo has rallied into 3-star territory, the stock still trades at a discount to our fair value estimate.
Disclosure: Morningstar licenses its indexes to certain ETF and ETN providers, including Barclays Global Investors (BGI), First Trust and ELEMENTS, for use in exchange-traded funds and notes. These ETFs and ETNs are not sponsored, issued, or sold by Morningstar. Morningstar does not make any representation regarding the advisability of investing in ETFs or ETNs that are based on Morningstar indexes.