By Melvin Pasternak
This stock's story started in 1972 with a nagging stomachache.
To ward off chronic discomfort, a Utah school teacher put a spoonful of cayenne pepper into an easy-to-swallow gelatin capsule. He felt immediate relief, but perhaps more importantly realized his remedy also had business potential. Shortly after, Nature's Sunshine (Nasdaq: NATR) was born.
The first company to encapsulate herbs and sell them as natural remedies, Nature's Sunshine nutritional, herbal, weight management and personal care products are now sold in more than 40 countries worldwide through a network of more than 600,000 independent distributors.
The company appears poised to grow further. According to the National Center for Health Statistics (NCHS), dietary supplement use has widely increased in the past two decades. Between 1988 and 1994, 42% of all Americans used supplements. In 2003 to 2006 this increased to 53%. A recent survey by Wakefield Research found that more that 60% of adults in the United States currently take vitamins or supplements.
Not surprisingly, in 2010, the vitamins and minerals market was valued at $24 billion, worldwide. By 2015, the market is expected to be worth nearly $30 billion. And with baby boomers aging, this number is only expected to keep rising.
From the viewpoint of technical analysis, it hasn't always been sunshine and rainbows for this health-oriented company.
In 2006, when Nature's Sunshine went public, shares quickly ran up from around $8 to $12. By July 2007, they climbed to a peak of $14.45. But they were caught in the downdraft of a plummeting market and plummeted to a low of $3 by June 2009.
Shares have crept back up over time, however, slowly rising from around $5 to $9 to $14 by mid-2010.
Unable to break the $14.75 mark in May 2010, the stock pulled back to near the $8 level in June 2010 and consolidated there for nearly a year, until May 2011.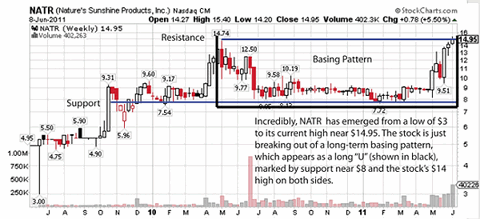 The stock is now just emerging from what looks to be a multi-month basing pattern. This basing pattern appears as a long "U," marked by support near $8 and resistance on either side of the pattern, at about $14.75.
Shares have hit an all-time high of $14.95 after bullishly breaking $14.75 resistance during the June 6 trading week. With no historical resistance in sight, the stock could move much higher.
According to the measuring principle for a basing pattern, calculated by adding the height of the pattern to the breakout level, the stock could reach a price target of around $21.50 ($14.75 - $8 = $6.75; $6.75 + $14.75 = $21.50). At current levels, this price target represents a 44% gain.
The herbal-wellness company also looks fundamentally strong.
In early May, the company reported solid first-quarter results. Due to growth in existing markets and expansion into emerging markets, revenue for the period increased 7% to $92.8 million, from $86.8 million in the year-ago period.
For the full 2011 year, analysts project revenue will increase about 4.8% to $366.7 million, from $349.9 million last year. By 2012, analysts project international growth will drive revenue up a further 5%.
The earnings outlook is equally strong.
Due to decreased general administrative and operating costs, first-quarter earnings rose 38.7% to $0.43 per share, from $0.31 in the year-ago quarter. For full-year 2011, analysts expect earnings to more than double to $1.15, from $0.54 the prior year. By 2012, earnings are projected to increase an additional 4.4%, to $1.20.
The stock is also attractively valued, based on its forward price-to-earnings (P/E) ratio of 12.5 and its price-to-sales (P/S) ratio of 0.7. In comparison, competing nutritional products company Herbalife (NYSE: HLF) has a forward P/E of about 15.5 and a P/S ratio more than double Nature's Sunshine's, at around 2.2.
Furthermore, Nature's Sunshine has a strong balance sheet, with $61.2 million in cash and no long-term debt. This liquidity gives the company the financial wherewithal to continue developing its product line.
Having just bullishly broken out of a basing pattern, I believe the stock presents a limited-time trading opportunity, with the potential to make as much as 44% for traders.
Disclosure: Neither Melvin Pasternak nor StreetAuthority, LLC hold positions in any securities mentioned in this article.