Well, did we bottom? Some good company news and a drop in the dollar helped the market today, but tomorrow will be ruled by retail sales. The 1270 level on the S&P seems to be a very significant support line. We have bounced off that level twice to the upside, and if it holds again ... it would signal a bottom. At the same time, this market continues to need catalysts to the upside, and until we get those, no rallies are safe.

With the notion (more like blind hope) that the market may be bottoming, we need to be ready to buy. What is ready to break out? What stocks are showing great support in the down days? We identified RUTH today for support and good volume in down market trend.


What to buy?

It won't take much to get this market moving ...

Dean Foods (NYSE:DF) - After the market's latest string of six weeks of nothing but losing, Dean Foods appears ready for a leg higher. After the company announced that it is raising forecasts for the rest of the year and said it finally had a handle on pricing, the stock soared to nearly $14. Since that high, the stock has dropped to the mid-12s where it seems to have bottomed after filling the gap from a post-earnings burst. Now, the stock looks quite attractive. We have a $17 PT on DF for the next 12 months, and this stock would be a strong candidate to take off if we were getting a bottom here.

Click to enlarge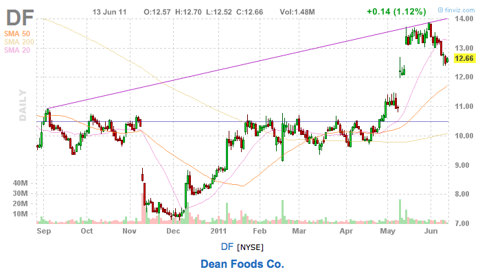 GameStop (NYSE:GME) - The stock has bottomed and has incredible support at $26.00 right now. The stock has flatlined for a week, and it has not dipped further on pullbacks. The stock's 50-day MA sits right below it, and the company's pullback was on average to under average volume. A big buying day could definitely help this stock move to the upside. Resistance does not seem to be significant until 27.00 at least where the 20-day MA sits. GameStop is a strong company that has a lot of analyst interest and has performed well during this volatile year. The company looks like its further downward pressure is done, and a further breakdown would only occur from a breakdown from 26.

Click to enlarge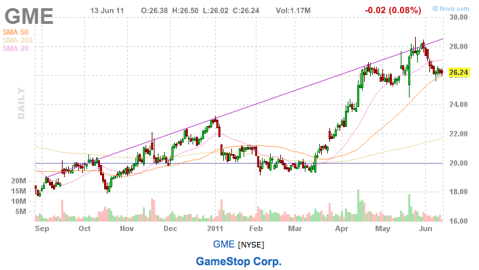 Oil - Oil is at a key level right now USO has not spent significant time below $38 since February of this year. If oil continues to break down, it would most likely mean a major pullback is on the way. A drop in the dollar should help give some strength to oil as well as any bullish data. We believe that oil should have bottomed today, but it continued below our targets at $97 before garnering support at $96. We are not ready to say buy oil, but good data this week or a drop in the dollar would be a definite reason to buy. We believe buying the July $40 USO calls would be a great way to be involved. For an ETF, we like the Ultra Proshares DJ-UBS Oil ETF (NYSEARCA:UCO).

Click to enlarge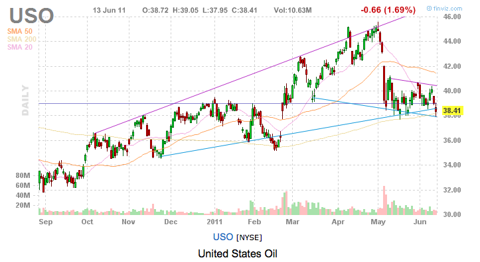 Under Armour (NYSE:UA) - The athletic clothing company looks primed to break out right now. The stock has received multiple upgrades in the past two weeks and got the joy of the VF Corp. buyout of Timberland (NYSE:TBL) to attract positive attention to apparel manufacturing, which has had none in quite some time. This stock will be a great breakout candidate if it can break its 20-day MA at 69.00. The company has a PT of $60 for us, but the market loves this stock. It looks like higher prices are on the way for UA this week, but we want to see it breakout first.

Click to enlarge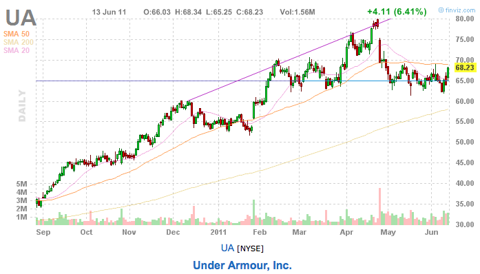 Disclosure: I have no positions in any stocks mentioned, but may initiate a long position in USO, DF, GME, UA over the next 72 hours.