Thesis: Although valuation metrics may seem appealing, technicals and intermediate-term outlook for Hewlett Packard (NYSE:HPQ) point away from this battered tech giant. On a long-term basis (24+ months) however, the company is likely to see returns from recent acquisitions and significant price appreciation.
Profile: HP is a tech giant with tremendous name recognition and a diversified portfolio. The company commands the #1 spot in world PC sales, is a leading printing and digital imaging provider and battles competitors such as IBM in the enterprise services and support sector.
HP reports in seven business groups:
The Personal Systems Group brought in 32% revenue but only 13% of earnings in FY2010, a reminder of margin pressure in the consumer computing space.
The Enterprise Business Group includes Storage and Servers (15% revenue) Services (27% revenue) and Software (3% revenue.) The Services sub-group accounted for close to 36% of earnings in FY2010, illustrating the importance and profitability of the enterprise market.
The Imaging and Printing Group brought in 20% of revenue and 28% of earnings for FY2010, reflecting high margins in printers, scanners and related supplies.
Finally, the Financial Services and Corporate Investments groups brought in 2% and 1% of FY2010 revenue, respectively.
HP has dramatically expanded its array of offerings under the leadership of the recently departed Mark Hurd. The company has been on a 5-year purchasing tear, including the following within just the last year:
* Networking equipment maker 3Com for 2.7B
* Mobility specialist Palm, Inc. for 1.2B
* Data Storage provider 3PAR for 2.25B
* Arcsight, a security and compliance management provider for 1.7B
Sources: S&P Compustat Company Report (login required) HP FY2011 Q2 results
Fundamentals: HP is trading around 8.7x P/E TTM and 8.6x forward P/E, in the bottom of the historical 8.6x - 11.8x P/E channel. 52 week range is $35 - $49.39.
PEG sits at a relatively encouraging 0.94. Analysts EPS consensus for FY2011 sits around $5.02, about a 15% YOY increase, but there's widespread skepticism regarding future growth. Although the recent string of acquisitions have positioned HP to further expand its range of products and services, some of the purchases look questionable in hindsight--the Palm buy in particular. Gross margin has held steady at 26.4% for two years but looks to improve narrowly as HP attempts to integrate its new holdings and expand the array of offerings of its Enterprise Business Group.
The company is known for reliable estimates, with a track record of 9/9 last quarters either on the dot or slightly exceeding consensus expectations.
Downside Protection: P/Book is 1.87 vs. industry average of 4.45, but this may be misleading, as the ratio is still higher than the mean, which ranks HP as having a higher P/Book ratio than only 60% of companies in the sector.
P/Sales (TTM) is at an encouraging 0.6 vs. industry average of 2.6.
P/CF (TTM) sits at 5.46 vs. industry average of 12.30. Once again, this is a misleadingly low ratio since relative to the mean, HP's P/CF is only less expensive than 56% of the companies in the sector.
The company holds 12.74B in cash and has 22.92B in debt. It pays a non-trivial dividend of 1.40%, has a 75% institutional rate of ownership and a minimal short ratio of 0.70%.
Sources: Yahoo! Finance, Fidelity Investments
Technicals: HPQ is trading around $35, at a 52-week low and significantly below 50 and 200-day SMAs. The stock price has experienced a 3-month collapse of more than 15%. The company slashed FY2011 guidance on May 18th (Reuters) as it announced plans to continue acquisitions.
Price action looks terrible: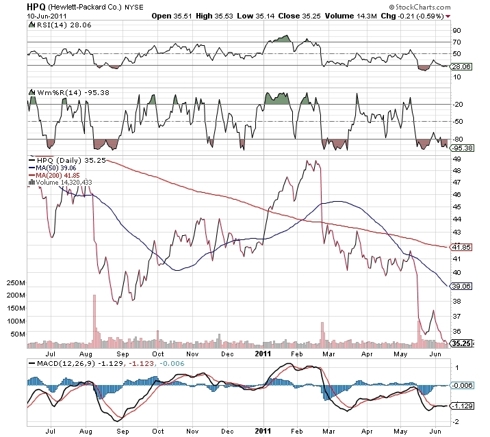 MACD flashed a weak sell in mid-January as the stock experienced a strong rally, then a strong sell with a precipitous drop caused by HP revising downward yearly EPS guidance.
RSI and Williams %R both confirm HPQ to be undersold since mid-May. Volume averages are bearish, indicating a dearth of buyers.
General Sentiment: Analysts are largely neutral but maintain a mean 12-month target price of $44.50, implying a 25% upside. There have been, however, quite a few recent downgrades from BUY to HOLD from Stifel Nicolaus, Ned Davis Research, Thompson Reuters, Ativo Research, Channel Trend and Standard & Poor's.
HPQ is the 5th most-owned hedge fund tech stock (Seeking Alpha) which at this point may be more of a liability than an asset because of volume action over the last few months.
Source: Fidelity Investments (login required)
Analysis: Long term, Hewlett Packard's moves to strengthen its value propositions in the enterprise arena are sound, but near-term outlook is negative and investors should look to capitalize on weakness in months to follow. Consider the following:
* Q3 earnings will be announced on August 18th, and although the company warned about a $700 million revenue slide due to recent events in Japan, there may be a larger miss in the making. Stifel Nicolaus' May 17th downgrade cited concerns about pricing pressure in both retail and enterprise markets. The slide in confidence (The Conference Board) from April to May confirms softness in consumer demand, and Hewlett Packard stands to be disproportionately impacted by weakening PC sales because of its #1 market-share.
* There's widespread skepticism about the new CEO, Leo Apotheker. After Mark Hurd's ignominious departure, investors are still assessing the likely effectiveness of the new CEO. Mr. Apotheker's recent performance at a company summit (Business Insider) was met with, what can be fairly characterized as, a yawn.
* After last year's purchasing binge, investors and analysts alike seem parked in "show me" mode, demanding to see some ROI. The launch of the TouchPad tablet (Endgadget) will be followed closely and may (to some degree, unfairly) punish the equity: if it does well, it'll be simply serve the Palm purchase, which so far has been widely panned. If it does poorly, it'll be used as clobbering stick.
* Finally, financials: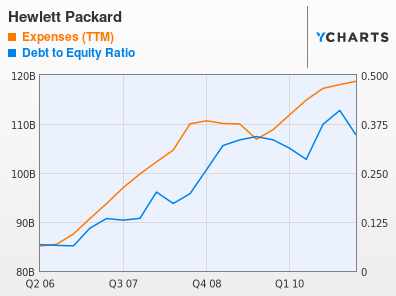 Spending money to make money is an old story, but the chart does not spin an appealing tale.
Based on the above, I recommend a wait-and-see approach for those interested in going long. A cautious income-seeking strategy would be to sell November 19th $35 calls for a premium of $2.34 per contract for an annualized 16% (for comparison purposes only.) This implies a break-even price of $37.34, significantly below analysts' mean expectation but a tough mark given the outlined concerns and technical momentum.
Disclosure: I have no positions in any stocks mentioned, and no plans to initiate any positions within the next 72 hours.