When the stock market becomes volatile, investors can find solace in defensive stocks. Often times, these stocks have a beta of .5 to .75. In other words, these stocks move upward or downward at 50% or 75% of the overall stock market. Defensive stocks have a business model which succeeds during economic booms and economic bust cycles. Examples of these types of business models include firms selling alcohol or tobacco, utility stocks, or fast food franchises.

Altria Group Inc. (NYSE:MO)
Altria's sustainable competitive advantages clearly are focused upon two core product lines:
Cigarettes: Market share leader Marlboro's.

Smokeless tobacco: market share leaders Copenhagen and Skoal
The tobacco industry's sustainable competitive advantage includes a modern, regulated industry. The sector is shunned by many investors due to perceived social awareness issues, but Altria sells legal products to a willing, legal-age customer base.
Tobacco has significant barriers to entry due to established tobacco legal rulings. Altria fought through decades of legal suits.The number of smokers is decreasing year-after-year. However, cigarette demand still exists and provides ample reward to Altria.
Altria has trustworthy and experienced management. CEO Peter P. Paoli has worked for Philip Morris since 1979. The management team is recognized as #1 by Barrons for overall effectiveness in cash flow and revenues.
Altria currently offers shareholders an annual dividend of $1.52. This equates to a 5.6% dividend yield as the stock trades for $26.93 per share. In addition, Altria announced a new $1 billion stock buyback plan. This will be accretive to earnings.
Smokeless tobacco is a key growth catalyst. Altria has allocated funding to encourage growth in this sector. Altria's focus is to increase smokeless tobacco sales while cigarettes continue to have declining sales. As this table from Altria's SEC 10Q (page 16) illustrates, the business model is operating in an 80%-plus revenue base in cigarettes. The company is focused upon smokeless products, cigars, and wine to make a meaningful percentage of Altria's overall sales and profits. These are Altria's products of growth in the future.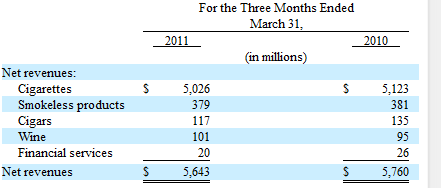 Digital Realty Trust Inc. (NYSE:DLR)
Digital Realty's REIT business model contains sustainable competitive advantages due to the focus upon the technology sector. Digital Realty provides data center facilities in 96 locations. The locations are secure, dependable, and cost efficient for its customers. The data management centers are vital to the success of the technology customers.
Digital Realty has cost-advantages to prevent barriers to entry on a meaningful basis. The REIT has focused upon providing a crucial product to an economically thriving technology sector. The balance sheet addresses the short-term and long-term financing deals with its clients. The revolving credit levels address the ongoing needs of up-and-running data centers from a firm which has a solid credit ranking.
Digital Realty Trust offers a growing dividend with a $2.72 annual dividend. This is a 20% increase over 2010's dividend level. Presently, this provides a 4.3% dividend yield based upon a $61.78 DLR share price.
Companies cannot lose their data. The security and privacy is integral to the continued success of worldwide technology firms. Digital Realty's 20% year-over-year growth rate demonstrates the ongoing need for data centers from a reliable one-source company.
Click to enlarge:
Government Properties Income Trust (NYSE:GOV)
Government Properties is a REIT with 58 properties. Government Properties has barriers to entry with 46 properties leased to the U.S. government, and 11 properties leased to states. The focus has been to lease to Federal or state tenants. Government Properties's recent history is based upon its operations within CommonWealth REIT (NYSE:CWH) and subsequently as an independent REIT.
In an economic downturn, the ideal tenants are the U.S. government and individual states. They are crucial to the government operating on an ongoing basis without disruption. On May 31st, Government Properties purchased a New York City building with the United Nations as the tenant. This deal represents the governmental focus of Government Properties's desired clientele. Government Properties' investors understand that key world agencies are responsible and pay their lease bills. The focus upon state, U.S. government and worldwide government tenants provides a sustainable competitive advantage. This REIT has clients who are backed by society at large.
Government Properties operates under a proven management team with years of experience behind it. The current annual dividend payout of $1.68-per share represents a 6.84% annual yield. This is an extremely attractive yield when compared to U.S. Treasury bonds.
Click to enlarge:

Philip Morris International, Inc. (NYSE:PM)
Philip Morris was spun out from Altria, and now has a worldwide sustainable competitive advantage in the tobacco sector. Philip Morris represents the non-U.S. tobacco sales enterprise. The company sells the premium tobacco brand names including Marlboro, Merit, Parliament, Virginia Slims, and Chesterfield.
Philip Morris' business model contains barriers to entry from the competition. It is the current industry leader in market share, an international cigarette distribution plan of operations, and a direct communication presence in each country of operation.
Philip Morris' management is focused upon total investment returns by maximizing shareholder total return, which includes capital gains and cash dividends. Philip Morris' common stock has a 79% debt level. This is a fairly high percentage in a common stock capital structure. For 2011, management has decided to implement a $5 billion common stock buyback. This will decrease the number of shares outstanding and increase the earnings per share.
Philip Morris currently offers an annual $2.56-per share dividend. This represents a 3.8% dividend yield based on a PM stock price of $67.53. In 2011, earnings per share (EPS) is estimated at $4.60. Philip Morris is currently trading at a 14 times 2011's EPS, which is a fair value based current economic metrics.
Senior Housing Properties Trust (NYSE:SNH)
Senior Housing Properties Trust, a real estate investment trust (REIT), primarily invests in housing projects for the elderly. Society has a vested interest to ensure the elderly have a secure and medically attentive commitment. The company, as of March 31st, owned $3.9 billion of senior properties within 37 states and Washington, D.C.
Per Senior Housing's 2010 annual report, the business model focuses upon obtaining and maintaining assisted living properties, nursing homes, and rehab hospitals. The focus upon senior citizens is crucial to society. The elderly represent the hard-working individuals of past generations. Their treatment and medical care is crucial to society at large.
Senior Housing pays an annual $1.48-per share dividend. Based upon a $22.66-per share closing price, this offers investors a 6.5% annual investment yield. The dividend yield has been gradually growing for this $3.2-billion market cap REIT.
Click to enlarge: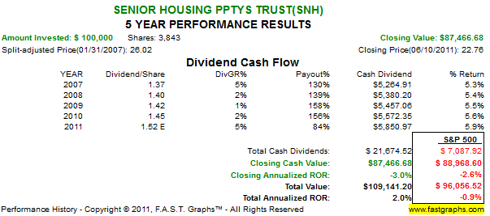 Disclosure: I have no positions in any stocks mentioned, and no plans to initiate any positions within the next 72 hours.