Whether you're young, middle aged, or old, when it comes to investing, nothing feels better than getting cold hard cash put in your hand. We doubt very many people invest with the mindset of implementing a capital loss strategy. Sometimes getting that cash put in the bank though, isn't quite as easy as everyone thinks. This is exactly why we still love MLP's such as BP Prudhoe Bay Royalty Trust (NYSE:BPT). We know it isn't sexy like tech companies or some hot stock pick. But what it lacks in looks, it easily makes up for in other ways. Those "other ways" focus on the ability to provide both price appreciation potential and strong cash flow. We are ranking BPT a buy because it holds three great qualities from our perspective. And while it may not make you look cool at the neighborhood BBQ, it could help put more money in the bank.
Inflation Protection
Commodities such as oil aren't the least volatile things in the world but at the end of the day the global economy operates on commodities like oil. Having exposure to them offers protection against inflation. As well, considering the fact that the U.S. government wants to raise the debt ceiling (print more money) in our view that sounds like a good precautionary move. While recent volatility has pummeled the stock market, it has also offered better entry points for BP Prudhoe Bay.
Our current preference for BPT over an oil company has to do with our perception of better inflation protection. Both may be exposed to the same commodity but the performance isn't similar. To illustrate this point, we compared the performance of BPT against a well-known oil company such as Exxon Mobil (XOM).
Click to enlarge: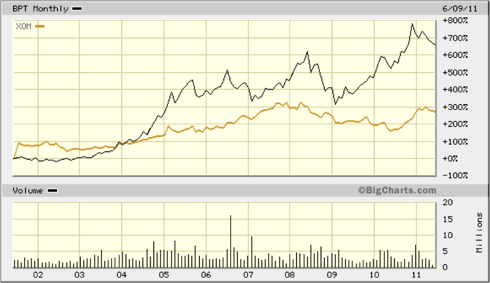 The chart makes it clear that while both are linked to the price movements of oil, the performance is surprisingly different. Now this doesn't mean we don't like oil companies outright. All it means is that we prefer BP Prudhoe Bay when certain conditions are met. We think current market conditions warrant us to prefer BP Prudhoe Bay.
2. Solid Cash Flow
Having a big bank account is nice but what's even better in our opinion is real cash flow to make that bank account grow faster. For example million-dollar portfolio consisting of only BP Prudhoe Bay as of Monday, June 13, 2011, would yield 8.8%. While 8.8% doesn't sound like a great return compared to an index like the S&P500 (SPY), that's still $88,000 (gross) in the bank account, regardless of where the portfolio goes. Plain and simple, BP Prudhoe Bay provides sound cash flows to the bank account no matter where the market goes.
3. Two for the Price of One
It's perceived by many that if an investor wants to get cash flow from the stock market then they must sacrifice the potential for growth. But that just isn't true. Based on what we reviewed above, it's clear that receiving price appreciation potential and cash flow is not a mutually exclusive event. In that respect, BP Prudhoe Bay kills two birds with one stone, or comes as 'two for the price of one'. To be convinced that one must sacrifice price appreciation for cash flow, or vice versa, is just believing a Wall Street myth and/or a broker trying to generate more fees.
Conclusion:

We rank BP Prudhoe Bay a buy for all the reasons above and because we feel that it's an asset that accomplishes a lot for the everyday investor. A last caveat: In all fairness, BP Prudhoe Bay isn't exactly perfect due to its unique corporate structure, unique characteristics as an investment, and limited oil reserves.

Disclosure: I am long BPT.