The market continues to give up most of its rallies by the end of the day, and is probably looking at a more substantial correction by the end of the summer. However, that does not mean there are not already some bargains out there to be had. In my mind, one of the biggest values not only in the short term but over a much longer period is Apple (NASDAQ:AAPL). I am already long AAPL and plan to use any additional market pullback to add to my position for the following reasons.
Simply put, Apple is an innovation juggernaut. First it changed the music space with iPod and iTunes. It then changed the smartphone arena and how we even think of phones with iPhone. Now its iPad is out to change the very way we work and upend business models themselves. In fact, the iPad is the fasting growing technical device roll out and adoption in history. How many companies produce one product that changes the way we use technology completely, let alone three? Will iCloud make number four?
The company consistently under promises and over delivers. It has grown both earnings and revenue north of 30% average for over five years, yet it consistently crushes earnings estimates quarter after quarter. S&P projects this growth to continue. The expected average EPS growth over the next three years is 28%.
Despite this turbocharged growth and history of beating estimates, Apple goes for a smidge over 13 times this year's expected earnings and around 11 times 2012's consensus EPS. To put that in perspective, the lowest PE ratio for Apple in more normalized times (2005-2007) was 20. A PE of 20 on expected earnings for this fiscal year closing in September of $24.78 nets a stock price of $495.
Even these PE's are understated as AAPL has approximately 20% of its market cap in net cash and is a cash flow machine - (click chart to expand).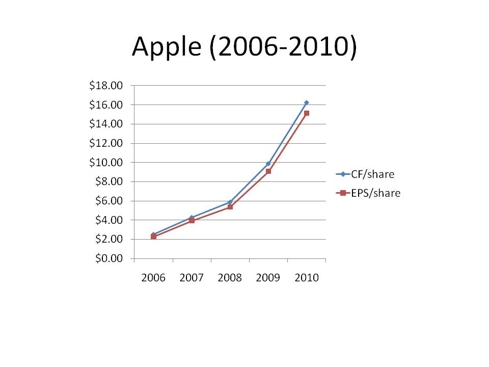 Click to enlarge
Apple does not make dumb acquisitions with its cash [see Microsoft's (NASDAQ:MSFT) recent buyout of Skype at a huge premium.] It devotes a trickle to share buybacks and called in 1.6% of float over the prior 12 months. It obviously could easily put more of its cash and cash flow to working buying back stock; especially at these levels.
It still has substantial opportunities in retail. Apple has less than 400 stores worldwide. It still amazes me to see people lined on weekends on Lincoln Road in South Beach waiting for the store to open in the morning. You don't see that in retail often these days.
No one evers talks about it, but the MacBook line is still selling well at around 15% annual growth. It is growing well even if it is a non-tablet, giving Apple another growth engine.
The stock is selling substantially less than analyst's price targets. AAPL goes for $326. UBS is at $510 on Apple, Cannacord is at $485 and Stern Agee' s price target is $460.
iPhone and iPad are starting to be accepted and adopted by corporate IT markets. This is a huge untapped channel of growth, and probably the death knell for Research in Motion (RIMM) and BlackBerry.
Despite the consistent and rapid growth in earnings and revenues as well as new products on the horizon, the stock has a projected PE of .63. Just getting a respectable PEG of 1 gets you to $500 a share for Apple. Given its history of over delivering on growth estimates on revenues and earnings, this target might turn out to be low.
Disclosure: I am long AAPL.