The Kroger Company (NYSE:KR), one of the largest grocery retailers, is slated to report its first-quarter 2011 financial results on June 16. The current Zacks Consensus Estimate for the quarter is 64 cents a share. For the quarter under review, revenue is $26,328 million, according to the Zacks Consensus Estimate.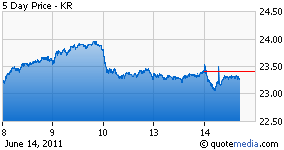 Fourth-Quarter 2010, a Synopsis
Kroger's quarterly earnings of 46 cents a share topped the Zacks Consensus Estimate of 44 cents, and jumped 17.9% from 39 cents delivered in the prior-year quarter.
Total revenue (including fuel center sales) climbed 7.4% to $19,928.4 million from the prior-year quarter, and handily beat the Zacks Consensus Estimate of $19,321 million.
Excluding fuel center sales, total revenue rose 4.2%. Comparable supermarket sales jumped 4% to $16,231.5 million and identical supermarket sales (stores that are open without expansion or relocation for five full quarters) rose 3.8% to $15,830.7 million.
Guidance
At its last earnings call, Cincinnati-based Kroger forecast fiscal 2011 earnings between $1.80 and $1.92 per share. The company also projected identical supermarket sales (excluding fuel) growth of 3% to 4%.
First-Quarter 2011 Zacks Consensus
The analysts considered by Zacks, expect Kroger to post first-quarter 2011 earnings of 64 cents a share. The current Zacks Consensus Estimate reflects a growth of 10.3% from the prior-year quarter's earnings. The current Zacks Consensus Estimate for the quarter ranges between 60 cents and 66 cents.
Zacks Agreement & Magnitude
In the last 30 days, 2 out of the 15 analysts covering the stock revised their estimates upward that increased the Zacks Consensus Estimate by a penny to 64 cents. In the last 7 days, only one analyst has increased the projection, keeping the Zacks Consensus Estimate constant.
Mixed Earnings Surprise History
With respect to earnings surprises, Kroger has met as well as topped the Zacks Consensus Estimate over the last four quarters in the range of 0.0% to 13.9%. The average remained at 8.6%. This suggests that Kroger has beaten the Zacks Consensus Estimate by an average of 8.6% in the trailing four quarters.
Kroger in Neutral Lane
A dominant position among the nation's largest grocery retailers enables Kroger to sustain top-line growth, expand store base and boost market share. The company is well positioned to deliver higher earnings primarily through strong super market sales (sans fuel). Kroger is also actively managing its capital and returning much of its free cash to shareholders via share buybacks and dividends.
However, sluggish economic recovery and rising food and fuel prices may affect consumers' shopping patterns. Moreover, a higher debt-to-capitalization ratio also remains a matter of concern.
Kroger, which faces stiff competition from Wal-Mart Stores Inc. (NYSE:WMT) and Whole Foods Market Inc. (NASDAQ:WFM), holds a Zacks #2 Rank, which translates into a short-term 'Buy' recommendation. Currently, we have a long-term Neutral rating on the stock.