On a CNBC "Fast Money" segment on Monday, Joe Terranova suggested a few refiners that could outperform others in an environment where Brent crude oil trades as a significant premium to West Texas Intermediate (WTI) crude.
Brent is supposedly a lower quality oil than WTI, yet this premium has been growing higher in recent months as you can see here. Brent has recently traded at $20 more per barrel than WTI. I'm not absolutely sure it's an all-time record, but I suspect it's close.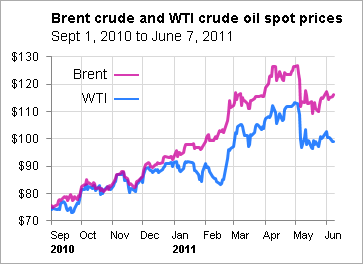 Crude Moving Down From Canada
Joe's suggestions were based on some interesting observations by commodities trader Dennis Gartman on why this spread is so high. (Video available
here
)
There's just a lot of crude oil moving down out of Canada, making its way into Cushing and forcing out the carrying charge. You've got Brent in backwardation. It's tight. You've got WTI in a contango. It's in excessive supply and out goes the spread between Brent and WTI. it's out to $21.
What might reduce this spread? Is arbitraging the spread possible? According to Dennis, a lot of people are trying:
They've actually got trucks taking crude oil out of Cushing down to the port in New Orleans as best they can. They're trying to reverse some of the pipelines. They're moving it by barge if they can.

The arbitrage is so high. Louisiana Light is trading at $17 or $18 over Cushing. A year ago it was trading at parity.

So they're trying to do anything to get that spread to narrow and it just won't. As long as we don't have the pipelines reversed the way they should, as long as you're not flowing crude oil out of Cushing to New Orleans in a pipeline, this number could go anywhere.
I took a look at Louisiana Light. This chart only goes to March 2011, yet shows the immense premium for this specific type of oil, which Dennis says is now $17.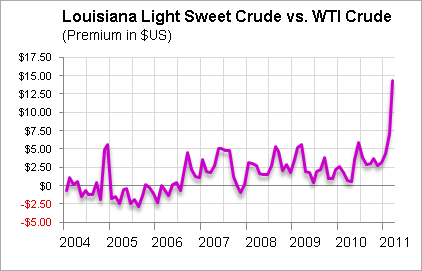 Louisiana Light sells for a much higher price than WTI not because of its higher quality, but based on where it's located – along the Gulf coast where it can easily be exported, unlike the WTI oil located in Cushing, Oklahoma.
What's the Trade?
I don't follow the refiners that closely, but Joe Terranova does. Here's what he says:
Domestically here in the U.S., it's about the refiner trade. Valero (NYSE:VLO), Sunoco (NYSE:SUN) you want to avoid them. They're paying higher prices for oil because they're getting the oil from the gulf.

You want to go mid continent, to look at a name like Frontier (NYSE:FTO), CVI (NYSE:CVI), and Holly Corp (HOC) They're paying cheaper. Getting WTI at 96 bucks.
If the charts mean anything, Joe seems to have a point. Here are charts for stocks Joe says to avoid: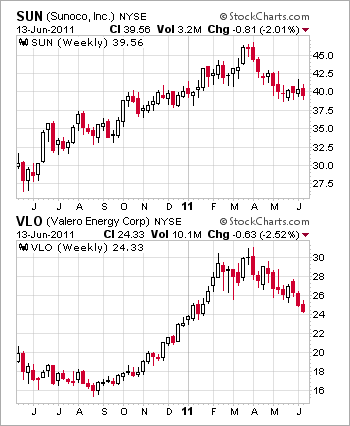 And the charts for those "mid-continent" refiners that are "paying cheaper."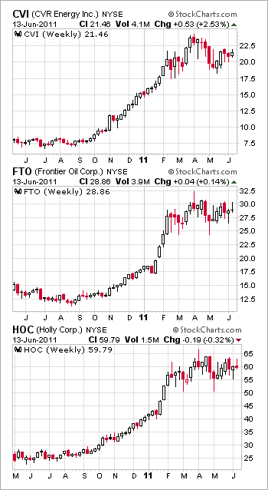 Click to enlarge
This could be an interesting long/short trade, pairing up a short position in either SUN or VLO with a long position in the others (although to be clear Joe did not suggest this as a trade).
There's also an interesting economics lesson here: The want-satisfying capacity of any good depends a lot on location.
Cheap WTI crude means nothing if you can't get any. Those "mid-continent" refiners are getting cheap oil from Cushing, while evidently the others are paying more Brent-like prices. And when the spread between the two soars, it can make a big difference in margins.
Disclosure: I have no positions in any stocks mentioned, and no plans to initiate any positions within the next 72 hours.