Ever since the advent of the personal computer the retailers and manufacturers have been trying their hand at computer retailing. The most notable effort by a computer manufacturer was by Gateway. Gateway blanketed the country with its Gateway Country stores. The landscape continued to be full of carcasses of pure computer stores until Ron Johnson came along.
Ron Johnson was working at Target (NYSE:TGT) when he was recruited by Steve Jobs to head up retail strategy at Apple (NASDAQ:AAPL). Johnson reported directly to Apple CEO, Steve Jobs.
Starting in 2000, Johnson opened 325 retail stores. Johnson implemented a plan to make Apple stores a destination and an exceptional experience.
Apple's retail revenues grew to $3.2 billion in the most recent quarter.
J.C. Penney (NYSE:JCP) just announced that Ron Johnson is leaving Apple to succeed Penney CEO Myron Ullman. Two activist investors, Bill Ackman and Steve Roth have recently accumulated over 25% of Penney stock. Both of these investors are also on the board of Penney. It appears that these investors had a hand in attracting Johnson to Penney. The market is excited about the move. The market has added over $1.0 billion to the value of Penney stock. Penney stock has rocketed as high as $6.00.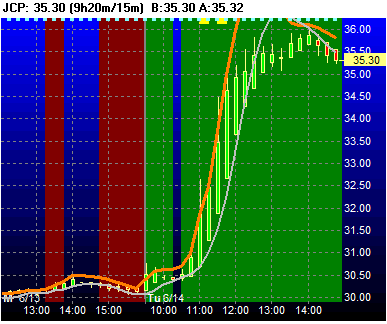 As my long time readers know, I follow the ZYX Change Method. The ZYX Change Method gave a buy signal on Apple when Apple was $131.00. I have been holding Apple since it was $131.
ZYX Change Method gave a signal for a partial sell on Apple at $360.00. I sold 50% of my position at $360.00 and I am still holding the rest. As a full disclosure, subscribers to ZYX Buy Change Alert are also holding Apple.
ZYX Change Method screens show that the leaving of Johnson may turn out to be a positive development for Apple. Johnson's experience appears to be primarily in the United States. Apple is nearly done with its retail expansion in the United States. The next step for Apple is to open lots of Apple stores internationally. Johnson's leaving will allow Apple to replace him with someone with more international experience.
Profitability of any investment is highly dependent on the time of both the buy and the sell. My plan is to add to my Apple position but only when the ZYX Change Method give a buy signal. A simple review of the performance of the ZYX Change Method as documented here provides a good reason to wait to buy until there is a buy signal.
The up move in Penney stock may be driven by wishful thinking. Johnson was successful, but he was not selling white blouses inside those beautiful Apple stores. Penney does not have differentiated products like Apple.
The success of Apple stores is, in part, due to the experience they provide. Providing this experience costs money. Penney does not have the money to generate this kind of experience.
Let's compare the margins. Apple has operating margin of 29.02% and profit margin of 22.36%. In comparison, Penney has operating margin of 4.92% and profit margin of 2.21%.
ZYX Change Method is close to issuing a sell signal on Penney if the stock continues this move up. On the other hand, when the ZYX Change Method is applied to a longer time frame, there may be a buy signal on any deep dip in Penney stock.
Disclosure: I am long AAPL. I may initiate a position in JCP over the next 72 hours.