Welcome to my latest examination of the Retail Sales report from the US Census, this time for May 2011. We left last month wondering what effects both abating oil prices as well as continued manufacturing supply constrictions would have on the US consumer. It's a little tricky this time around, we'll have to examine it closely.

Overall consumer spending was down for the first time in a year, clocking in at -0.2%. However, that number was greatly skewed by Auto Sales, which dropped -3.2%. Looking at the numbers ex-auto, ex-gas gives you get another monthly consumer spending increase at 0.3%.

Let's look at the individual data and talk about the implications.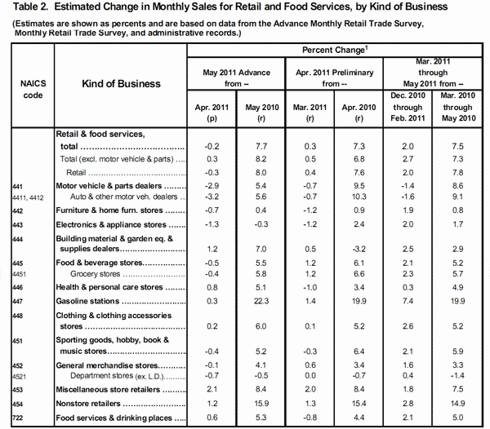 Click to enlarge

First off, you'll note the extreme auto sales decline. While this is something to keep a watch on, the Japanese tsunami's continuing effect is clearly a factor. This is no surprise after viewing the May Employment Situation Report, where you saw manufacturing losing jobs. I think this is mostly supply disruptions, and demand continues to improve as employment gains and credit loosens. Investor Watch: Ford (NYSE:F) and GM (NYSE:GM) stock are at their lowest prices since last October and could be a good chance to get in.

Next, you'll see that gas is finally leveling off in May with only a 0.3% increase (with prices now dropping a good 10% here in June). High gas prices, especially when oil hit $110, where beginning to drag on spending. Also, food actually dropped -0.5%. This should also provide more discretionary income for the consumer.

Speaking of discretionary, note that the important leading indicator, Restaurants (Food Services) increased a healthy 0.6%. This fairly volatile indicator is a good measure of the consumers willingness to blow money, since eating out is easily replaced by the more boring, but cheaper, buying groceries. This bodes well for discretionary spending. Investor Watch: Brinker (NYSE:EAT) has dropped 10% and still has a stock chart to die for.

Bigger ticket items like Furniture and Electronics & Appliances didn't fare so well, showing consumers may spend relatively small amounts of money at a restaurant, but are more concerned with substantial outlays for discretionary goods. Furniture dropped -0.7% and Electronics & Appliances fell -1.3%, both sizeable.

This reluctance to spend large amounts did not affect construction, however, as both the Employment Report showed job gains, and here we see a 1.2% increase in construction spending! Sure, seasonality plays a large part, but it seems we may be finally, after so many years, seeing an improvement in construction. Construction is an extremely important part of most recoveries, as it provides many decent paying jobs among unskilled workers. Investor Watch: Home Depot (NYSE:HD) which is up 4% today and Lowe's (NYSE:LOW) have seen 10% and 20% drops off their highs, and provide a good entry point in these these high quality home improvement retailers.

Finally, nonstore retailers add to their gains at 1.2%, as e-commerce continues to gain popularity, despite recent hacking attacks. Investor Watch: Amazon (NASDAQ:AMZN), while highly valued, continues its growth trajectory.

Overall, we have seen gas and food level out, and continued improvement in spending, when factoring for volatile auto sales numbers due to the tsunami. This continues to bode well for the US recovery, including employment. Next month we'll see actual declines in gas spending to go along with food, and we'll see just how the consumer reacts to the extra pocket money.


Disclosure: I am long GM.