By Angus Robertson
It's getting hard to keep up with the analyst price target reductions on Research in Motion (RIMM). In addition to those we reported on Friday, today brings cuts from JPMorgan's Rod Hall, to $40.50 (from $50) and the more bullish Todd Coupland at CIBC World Markets to $75 (from $90).
Coupland, who retained his Outperform rating, noted that RIM's second quarter outlook is uncertain without new product shipment dates."Until then the share price will have trouble rallying, in our view," he said in his note.
Hall writes that RIM's "Window of opportunity for a comeback is rapidly closing ... As we believe software is now the main basis for smart phone competition, we see execution problems as a significant risk. We believe that cloud based services from Apple (NASDAQ:AAPL) and Google (NASDAQ:GOOG) will begin to erode RIMM's cloud based advantage as 2011 progresses."
After conducting another round of sales checks in May and early June, Canaccord Genuity's T. Michael Walkley said the data suggest the tech giant is continuing to suffer "broad" losses in smart phone sales. This prompted him to cut his price target for the second time in only a month, to $40 (from $49).
And as the WSJ notes, some analysts expect more bad news.
"We believe RIM has now squandered nearly every opportunity and competitive advantage it enjoyed through ineffective R&D resource management, delayed product launches and misreads of the competitive environment," Morgan Stanley analyst Ehud Gelblum wrote in a note to clients on Friday.
Amitabh Passi of UBS sounded a similar note on Friday, writing that "while the stock has sold off hard, we await clarity on how RIM intends to fend off mounting competitive pressure while managing a complex hardware/OS transition." The UBS analyst added that, with more pressure from competitors, "RIM's position appears incrementally weaker."
The mean 12-month price target of 12 analysts who have adjusted their targets since June 1 has fallen to $46.79, from $61.83, while the median is down to $45.00 from $57.50. RIM opened today at $36.47. A year ago the median target was $85.
Click to enlarge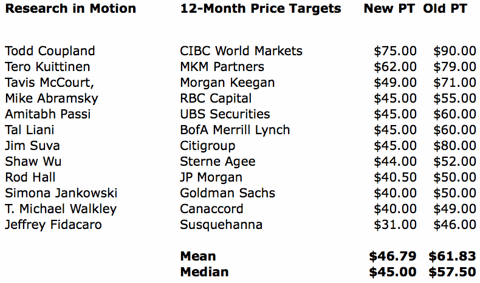 Click to enlarge
RIM's earnings announcement on Thursday should be interesting.