In this article, we will provide you with financial fundamental analysis of residential construction companies on U.S. stock exchanges. For each company, we have provided price targets, buy/sell/hold ratings, buy/sell ranges and theses. Additionally, using a multitude of financial analytical ratios and comparisons, we have given each company a score on growth, profitability, financial health, value and management indices to compare each company and see where companies excel and where they have weaknesses.
Click to enlarge
DR Horton (NYSE:DHI) - Rating: Hold, Price Target: $12
Radar: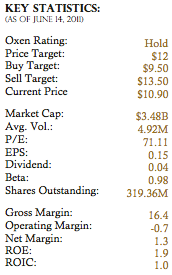 DR Horton is the top-scoring company on our EquityAnalytics analytical sections of growth, profitability, financial health, value and management. The company was profitable in 2010, but has taken a step back in 2011. We expect the company is going to become profitable or breakeven in the next year.
The company has our top score in growth and good scores in profitability, financial health and value. The company has strong free cash flow growth with 154% growth in the past five years, 45% growth in net income per employee, and even strong dividend growth.
The company's YOY ROIC and ROE growth rates are over 100%, which is good to see. The company does have a significant number of shares and debt load, but in a housing market rebound, DR Horton is slated to be wildly profitable. In the pre-market crash, the company was significantly profitable.
The company is not a Buy at this point as it seems rather fairly valued given future prospects, but given the company's higher scores in our five categories, we believe it is a safer hold in this struggling market and could make a Buy.
The company, though, does struggle to create a major economic moat and will face stiff competition moving forward to continually take hold of the small pool of buyers available.
KB Homes (NYSE:KBH) - Rating: Sell, Price Target: $8
Radar: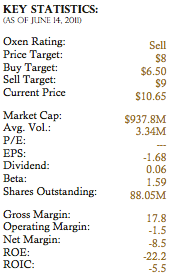 Despite the company's notoriety for high-quality products and customer-focused buildings, KB Homes is not among our top picks for residential construction. The company scores low on our growth, profitability and management scores, and it does not at this time represent a strong value.
The company has still not seen profitability since 2006, and it should not see any profits until next year at least. The company has a significant debt to future operating income level.
The company is seeing dropping levels of free cash flow as well as net income per employee. Management scores are low due to significant insider selling that has occurred over the past year compared to purchases. The company's cash conversion cycle has dropped 24% in the past year. Inventory turnover is dropping as well as asset turnover.
The company was profitable prior to the crash, but the company has significant amounts of debt on hand compared to operating income potential. The company should be able return to profitability, but the debt load the company possesses weighs down its equity value.
KB Homes' Value score is lower than its competitors with a pretty significant P/B and P/S ratio as well as low revenue to enterprise value ratio compared to its competitors.
Lennar (NYSE:LEN) - Rating: Buy, Price Target: $23.50
Radar: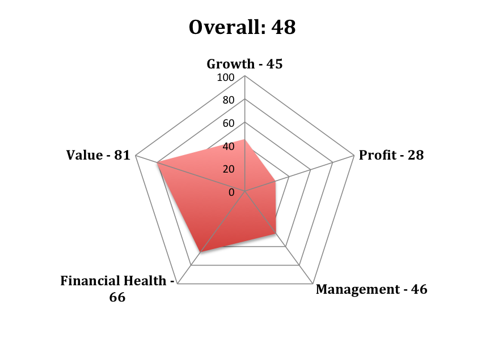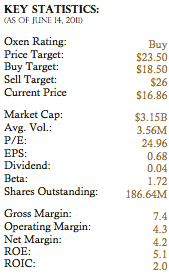 Lennar looks like one of the healthiest homebuilders coming out of the recession and has already turned to profitability. The company operates strictly in the homebuilding side of residential construction, but it has done well in 2010 and 2011 to turn to profitability in a tough economic environment.
The company is looking poised to bounce back quickly with a housing rebirth as it has cleaned up its balance sheet with debt refinancing and liquidation of inventory. The company has a significant TIE ratio at 177% that shows it is covering debt interest expenses and has done well in this refinancing. The company, additionally, already has returned to profitability.
The equity value is significantly higher than most of its competitors. How are they profitable when others are not? The company has done a great job of cutting overhead and SG&A over the past five years.
The company has low capital expenditures, and while debt is bloated, the company's equity value can handle it since it is already profitable. The company looks poised to remain profitable for the year despite a slipping backlog.
In a market where companies are struggling mightily to be profitable, Lennar continues to put together quarter after quarter. It is one of the top investments in the sector.
MDC Holdings (NYSE:MDC) - Rating: Hold, Price Target: $24.50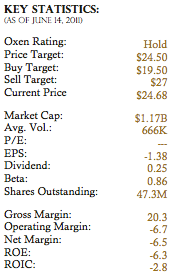 MDC Holdings operates most of its business in the West through single-family homes. The company currently appears to be a Hold. It scored weakly on growth, management and profitability. It scores weaker than competitors on financial health as well.
The company should be profitable in 2012-2013. It has a low number of outstanding shares, and that allows the company to have an inflated price target. We do not recommend this company as it has a lot of issues.
The company has significant profitability issues that are getting weaker in fact. The have seen net margin drop over 300% YoY as well as ROA, ROE, and ROIC drop over 140% YoY.
Management scores are pretty low as well as the company has seen a nearly 200% drop in five year net income per employee. The company has seen drops in efficiency as well with a whopping 68% drop in asset turnover YoY.
The company's FCF margin's significant drop in the past five years is hurting the company as well with over a 300% decline.
MDC Holdings does not appear to be a company where we want to invest even if the future prospects show fair valuation.
NVR (NYSE:NVR) - Rating: Buy, Price Target: $988
Radar: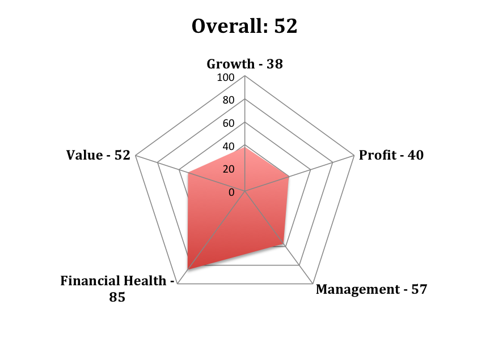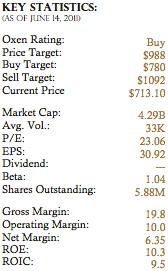 NVR is a homebuilder and also a town home and condominium builder. It is the only company in the group that does both, and this gives it a great competitive advantage and economic moat. It is one of the only companies that can create a small moat with a diversified portfolio that allows it to take advantage of the rental economy as well as the home buying economy.
With the shift away from straight home buying to condos and apartments, NVR has been able to turn profits throughout the entire crisis, and it will benefit from both a boost in home buying as well as post-recession spending on condos and apartments. We believe it has a lot of potential and has shown some great success in the past to be able to be wildly profitable with nearly 20% operating margins. The company already has significant operating margins right now, and those should only improve.
One of the problems for the company is that it has not been consistent in FCF growth despite profitability. We would like to see this improve.
Additionally, the per share price is significant and it would be good to see the company draw more interest through a split. The company has only 6M shares available. With only $100M of debt, the company's growth will not be bogged down by debt.
PulteGroup (NYSE:PHM) - Rating: Sell, Price Target: $6.50
Radar: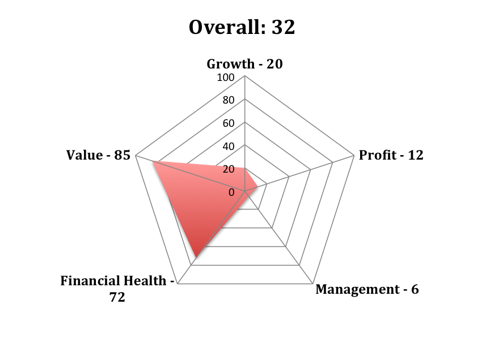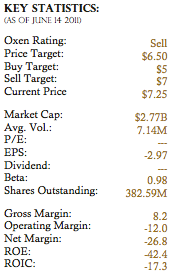 PulteGroup or Pulte Homes is a solid Sell candidate currently for us. With over $3.3B in debt, 382M shares and no sign of profitability in sight, PHM upside is very limited. The company is struggling more than any of its competitors to turn profits with operating margins at more than -10%.
The company scores near the bottom in nearly every category other than value where it scores high based on its very low valuations on P/B and P/S.
The company has some disturbing statistics like over 550% drop in net income per employee in the past five years. The company has improved its FCF, EPS, operating income and growth levels in the past year, but it is struggling in profitability. What hurts the company is its significant debt load at $3B-plus. The company is widely diversified across the entire country, which actually has been its downfall. Specific pockets have been hit very hard like the East Coast and Southeast.
The company should turn to profits in 2013, but it will need to work off significant amounts of debt and bring shares outstanding down to be able to provide an investment worthwhile.
We believe a Sell in PHM right now seems smart, and the company is too cyclical in nature and shows very weak profitability to be considered for your portfolio.
The Ryland Group (NYSE:RYL) - Rating: Sell, Price Target: $11
Radar: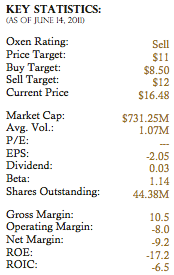 The Ryland Group has suffered from being in the weak Southeast and California markets that have been the death of homebuilders. The company has worked hard to maintain decent levels of financial health, but it cores very weakly against competitors.
While other companies have shed debt and overhead, RYL grew debt by over 70% in the past year. The company has seen net income per employee drop over 40% in the past year and over 100% in the past five years.
We do not believe RYL has done enough to clean up its balance sheet in comparison to the competition, and we view the company as a Sell. The company has nearly $1B of debt, which has a 1:1 ratio with sales ... not a good sign.
The company needs to work off debt and inventory at a quick rate. It has seen inventory ratio grow in the past year by over 20%, but it still needs to continue to improve to get this company closer to profitability.
We see the company hitting the green in 2013, but it has not been known for significant margins in the past, and it should not be able to get back to significant profits until 2014-2015.
We just do not see any reason to buy RYL right now and believe it still has more rocky roads ahead.
Toll Brothers (NYSE:TOL) - Rating: Hold, Price Target: $19.50
Radar: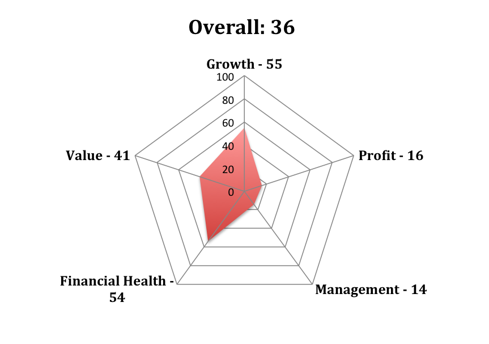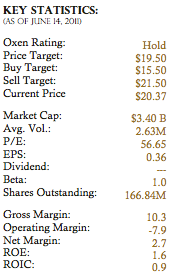 Despite the tag as the only strictly luxury homebuilder on the market, Toll Brothers is not performing, as one would expect. While the luxury rebound has occurred in the general market, it has not been as fortunate for Toll Brothers.
The company has struggled to maintain profitability, which may be linked to its very weak financial health score. The company has not done a good job keeping this clean compared to others.
The company has seen net debt grow by 27% in the past year. They have seen FCF margins dropping by over 300% in the past five years. The company operates a healthy current and quick ratio, but it has not done enough debt cutting to make an impact. It has $1.7B of debt, which outweighs revenue.
The company is going to struggle to be profitable until it brings down those debt levels.
We would also be worried that the company has weak management scores (highlighted by financial health). It has seen significant insider selling in the past year and very weak efficiency ratios with inventory and cash conversion cycle ratio dropping at quick rates.
Toll Brothers seems to have some internal issues and is very far from the type of growth and profit levels that would be needed to Buy.
To see our full report with PTs and more on Beazer Homes (NYSE:BZH), M/I Homes (NYSE:MHO), Meritage Homes (NYSE:MTH) and Standard-Pacific (SPF), visit us at theoxengroup.com.
Disclosure: I have no positions in any stocks mentioned, and no plans to initiate any positions within the next 72 hours.